The Secrets of Dynasty Mode in NHL09 - Coach Options - by John Sinitsky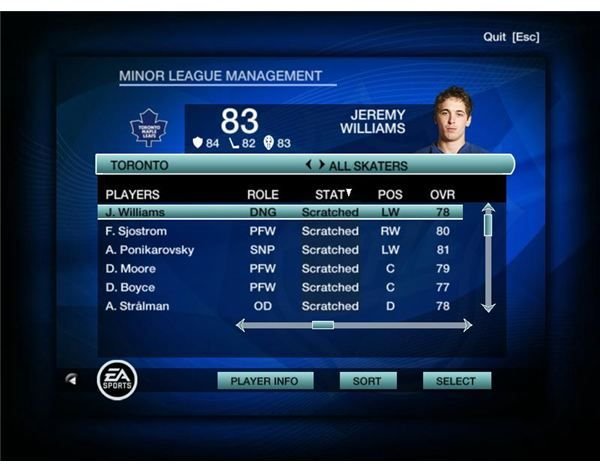 Introduction
Playing NHL 09 in the Dynasty mode, you have to familiarize yourself with all the options that are available to you both as coach and as a team manager. After reviewing your day-to-day tasks, and the GM Options Tab of the Dynasty menu, it is time to look into Coach Options.
Coach Options
After you have covered all the managing possibilities like acquiring players via trades while staying within salary cap limits – it is time to go deeper inside your team to get the most out of your players. This is done by tactics, assigning correct lines and keeping track of player development and current level. The Coaching Option screen includes 6 options: Edit Lines, Minor League Management, Jersey Numbers, Strategy, Practice Schedule, Progress Reports. We will review each one of those below.
Minor League Management
Here you can decide about the players that are currently NOT part of your squad. They will not be available in Edit Lines selection and other sections. The good thing is those Minors will not count toward your team salary cap – so if you are over it and cannot start a game – just put some relatively overpaid player in the Minors.
Jersey Numbers
Jersey Numbers is not a very important screen for most people. Of course, you can assign any jersey number to any player – but that would not really affect his or team performance… One notable option here is assigning captaincy. A hockey team has a captain and 2 assistants. It is advisable to have reliable, veteran players in these roles (preferably from different lines).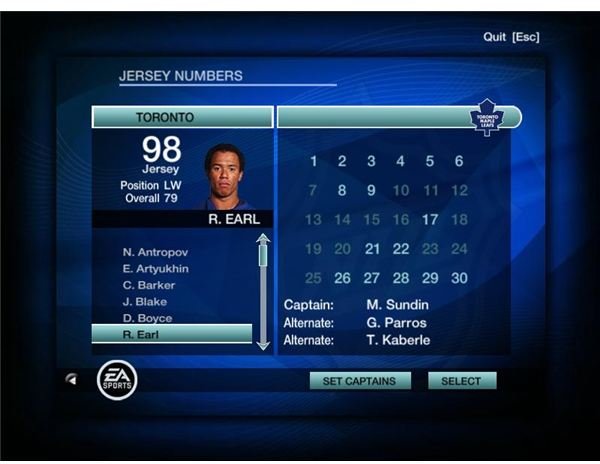 Strategy
Nothing can be more underestimated by NHL09 players than team strategy. Personally, I check this even in a single game – let alone a season or dynasty. Offensive Strategy, Defensive Strategy, Power Play, Penalty Kills and Quick Plays are all described in the links. Your team tactics are probably the most important part of your NHL 09 game, so don't neglect them.
Practice Schedule
In this Menu you can decide on which aspects your team will concentrate for the upcoming game. There are several Training programs available: Light Skate, Up-Tempo, Full Contact, No Contact, Bag Skate, and Tactical – each having it's advantages and drawbacks. Those are presented as positive and negative bars near each aspect of your team in the upcoming game (goalie boost, check boost, passing, faceoffs etc.). Note the weaknesses and strengths of your upcoming opponent – and use the practice to your advantage. However, usually the default option is the best as it takes into account the style of your team and your players… initially. You should probably change this after several seasons, when your team is largely "refreshed" with new players.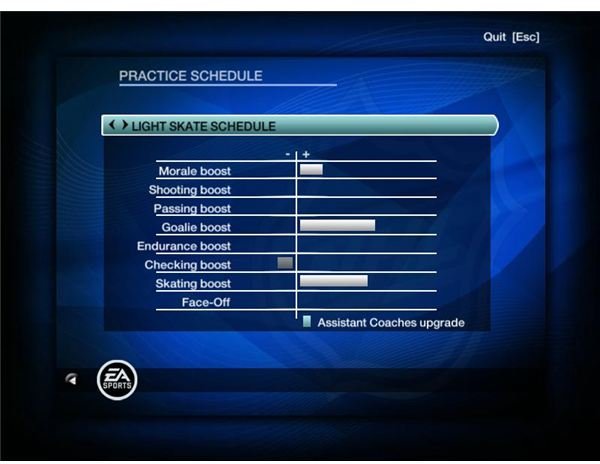 Progress Report
In this section you can see the current status of all your players. Beside the overall level, there are some team bonuses (via staff upgrades, for example), morale bonuses and also individual bonuses (hot streaks). All those are combined into the current level of the player, so he can sometimes be performing at a significantly higher level than his initial "overall" rating.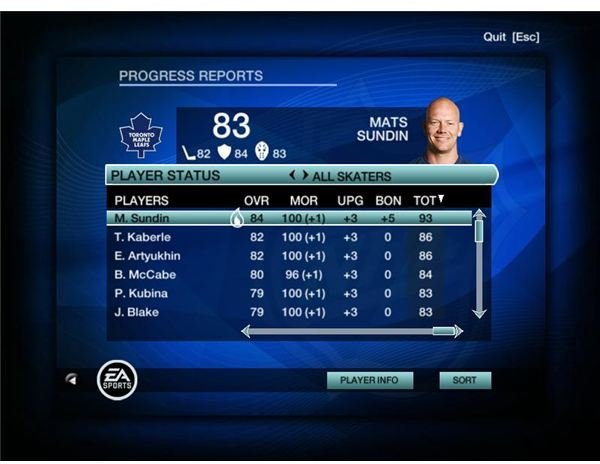 Edit Lines
Last, but definitely not least, this is arguably one of the most important screens in the Dynasty mode. You have to experiment with your players and find the best lines. The option can be, of course, delegated to Assistant Manager – but I would really not advise on that. In fact, Editing Lines deserves a separate article, which will come shortly.