Your Ultimate Guide to NHL 09 Tactics - Defensive Strategies - by John Sinitsky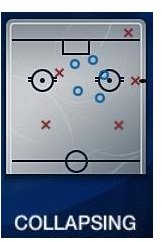 Introduction
When playing NHL 09, a breathtaking computer ice-hockey simulator produced by EA sports, you should never neglect the tactical aspect. Yes, you would be definitely delighted to score more goals and concede less – but did you know that this is achievable not only by mastering the game controls? Employ the right tactics - and see your opponents suffer from tight defensive pressure and breakaways – or alternatively start grabbing all the rebounds in front of your goal. How to do that? Use different defensive strategies – as proposed below.
Defensive Strategies
The defensive tactics (strategies), altogether with the offensive ones, are located under the STRATEGY section of your team. If you are playing a tournament or a dynasty mode, you should definitely familiarize yourself with this section. Even if you are up for a single game against human or computer opponent – those strategies can definitely make the difference between winning and loosing. There are 3 defensive strategies: Collapsing, Staggered and Tight Point. An overview of each tactic is presented below:
Collapsing
This strategy is about defending your goal – quite literally. All the players locate themselves in front of goal – preventing forward presence there and forcing the attacking opponents to try and score from long shots. This can be the response to opponents "Crash the Net", but be aware of defenders with strong shots – as well as puck deflections, which your goalie would not able to handle.
Staggered
This is a balanced defense – and probably the most popular one. The defensemen are positioned in a way that covers most of the zone, with one player constant in front of goal. The forwards switch between pressuring the offensive players and area coverage.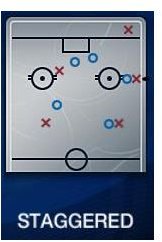 Tight Point
This is the pressure defense. It is excellent for going into breakaways and also speeds the tempo of the game – so very useful when you are trailing. Gives opponent player no room and no time to take slap shots – but watch for quick one-timers after speedy bursts into uncovered areas of you zone. Rebounding of goalie-saved shots can also be a problem – remember this is somewhat offensive-minded defense.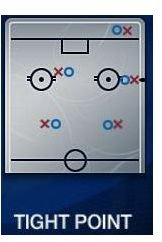 Summary
Unlike Offensive strategies, Defensive strategies are the same for all of your lines. So your only concern would be applying them at the right time during the match – and countering your opponent attacking tactics. However, there is also a quick plays defense (and offense) which will be covered in the upcoming articles.