Playing NHL 09 - Game Modes Overview - by John Sinitsky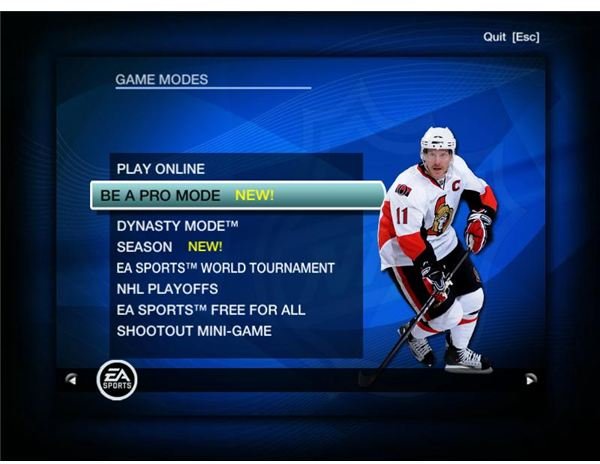 Introduction
The latest version of the EA hockey franchise, NHL09, is another superb entry. The game itself looks sharper and more breath-taking than before and – even more important – new "around-the-game" features have been added.
Besides the familiar "Play now" option – a single match of two teams (you can choose 2 from practically all over the world including major European Leagues and National Teams) there are many other playing modes:
Play Online
Be a Pro
Season
Dynasty
World Tournament
NHL playoffs
Free for All
Shootout
Play online
This game mode gives you the opportunity to play against human opponents all over the world via online leagues. You must register with EA sports.
Dynasty
In this mode you take full control of a franchise – for multiple seasons – trying to turn it into superpower in the domestic hockey league of your choice. Edit lines, trade players, sign free agents, draft the best young talent – you make all the calls. Be aware of the salary cap – you will not be able to start a game while you are above it… In this mode you can choose a team in the NHL, Swedish, Finnish, Czech or German Leagues.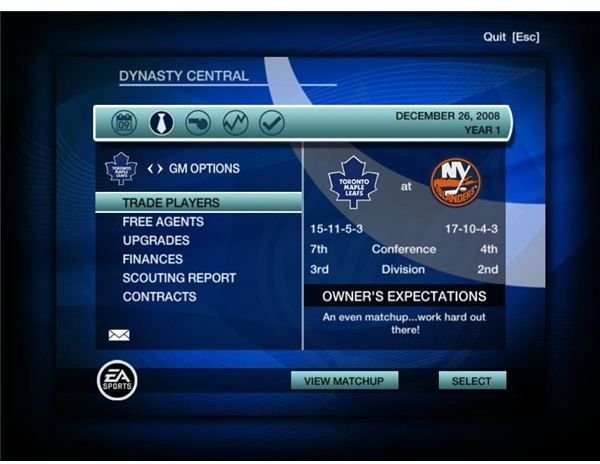 Season
Introduced for the first time, the season targets players who would like to experience the pressure of the season game – but don't have the time/desire to manage a team. You don't have to worry about your keeping your squad under contract, there is no salary cap – as there are no trades and Free Agent signings… You can also manage your team - but the possibilities are limited to editing lines and picking strategy. The available leagues are NHL, AHL, Swedish, Finnish, Czech, German and Russian.
NHL Playoffs
If you want to "jump" strait into postseason action – the Playoff option is for you. Pick one of the 16 teams (8 in either conference) and guide it to the glory of the Stanley Cup. You can, of course, substitute any team with another – but only custom created or NHL teams.
Free for all
This is a game which is really fun to play against friends. Everyone has one player to control and everyone's task is the same – score the most goals. Many will immediately recognize this as the childhood favourite: "Hog." There is a goalie and up to 2 defensemen that interfere as well as, of course, your rivals. Great game for up to 4 participants – that is if you have 4 joysticks connected. Can also be played online.
Shootout
The famous hockey situation – forward against a goalie, one-on-one. This is a great mode for practicing breakaways you are likely to have in a match. Choose the palyer you like – and a goalie to play against.
Be a Pro
Introduced for the first time in NHL09 (although already present in FIFA and NBA games), this mode allows you to choose (or create) a player and "build" his career.You are, of course, part of the team – but in your games you only control one player. Meet your coache's expectations, demand certain treatment, ask for more money or a trade – this is YOU inside the game. This mode is very interesting and will be discussed in-depth the following article.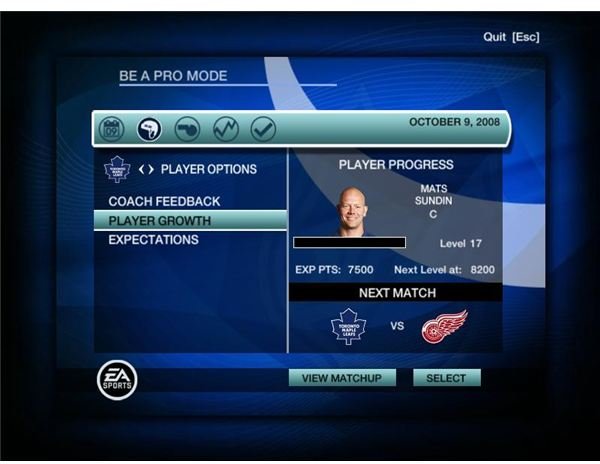 This post is part of the series: NHL 09 - overview
NHL 2009 is the latest hockey game for EA sports - and a great one as usual. Read about the best computer hockey simulator in this series