NHL 10 for the Xbox 360 Review - Best Hockey Game To Date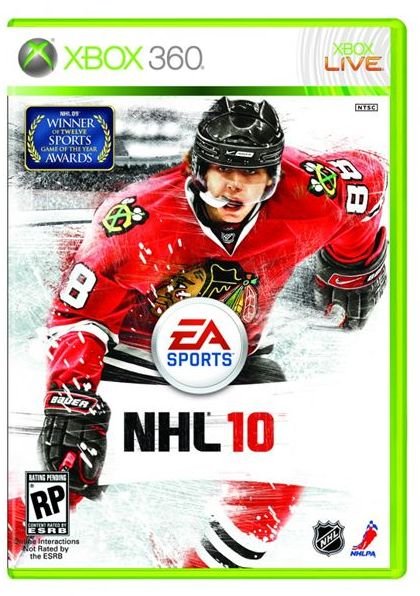 The Game
The NHL series from EA Sports has come a long way in it's video game career. It had high praise in the nineties, but when the new millennium came around, it started to fall behind. The game has seen a true turn around though over the last three or four years. With great additions like be a pro mode, dynasty and online play, it has now become a power house in the video game sports genre. The NHL 10 release date this year was probably more anticipated than ever before. Fans of NHL 09, will love all of the new gameplay adjustments that were added to this year's game. It is by far the best hockey game to ever be released.
Gameplay (4 out of 5)
NHL 10 has taken a new approach in the gameplay department to help incorporate more casual gamers and satisfy hardcore types as well. Those who are veterans with the series can take on the hardcore mode. This will give you no assistance in passing, hitting, scoring and so on. It is truly a pure simulation style of hockey. It may seem frustrating at first, but the hardcore fans will love it. For those who are a little less experienced with the game, you can choose the casual gamer style. This will assist you at times with hits and scoring, allowing you more room for error. One of the nice things about NHL 10, is the addition of gameplay sliders. These will let you customize the difficulty to your liking.
Returning from last year's game is the be a pro mode, which let's you battle through the ranks of an NHL palyer. You must work to achieve a high player rating by scoring, playing your position and being a good teammate. The other returing mode is the dynasty mode, which is now called be a general manager mode. This mode has had quite a bit of depth added to it. You don't just play as your favorite team, but you now manage a number of aspects of the team. You will be trading on draft day, scouting players and maintaining a good trade reputation. Outside of those two modes, there isn't much new.
Graphics (5 out of 5)
The graphics in NHL 10 are some of the best out there in a sports game. The movement of the players is very fluid, and the new goalie animations make for some amazing saves. The slowed down game speed is a welcome adjustment. It feels much more like a real life hockey game. There are still some minor slow downs in the cut scenes, but it's nothing that will interrupt your games.
Images from EA Sports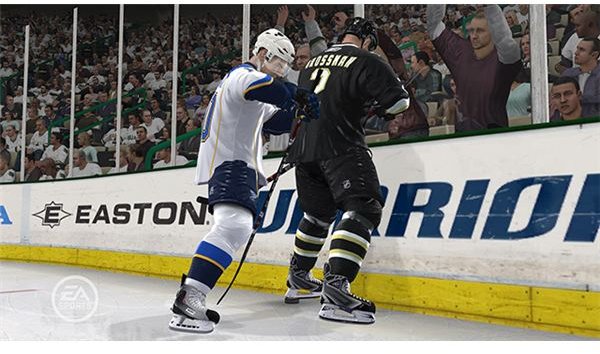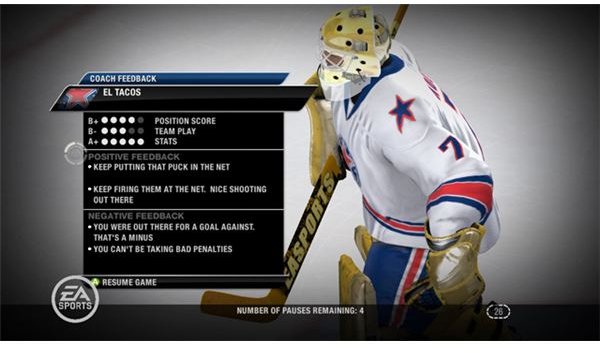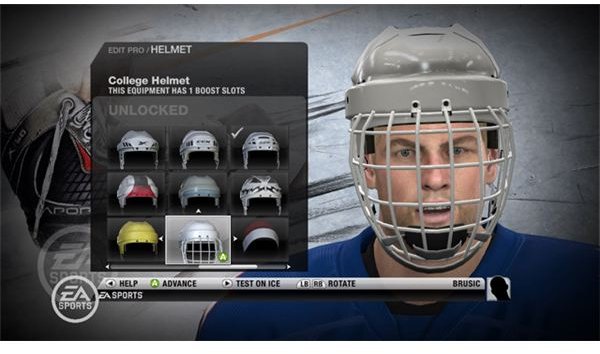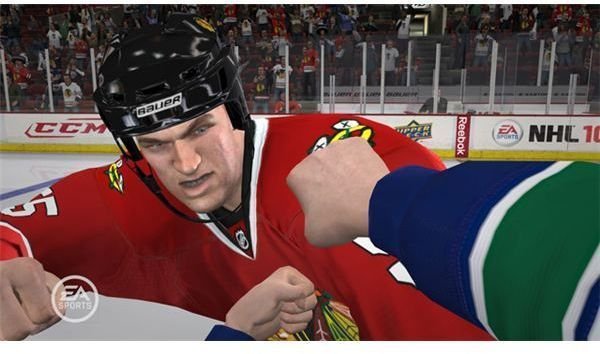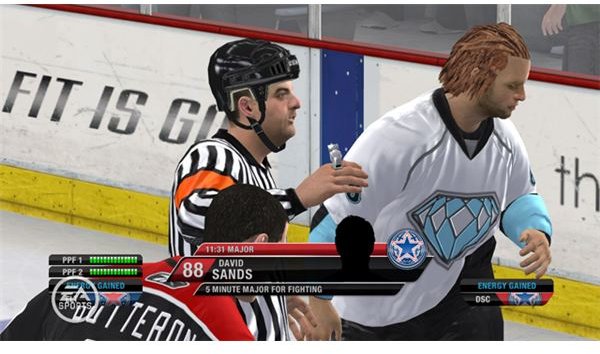 Audio (5 out of 5)
The audio in NHL 10 is another strong part of the game. The announcing of Gary Thorn and Bill Clement makes the game feel very authentic. The ability to throw in custom music for your team's intros and goal songs has also returned from last year. The NHL 10 soundtrack consists of the standard guitar driven rock music to add to the hockey environment. All of these things make the audio in NHL 10 tops in the genre.
Online (5 out of 5)
The most popular feature in NHL 09 was the EA Sports Hockey League (EASHL). This is back and better than ever in NHL 10. The EASHL lets you and your buddies create your own team, take control of one single player on that team and take on other user created teams. You can have up to six players per team in each game in a single game making for great 6 vs 6 games. This style of hockey is addicting and a blast. Outside of that, you have your standard versus, leagues and shootouts. Online team play has also returned. This is the same as the EASHL but you don't have to create a club, it's a jump in and play type thing.
Final Verdict (5 out of 5)
EA Sport's' NHL 10 is again this year's game of the year in the sports genre. It has maintained it's solid foundation that makes a great sports game. In the process, they have also improved the controls and gameplay to be almost perfect. The only thing that hurts the game is the lack of new game modes. Hockey fans all around will truly enjoy the experience they get with NHL 10 for the Xbox 360.