The Complete Guide to NHL 09 Tactics - Offensive Strategies - by John Sinitsky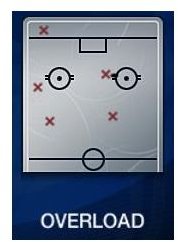 Introduction
NHL 09, yet another masterpiece of sport gaming form EA sports, is a fairly realistic ice-hockey simulation. The hits, the faceoffs, the goalie moves – they are all there. The AI is good, and follows the tactics you have decided to implement for your team. What? You did not pay attention to the tactical deployment of your players? You did not know such an option existed? Well, you can definitely take your offensive game to another level by using the various offensive strategies to improve your scoring.
Offensive Strategies
The offensive tactics (strategies) can be found in the STRATEGY section of your team. Whether you are playing a single match or a tournament (let alone dynasty mode) you should definitely look at it. There are 3 major offensive strategies: Overload, Crash the Net and Behind Net. Each one is presented below.
Overload
This tactic would be probably the default for your first line, as it is suited for technical payers. You will have one player right in front of the goal, one in the corner and one close to the boards – allowing several passing options. The defenders will come fairly close to the goal, looking for one-timers.
Crash the Net
This tactic is designed for strong players who can score from close range. Three forwards are placed very close to the goal, looking for rebounds. The defenders stay close to the blue line – no one-timers here, but rather well-aimed slapshots – again, hoping for scoring or rebound. This strategy is probably best against a team with a very potent goalie.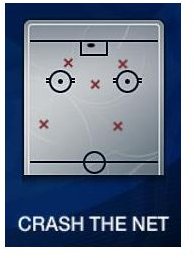 Behind the Net
This tactic delegates the scoring to defenders more than any other. The weak-side D-Man will come to the goal, looking for pass-shot-goal. Since you probably have one Offensive Defender (OD) and one Defensive Defender (DD) in your lineup, be sure to use this strategy from the correct side of the goal (OD usually has a powerful shot). There is one drawback – you have 4 players close to opponent's goal, so watch out for breakaways…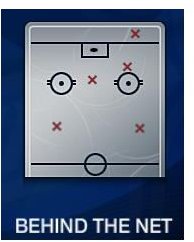 Different Strategies for Your Lines
Another important thing in implementing the offensive strategies is that you can assign DIFFERENT tactics to each of your lines! So Line 1 would probably use Overload, and for Line 4 – I would recommend Behind the Net, as 1st line defenders are playing with those guys.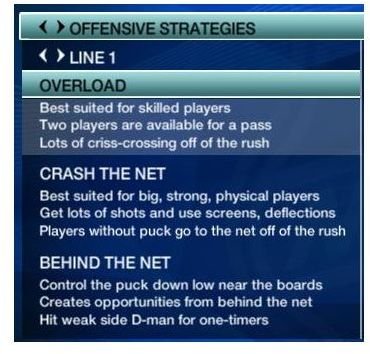 Summary
You can experiment a little and see which offensive strategy suits you the most – but remember, this also depends on the team you are playing with! And also, which defensive tactics your opponent is using – the defensive strategy overview coming in the next article!