Improve Your NHL09 Play - Penalty Killing Strategies in NHL 2009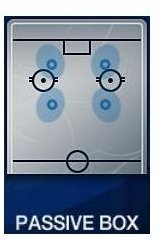 Penalty Kill Strategies
The Penalty Kill strategies (tactics) can be accessed via the Strategy section of your team options. Scroll to Special Team tactics and find both Power Play and Penalty present there. If understanding NHL 09 Power Play strategy is important – the utilization of playing shorthanded is a real must, as nothing is more frustrating than conceding an overtime power play goal – especially in the crucial NHL09 playoff games.
There are 3 penalty killing strategies: Passive Box, Large Box and Diamond. Main features of each one are presented below:
Passive Box
This is the most straightforward way to try and kill of the penalty. All your players will gather themselves in front of goal, providing extra cover against long shots and taking care of rebounds that will bounce off your goalie. Your opponent will feel comfortable controlling the puck most of the PP time – but can be frustrated with the fruitless attempts to create a serious threat. Do not expect to steal a breakaway Shorthanded Goal with this tactic and be aware of defenders that are good shooters.
Large Box
This is a very aggressive Penalty Killing strategy. Your players will try to press the opponent attackers and steal the puck. Generally should be used if you have quick penalty killers that will succeed in changing skating direction fast. The Power Play unit will have to adapt to this strategy by using quick short passes, moving the puck around your zone. Remember, this tactic requires a good goalie – especially in terms of rebounding, as the area in front of your goal is rather exposed. On the other hand, this is the best tactic to score a shorthanded goal, as two of your players are situated very close to blue line.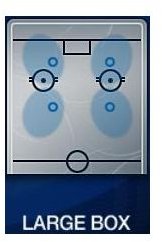 Diamond
This tactics is actually a combination of the Passive box and Large Box. One defender will always be static, covering the goal and the rebound. Two others will go back and forth from the center of your zone to the boards. And the forth penalty killer will skate toward the blue line, applying pressure on the attackers. This tactics is considered the best when countering Umbrella Power Play tactics. It's main drawback, however, is that you might be chasing two rabbits here, leaving you goal area somewhat exposed and yet not applying severe pressure on the opponent.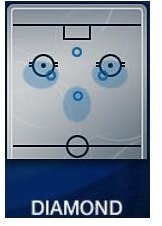 Summary
It is very important to find the right Penalty Killing Strategy in NHL 09 game. You must remember, though, that any team has different players (and among them penalty killers), which invite a different approach and tactics. Also, the game situation must be taken into consideration – if you are a goal behind with the clock ticking down – take the risks and use the Large Box. If you can play safe – opt for Passive Box (especially if your goalie is not that good). Adjust to your opponent's power play Umbrella strategy by using Diamond. Frustrate your opponent by killing his power plays – and maybe even score shorthanded!