Score More Goals in NHL09 - Power Play Strategies - by John Sinitsky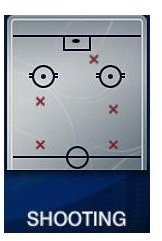 Introduction
Being a very realistic ice-hockey simulator from EA sports, NHL 2009 invites applying sophisticated tactics to overcome your opponents. Well, not so sophisticated as real hockey (you cannot construct your own plays), but a variety of offensive and defensive tactics are offered. Moreover, Special Teams get their share of attention as well. Scoring on the Power Play – and preventing goals when shorthanded (or even stealing a goal) can become an easier task once you know to take advantage of the strategies offered.
Power Play Strategies
The Power Play tactics (strategies), can be accessed by going to the Strategy section of your team options. There you should scroll via Offensive and Defensive strategies on to Special Team tactics. Power Play and Penalty Killing are here. This setup is a must for those who take on the Dynasty mode – you may find yourself with the extra man in the crucial stages of a playoff game!
There are 3 power play strategies: Shooting, Overload and Umbrella. Main features of each one are presented below:
Shooting
This strategy is about scoring (mostly) form long range shots or rebounds. You will have 2 defensemen at the blue line, passing the puck rather comfortably, as 3 attackers take positions closer to goal and are usually watched by defenders. A potent Offensive Defender with good shooting strength and accuracy can accumulate many goals with this strategy. Moreover, you will probably have almost no problem keeping possession (before shot). Jumping on a rebound is also an option, as you generally have 3 players looking around the net after the shot.
Overload
This tactic is about "frustrating" the defense. There will be not many shots with this strategy, but they should be from a good position – and probably will reach the goal rather than hitting the defender. The idea behind the Overload power play strategy is passing the puck around (including behind the net) to take full advantage of this extra man – leaving him wide open for a decisive shot. Subsequently, this strategy is best suited for Power Play units in which MOST of the players have good shooting skills.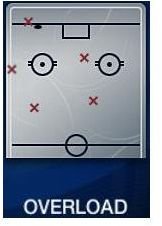 Umbrella
Score from close range off a one-timer – that is the motto of this strategy. With all 5 players situated in front of goal, forming a pentagon – this tactic is about short passes and quick shots. Two attackers closer to goal looking for rebounds and three men in the "middle" region of the shorthanded team zone, passing and shooting form this attack. Counter attacks might be a problem, if there are 2 quick players on the opposing side.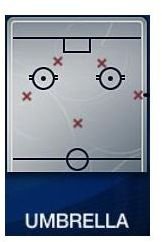 Summary
It is very important to choose the right Power Play Strategy in NHL 09 game. And by "right" I mean the one that is best for your team's players – and also convenient to YOUR playing style. You may also want to change your strategy throughout the game – countering the Penalty Killing strategy chosen by your opponent – those will be explained in the next article.