All The Secrets of NHL09 Dynasty - GM Options - Learn to Trade Players in NHL09 - by John Sinitsky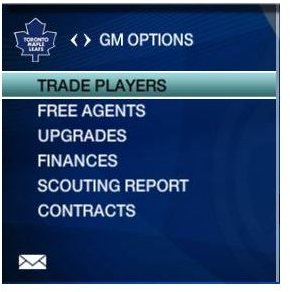 Introduction
In the dynasty mode of NHL 09 you have know all the options that are available to you both as coach and as team manager. After reviewing the dynasty mode creation process and your day-to-day tasks, it is time now to look into the GM Options Tab of the Dynasty menu.
GM Options
This is the place where you MANAGE your team, or a dynasty to be more precise. It is about building your team in the long term – trading players, signing potential stars, looking into the financial situation. The GM screen includes 6 options: Trade Players, Free agents, Upgrade, Finances, Scouting Report, Contracts. We will review each one of those.
Trade Players
Trade Players is one of the most important screens in the Dynasty mode. You can (and should) improve your team by trading players. First of all – find the players that you are willing to part with. Those can beolder players, low potential players, or highly paid players. Put up to 5 players into the Trade block – this should save you time looking for the ones you are willing to trade. Scroll through teams to find the players that they have in their trading block, looking for potential prospects. Many times you will have some position that isproblematic within your team, and others – over-populated. This is the place to resotre this balance – for instance, acquiring a 3rd or 4th Left Winger instead of Offensive Defenders when you already have 6 or 7. When trading: don't forget about the salary cap. You will not be able to start next match if you are above it.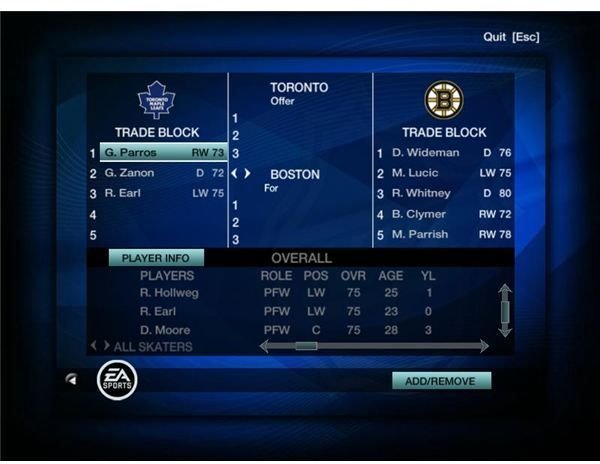 Free agents
In this section you can sign free agents for up to 3 years. Of course, each player has his demands – but as they are "unemployed" you can snatch a potent player for a relatively low price (salary). This is another place to find "missing position" playes to complete your squad. You can sign as many players as you want – but remember the salary cap! You will have no warning and may end up forced to trade one of your stars to get within the salary cap.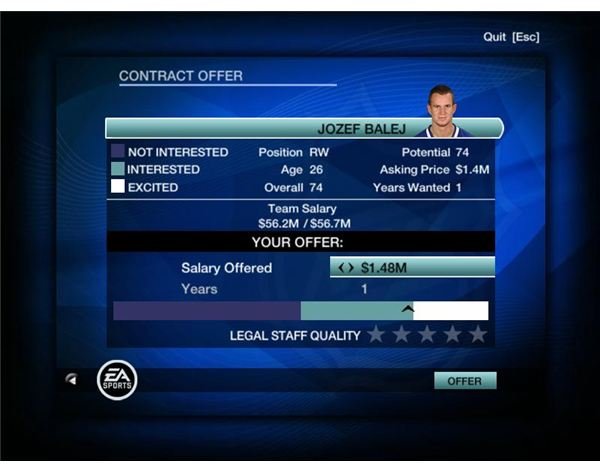 Upgrades
This screen, overlooked by many players, is in fact very important. Using the upgrade stars (gained as the trust level of team owner increases) to upgrade your staff can improve your players drastically. For instance, an upgrade of the Goalie coach will increase ALL the attributes of your goalie by 1 point! There are 3 sections for upgrades: One Ice Staff, Off Ice Staff and Front Office.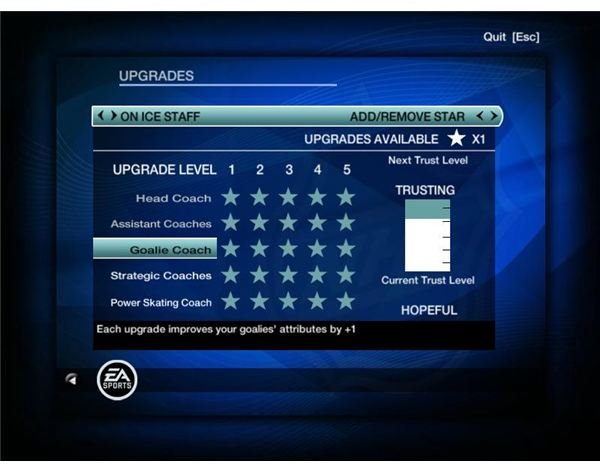 Finances
This is a less important section – it just gives you an overview of your finances and unless you are REALLY into it (altering ticket prices) it is not of much use.
Scouting Reports
Here you can get info about the upcoming draft. The prospects are rated by your scout with varying accuracy, giving you a hint of what is about to come in the upcoming draft. Upgrading your scout will, of course, lead to more precise and reliable reports.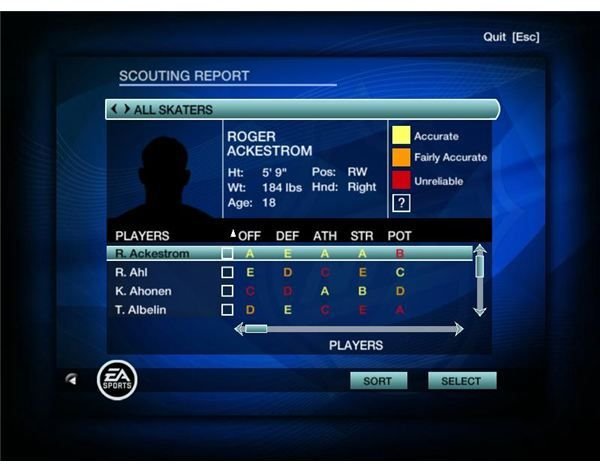 Contracts
This section should help you to identify potential players to trade. If you see a highly paid player which is too old or low potential – trade him. Of course, not every team will accept the trade, but remember – different teams have different goals, so a player which is not too important to you can become (or at least be considered as) a "completing the puzzle" player for another team. You can also release your players to free agency here - but remember, their salaries still count towards you team cap until they are signed by someone else.