FFXIII - Rakshasa Battle Guide (Compelting Mission Eight)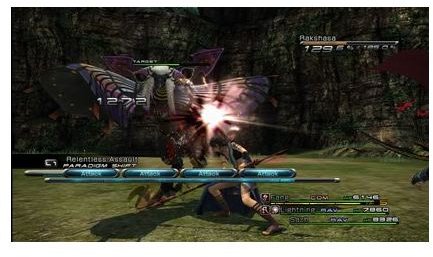 FFXIII - Rakshasa Strategies & Battle Guide
The empowering feeling of defeating larger and more difficult enemies through struggle, trial and error and tacit use of strategem is a gaming trope that the JRPG, as a genre, leans on quite frequently. In a similar and continuing manner reminiscent of the twelfth Final Fantasy installment, there are missions that can be taken on during the Final Fantasy XIII story, after chapter 11 begins and the game world quasi-opens up to players. In these missions, players fight and defeat a selected mark or monster, to complete the side-quest and be rewarded with some unique and indispensable loot. This article tries to provide some strategy and a battle guide to mission eight of the sixty-four available, wherein players fight against the FFXIII Rakshasa incarnation. Read on for more information on the Rakshasa mission battle, including details on the Libra-type abilities of the enemy as well as paradigm strategies to defeating it.
Statistics & Libra Information of Rakshasa
In FFXIII, Rakshasa is on the lower end of the mission boss scale, with paultry health points and level in comparison to some of the heavier and harder contemporaries players will face thereafter. Unlike Juggernaut, Neochu, Mithridates or Adamantoise, Rakshasa only has 162,000 HP and a low strength/magic rating (162/231). To combat this lack of health, in comparison to other bosses as 162,000 is still quite high, Rakshasa has a chain resistance of 90 and a stagger point of 185%, which can take some time to accumulate during the encounter. It should also be noted that it is weak to lightning elemental damage while halving wind based attacks.
To find this mission and face off against Rakshasa, players will have to engage with the Cie'th stone located in Vallis Media, in the Base Camp area. In the Atzilut's Tears section of the same location, the mark can be engaged and defeated. It is similar in design to bird-like creatures such as Incubus, Skata'ne and Yakshini, who all share traits taken from giant birds. This design follows through to its move set, which comprises of two separate dances, both of which inflict status ailments on the party, coupled with a default attack animation. While it can both buff and de-buff, Rakshasa is susceptible to Slow & Curse, which give a Saboteur/Synergist class selection an advantage during the battle.
Paradigm Setup & Battle Strategem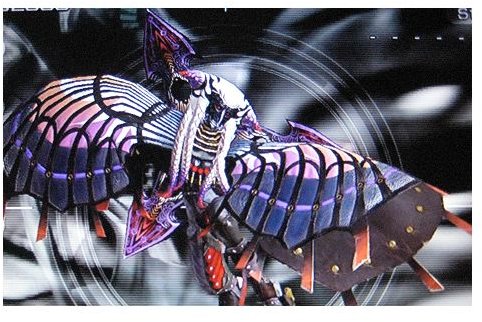 When fighting Rakshasa, three flans will also make an appearance on the battlefield. These need to be dealt with quickly and effectively, in order to both achieve a five star rating at the end of the battle and receive the best loot drop available. Starting out with either COM/RAV/RAV or COM/SYN/SAB can give you either a plethora of damage or a gamut of de-buffs and buffs before taking out the enemies in front of your party. If you choose the SYN/SAB selection, players can either wait for curse to hit or simply place the buffs before reverting to COM/RAV/RAV and RAV/RAV/RAV, as a means of raising the stagger meter.
It should also be taken into account that players can pre-emptively strike the enemy with Deceptisol, allowing a single Blitz or Ruinga to stagger each of the four opponents from the get-go. This makes the battle far easier, as several blitzes or AoE attacks can wipe out the flans, before a concentrated tirade of damage can kill Rakshasa without it hitting you. If that can't be done, just accruing stagger percentages is the safest way to defeat the boss. As for characters to choose during the conflict, Lightning & Fang are necessary for firepower as both commandos or ravagers. Snow can be used as the auxiliary damage maker, as can Sazh. Vanille can be used as a Synergist for support also.
This post is part of the series: Final Fantasy XIII - Mission Guides
A series of articles that relate to specific missions found during the main game of FFXIII. In total there are 64 Cie'th stone missions the player can undertake, each ending in a boss fight against a mighty foe.