Introduction
As it was said on several occasions, FIFA08 is a great game and a real joy for every computer-football fan. It was also mentioned that tactics has been given a special attention by the developers and can give you (or your opponent) a serious advantage – if used properly. If you have missed – please, do read the "PART I – offense" and "PART II – defense" articles. In "PART III" we have been dealing with kick takers and offensive mentality. Now it's time to talk about defense.
Defensive Mentality
When you decide to play with "defensive mentality" (press the keypad 5 until the triangle is pointing down) you opponents will likely to face a "bunker"-style defense. Practically, all 10 outfield players will defend, positioning themselves on the own half of the field – especially when opponent has the ball. The area between the central line and your penalty area will be relatively free and "open" (watch out for long kicks), but close to the 20-meter line your midfielders will face opponent attackers, with your defensive line further closer to the goal. Your opponent will have practically no problem passing the ball in midfield (and even in attack) – but it will be very hard for him to get a good shot, as the penalty area would be loaded with defenders. Also, it must be noted that it seems that the game "reacts" for defensive formation in a special manner – your goalie will be making more saves and more shots will miss the target. Used with "counter attack" option (PART I – offensive tactics) the "defensive mentality" can be a serious weapon while defending a lead. However, I would not recommend on using it for the whole match as the opponent will, finally, find some "holes" in your tight defense – and score.
Man Marking
Another defensive tool is "man-marking". Accessed through the in-game tactical screen, this option gives you a total control of your defense. You can assign every player to mark certain opponent or just give a "special attention" to opponent's playmaker or striker. Note the skills of the defender versus the attacker. Tackling and marking is important – but do not forget the sprint speed and acceleration, as even the best tackler can be beaten by a fast attacker – with off the ball movement.
Man Marking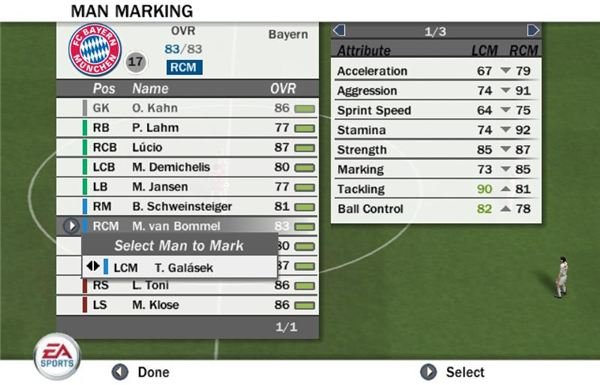 Summary
With this article it can be said we have covered almost all the tactics in FIFA08. The only thing left is creating your own formations. But I think next time we will deal with some in-game tricks that should help you to score goals!
Links
FIFA08 Tactics – Part 1 – Offense
FIFA08 Tactics – Part 2 – Defense
FIFA08 Tactics – Part 3 – Kick-takers & Offensive Mentality
FIFA08 Tactics – Part 4 – Defensive Mentality & Man Marking
This post is part of the series: Scoring and winning in FIFA 08 – the Ultimate Guide to FIFA08
How to win in FIFA 08?
This series will guide you through all the advanced options in FIFA08.
Tactical and practical tips, useful tricks in the latest EA Sports football simulator.
Learn to enjoy FIFA 08 even more!