"You Shall Not Give False Testimony, Except for Profit"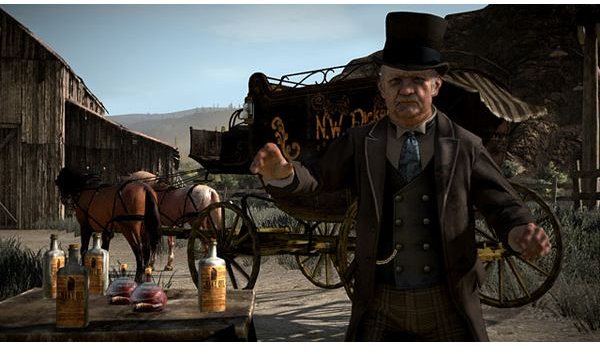 Once Nigel West Dickens has recovered from his injuries, he'll offer to repay you for your rescue by asking you to work for him.
The two of you will ride out to a nearby farm so you can help him peddle his miracle tonic.
Along the way you'll be given a chance to explore the Dead Eye ability and engage in some fisticuffs.
The Ride to Ridgewood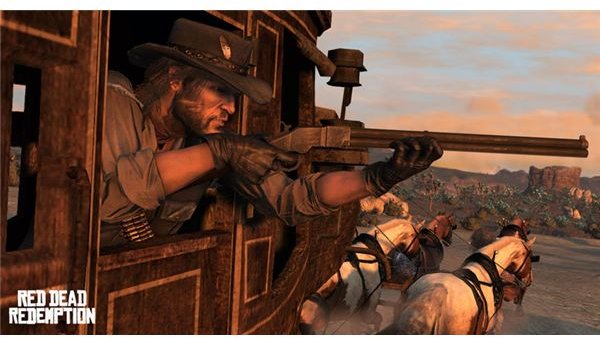 Once the initial cutscene ends, take the reigns of Mr. Dickens' wagon and follow the waypoint to make your way to Ridgewood Farm. The ride is a long one, and it seems even longer as you're forced to listen to Nigel extol the virtues of his miracle cure.
Once you're within walking distance of the farm, Nigel will drop you off so that you can "saunter in nonchalantly" and join the crowd. Prepare yourself to put on the performance of a lifetime.
It's a short walk, and by the time you get there a crowd has already begun to form. Walk up and join them to continue.
The Sales Pitch
Nigel goes through his spiel, listing off the many ailments his snake oil is purported to cure. The crowd doesn't seem convinced. One cowpoke asks him to prove his claims, and he chooses you as the test subject.
Your first task is supposed to prove that your eyesight has been improved by the tonic. On a nearby porch is a cow skull hanging from a beam. Your task is to shoot the skull to prove the improvement in your vision.
If you miss at first it isn't a big deal, it just gives Nigel a chance to mention that the elixir sometimes takes a bit to take effect. Carefully aim at the glinting skull and shoot it with your revolver.
An enormously-mustachioed man isn't impressed, and challenges you to shoot his hat out of the air. Draw your gun, wait for him to throw the hat, then engage your Dead Eye ability by clicking down the right thumbstick and blast it out of the sky. A single bullet will do but you can hit it multiple times if you want to be a showoff.
Mr Mustache isn't pleased about the new ventilation system in his hat and challenges you to a fist fight. Use the aim button to prepare yourself and throw punches with the shoot button. After you've landed a series of buttons, you can tackle your enormous opponent to the ground by pressing "Y" or "Triangle" and deliver a few well-aimed blows while he's defenseless. Eventually Aquila is knocked unconscious and Nigel begins to celebrate his successful demonstration.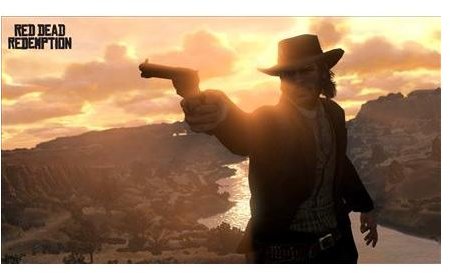 Of course, Mustache is angry about being embarrassed and draws his pistol on you. Engage the Dead Eye ability again and shoot the gun out of his hand to end the confrontation.
Nigel of course capitalizes on the incident as proof of the effectiveness of his snake oil and even Aquila is impressed enough to buy a bottle or two.
Afterward, Nigel thanks you for your help and offers his assistance with your Bill Williamson problem. He suggests you speak to his friend Seth for assistance.
For more mission walkthroughs, cheat codes, weapons guides, and more, check out our Ultimate Guide to Red Dead Redemption.
This post is part of the series: Red Dead Redemption Nigel West Dickens Contact Missions
Mr. West Dickens is a colorful character. Not entirely honest but in possession of skills you'll need to get inside Fort Mercer, you're pretty much forced to help him peddle his wares before he'll help you. Check out full walkthroughs for each of his missions.