Need for Speed World Team Escape Hints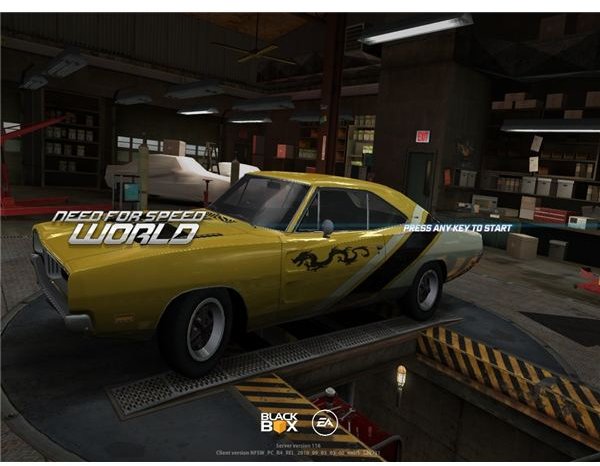 Four Times The Fun
The newest mode in the Need for Speed World is called Team Escape and it enables players to participate in a team of four against an onslaught of varying degrees of vicious police. The new mode can prove to be very tricky for players who are unaccustomed to working together as a team as well as for players who may not understand that it's certainly not a solo-run. Given that there are a lot of possibilities for ending up on the wrong side of a turn in the Team Escape mode, this Need for Speed World Team Escape hints and tips guide will help lay out some of the ways to get to the finish line in one piece and on time.
Three Tiers Of Police Tyranny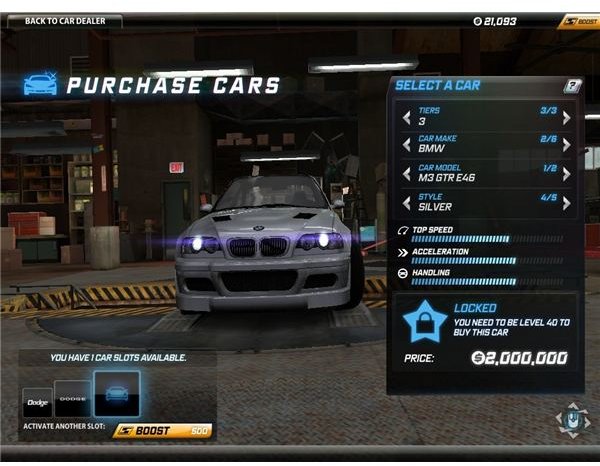 There are three different types of Team Escape in the game. The types are actually associated with car tiers, and there are two races per every tier. The races can range in length from five minute escapes up to 10 minute escapes. The entire Team Escape type is very challenging and more-so due to other players and not necessarily just the cops.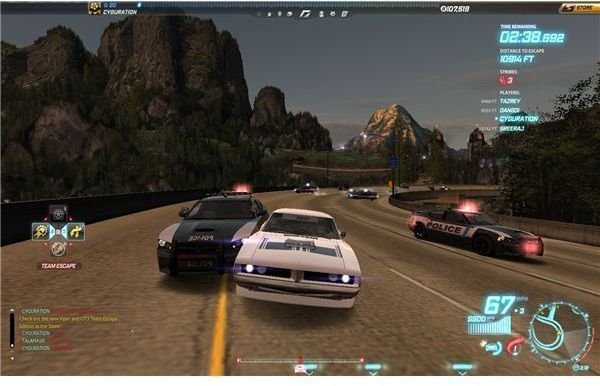 However, even if you have a Tier 3 car, it's best to start with Tier 1 races in Team Escape to get a feel for how the cops will behave with multiple players as well as try to find a sweet spot with teaming with other racers who may have a similar racing style to you. For instance, you don't want to pick a lightweight car and team with a group that continuously pounds their teammates into a wall. It only hurts your chances for getting to the finish line. Also, since each car behaves differently no matter who is driving, it's important to understand in the lower tiers how to run drafts and know when to pass and when to let other players pass you. Practicing the basics in the Tier 1 category races will definitely help when it's time to take on the lengthy, and difficult Tier 3 escapes.
Team Escape Means It's All Or Very Little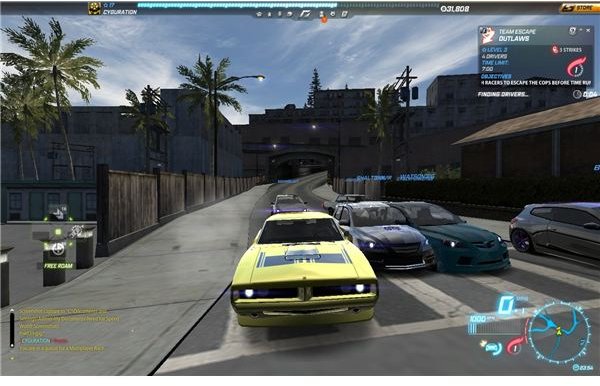 Some players may not understand that going into the Team Escape doesn't mean you bump and grind your teammates from start to finish. Whether you're playing with NPCs or other players, the whole point of Team Escape is to get to the finish line in one piece…and by getting to the finish line I mean everyone.
In Team Escape, much like Need for Speed Hot Pursuit, it's vital that all the participants get to the end of the race otherwise you lose out on bonuses, experience and money. Another thing to keep in mind is that whoever finishes first will automatically start a countdown, enabling a 60 second counter where the remaining members have to get to the finish line or lose out on potential rewards. Team Escape really does live up to its name and it's essential not to forget about that aspect of the race during the escape.
.
Team Tactics For The Win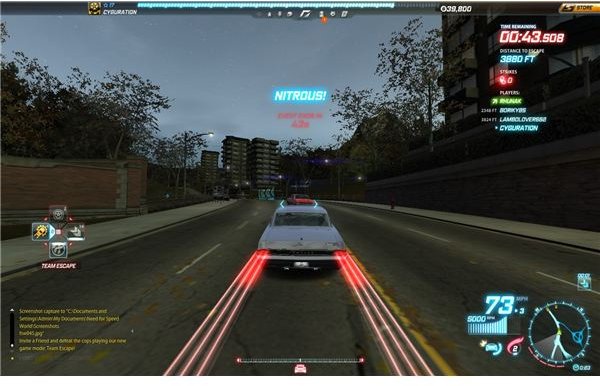 Just because everyone is trying to get to the finish line doesn't mean that it's every man or woman for him or herself. The main thing to remember is that there are team tactic skills available specifically for Team Escape, including Team Evade and Team Slingshot. Team Evade makes it where cops near any player within the race will automatically be pushed back, just the same as the normal Evade. Team Slingshot is exactly what it sounds like: all players who are not in first place will get a speed boost to catch up to the next player just in front of them. This is a perfect skill to help players who are trailing by a few thousand feet to catch up to the front runner(s) of the race.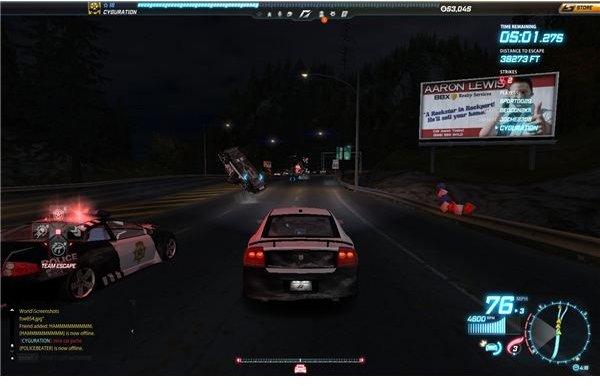 A few other tactics that can be employed includes using Juggernaut to smash through police barricades while you're in first or second place. Helping teammates maintain speed is key to coming out with a lot of experience and money in tow, and by using Juggernaut to knock out police barricades or Rhinos will help out a lot.
Another tactic is boosting teammates while they're being boxed in by cops. Using a turbo boost to ram a teammate from behind while they're being cornered or boxed by cops can help them avoid being arrested. Drafting is also helpful when players stay close together, enabling all players to blast through a level moving fast and staying together.
One tactic that really needs to be avoided is using environment hazards against cops if you're in first or second place. Road or environment hazards also hinder other players, and if you're in first or second place you can potentially get your teammates arrested by knocking over beams or crushing a sign that may block a path for your teammates. Leave the road hazards for teammates in third or fourth place, this way no one will accidentally get blocked in by mistake.
Key Power-Ups To Equip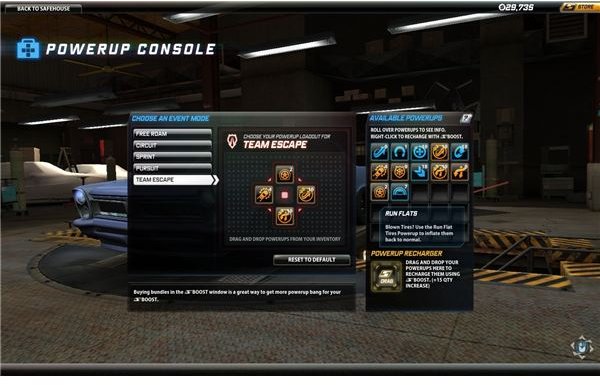 Doing Team Escape is a lot different than the normal NFS World Pursuit mode. The biggest difference is that you're no longer racing to hide from cops and make a little cash being crafty and out-maneuvering cops. In Team Escape the idea is that it's like a normal race but with cops, similar to Need for Speed Most Wanted. The idea behind equipping the right power-ups for Team Escape keeps in line with trying to keep the cops off your back and your teammates alive and well.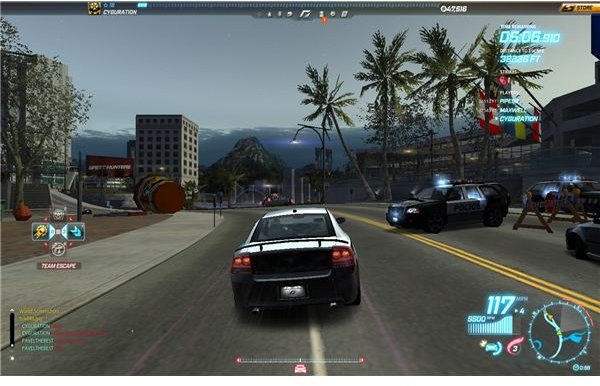 Some of the best power-ups to keep on hand are Team Evade and Team Slingshot…however, one or the other can be substituted for each other. Preferably, keeping Team Evade in your stash is more important because you can use it to help fellow racers get out of a bind and then use something like Juggernaut to punch a hole through oncoming cops to the clear the way for your teammates.
Given that near the end of most races the cops will lay the spike strips on quite heavily, it's very important to keep the Run Flats power-up on hand, otherwise you might find it very difficult to finish the race running on all flats. Remember to only use it though if you're 4000 or more feet from the finish line and it's crunch time, otherwise you may find yourself wasting a very rare and valuable skill.
If you need more racing game guides or tips and hints for your favorite simulators, be sure to check them out right here at Bright Hub.
This post is part of the series: Need For Speed World Guides
A few hints, strategies and tips for winning races and out-running cops.