Need for Speed World Review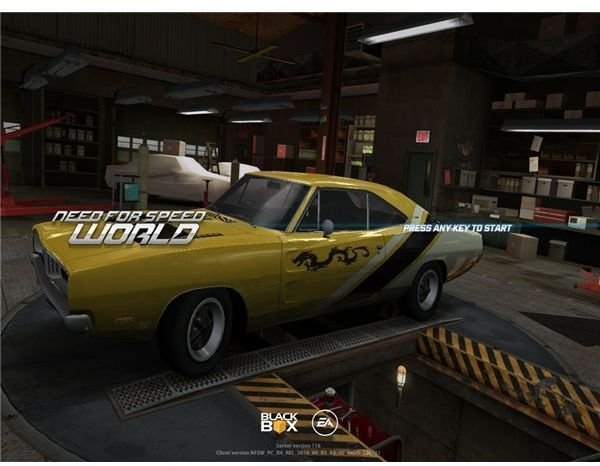 The World Of Needing Speed
Electronic Arts has taken the Need for Speed franchise and decided to elevate it beyond the insipid street racing/pro-racing/cop-chasing paradigm the series has been known for. The newest game in the series is actually a mix of all former Need for Speed titles, combined into one not-so-big online racing title that offers up tons of potential and possibilities yet falters once the core game is exposed for what it is.
While the Need for Speed World is a great attempt by EA to revolutionize the staling racing series, it's also a telling show of how the game feels a little less relevant in today's generation of ever-impressive online racing games that have pushed the envelope very far in terms of both quality and content. Find out how the rest of the game fares in this Need for Speed World review.
Concept (3 out of 5)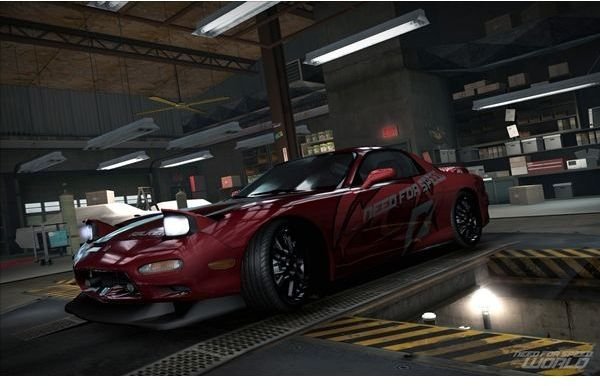 It's hard to argue against a concept for a game that works so darn well. Black Box Software has done a remarkable job in streamlining the content in the game so that – despite frequent loading when teleporting or matchmaking – the game always has something to offer gamers. In other words, there are no dull moments and no waiting around to find a room, a match or a race.
The entire setup sees players starting off with a little cash and a noob car…making it just like any other racing title with a career mode. From there, players enter into the free-roaming game world with other players and setup matches or engage in pursuit runs with the police. As players level up there are new cars, vinyl designs and performance options that become available, along with new racing routes.
While the basic game concept is superb and is executed with equally impressive precision, the problem falls in line with the limitations on the actual scope of the content. Unlike Project Torque or UpShift: Strikeracer there are no individual upgrades available for cars, and vehicles can only be upgraded after reaching specific levels, which can greatly limit the game's appeal for core racing fans.
Gameplay (5 out of 5)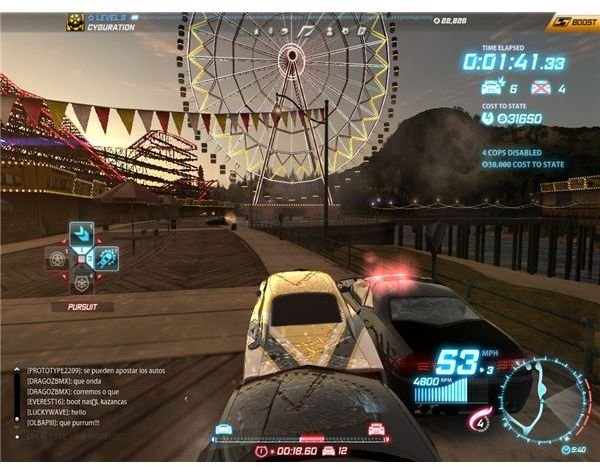 Setting up matches is easy and fun. Getting into pursuit races where additional money and reputation can be earned (or lost, if you happen to get caught) is also fun. Customizing the decals on the cars can zap a lot of time and making friends, developing rivalries and exploring the game world is all handled with amazing polish in Need for Speed World. So much so, the game is a great way to just relax and drive, soaking in the environments and admiring the better-than-most-NFS-games controls and vehicle physics that are still aimed more-so toward the arcade crowd but afford for some nifty driving tricks that core gamers will appreciate.
Unlike EA Seoul's RayCity Online, NFS World doesn't task players with a lot of ridiculous grinding-esque quests and actually puts more attention on the actual racing aspects that made the Need for Speed popular in the first place. This is the game's first-and-foremost saving grace, alongside its top-notch visual and audio presentation.
Graphics and Sound (5 out of 5)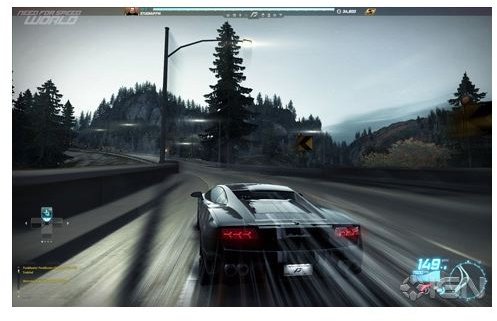 EA has always used NFS games as a sort of soundboard for eclectic and well-known songs that range from upbeat electronic tunes, to flatout hip-hop pieces. Need for Speed: World keeps the soundtrack very similar to Aeria Games' Project Torque, with a lot of trance breakbeats and jungle techno pieces rounding out most of the soundtrack. The tunes definitely match the game's modern cityscapes and contemporary art-style that borders on realism-achieved.
The environments are a mixed bag that transitions from various settings based on the player's location, infusing industrial construction sites with backwood highways along with highrise urban settings that transition into freeways that take players through winding residential areas. Most of the environments look very similar to previous Need for Speed titles, especially the Need for Speed 3 and Need for Speed 4, with hints of Need for Speed Black making brief appearances_._ I was almost convinced that there would be an area replicating the Dolphin's Cove at some point. Still, the breathtaking environments only help convey a deep sense of immersion within the game's more-quaint-than-frantic racing settings.
The vehicle designs aren't far behind the game's visually remarkable environments. In fact, the designs for the vehicles – and their almost non-existent damage models – are almost as good as something out of Gran Turismo 5 or Forza Motorsport 3. What's more is that the sound designs for each of the cars is just spot-on…muscle cars roar with such force that I got goose bumps listening to the Dodge Charger tear up the road at over 5000RPMs.
Game Content (2 out of 5)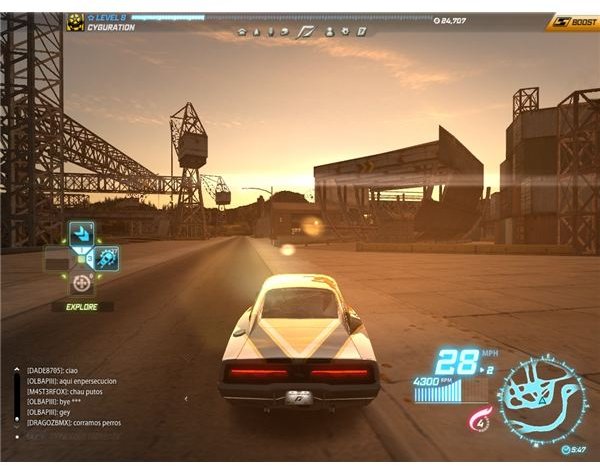 As it stands, the weakest point of Need for Speed World's offerings are in its vehicles, customization options and performance tuning. In fact, there is no performance tuning. You can't head under the hood and tweak the acceleration; you can't even upgrade the acceleration. What you buy is what you get and the only options for modifying the performance of the car (as of the writing of this review) are in the mod kits that are available for certain cars at certain levels.
The only good part about leveling up in the game is earning points that can be put into specific racing categories. For instance, every level players will earn a skill point that can be put into either Exploration, Pursuit, Circuit or Sprint. An example would be that in Exploration players can put skill points into an ability that increases cash or experience points every time a player competes in a race, or for example a skill point can be used in Pursuit to increase the amount of damage a player outputs when ramming other cars.
Other than the skill points, though, leveling is just a vehicle (pun intended) to carry players into the higher tiers to use higher level cars. The fact that you can't buy a low level car and upgrade it into a higher tier makes the game feel a little pointless, especially after this feature was made very prominent in previous NFS titles such as the Need for Speed Underground.
Overall (3 out of 5)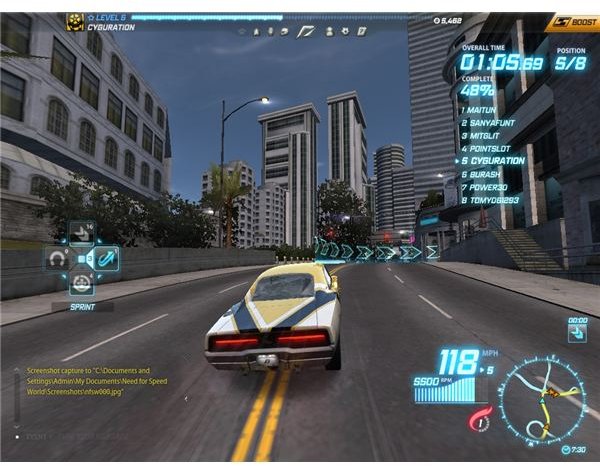 While a lot of the game is extremely polished and the gameplay itself is about as good as it gets for a Need for Speed title, the problem with NFS World is not with its structure or its concept, but mostly with the way the content is handled. Perhaps in a few months after the game receives more cars and performance options it'll look a little more appeasing to core racing fans who want more out of a racing title than just a scenic joyride through the countryside. As it stands, Project Torque or RayCIty are better choices for gamers looking for a more content-heavy PC racer with online functionality and is also free-to-play.