Madden NFL 10 by EA Tiburon Preview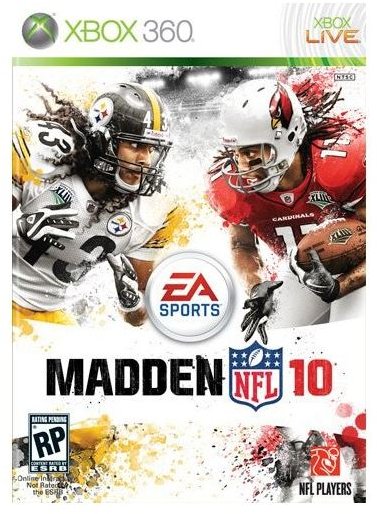 The Development
The Madden football franchise has been a household name in the video game industry for over two decades. Developed by EA Tiburon, who is also responsible for the NCAA football series as well as the Nascar series, has definitely got the NFL experience down to an art. After over a decade working with John Madden and other NFL insiders to bring the most realistic sports simulation to the consoles, the tag line they have placed on the game this year is to Fight for Every Yard.
Madden Basics
Anybody who has played Madden, has become familiar with some of the basics that have been in all of the Madden games in the last few years. You will have your standard modes like play now, season and franchise. This year Madden is enhancing the franchise mode, by creating a highlight show for your team. This is still under wraps in a sense, but it sounds like an awesome idea. Each week possibly having analysis and video of your games would be a great idea, similar to what the late ESPN NFL 2K series had with their SportsCenter updates.
EA Tiburon has yet to fully reveal their new online features, but they have stated that they will be delivering "the most comprehensible online offerings in franchise history." It will be interesting to see if they take modes from other EA Sports games this year and implement them into Madden. Most notably, the Be A Pro mode that was introduced to online play in NHL 09 and Fifa 09. Gamers were able to get online, create their single guy, and gather other players to form a team and take on other teams.
Game Play
Over the years Madden has emphasized certain aspects of gameplay that have added to the authenticity of the game. One year they focus on offense, like with the quarterback vision they had a few years back. Then they focus on the defense and throwing in the hit stick. This year is no different, as they focus on the intensity of the on field battles. As was seen in last year's game, players could be involved in gang tackles. This meant, if an offensive player was hit by a linebacker, you could have a couple other defense players, join in to make a big stop and prevent a first down. The same concept is present here, only EA Tiburon has taken it to the next level by adding the number of players involved to a whopping nine. There is also a new blocking system for the big guys up front to get in on the action of blocking down the quarterback's passes.
Adding to this, is the ability to fight for fumbles from the bottom of a dog pile. We all know, how often this happens in the NFL, so it will be exciting to be able to be a part of that exciting play as well. On the offensive side of things, players can also now, drag teammates across the first down markers. This new animation technology is being called Pro-Tak.
Graphics
The Madden NFL series has always been ahead of the game when it comes graphics. This year, it has been taken to a whole new level. They have made the stadiums and player models look even more like their real life counterparts. EA Tiburon has also incorporated the referees and chain gang into the action. During fumble scuffles, you will see the referees get right in there, pulling players off of each other to get to the ball. Not only that, you also see chain gang appearing on the filed to measure first downs. Madden NFL 10 is trying to get the full circle experience into this year's edition. You can see in some of the screenshots below just how great and life-like the graphics really are.
Screenshots of Madden NFL 10 by EA TIburon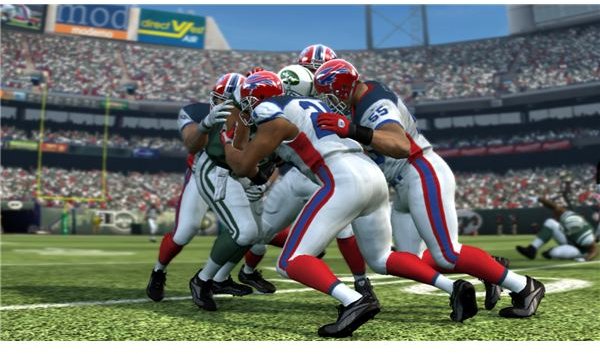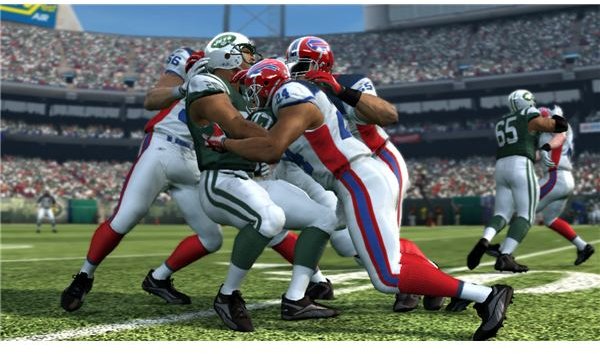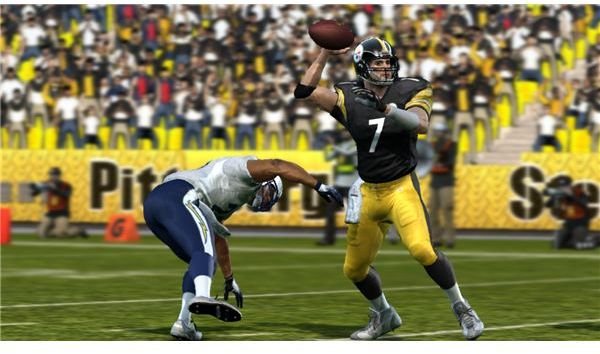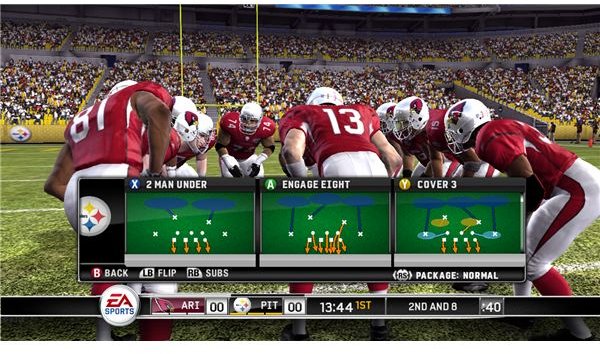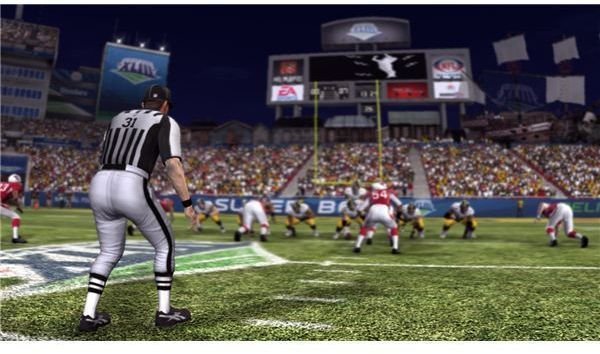 Sounds and Music
As with past Madden NFL console games, the sounds got better and better. Since they haven't really released anything other than trailers for the game itself, it is really hard to say if the sounds of the game will mimic a true football experience. But, I imagine that every football/gaming fan out there is hoping that you will be able to hear each bone crushing hit and each play as it's called.
Overall
Madden NFL 10 is going to sell millions of copies this year without a doubt. It has a lot promise and looks to improve a solid performance from last year's title. With the new addition of the Pro-Tak modes and an ehnace television styled presentation, Madden NFL 10 is looking to bring football fans another exciting year of football. It hits stores on August 14, so keep a lookout for our full review when it is released.
Of course, Madden NFL 10 is not the only game coming out this year that you should look forward to. There are several great games that will be hitting shelves before then such as: