What Is The Easiest Way To Earn Coins In Madden 11?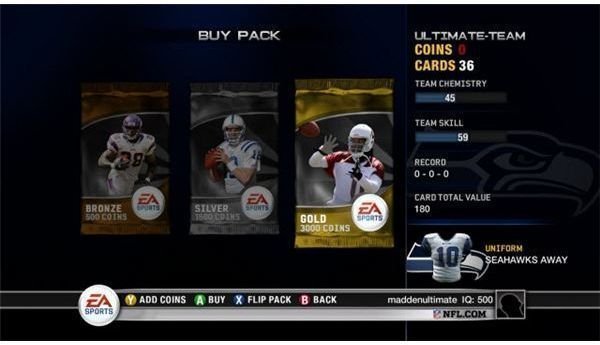 What Is The Easiest Way To Earn Coins In Madden 11?
With the addition of EA's Ultimate Team card game in Madden 10, players had the option of managing a deck of cards that equate to a fantasy NFL team. This new feature has a coin system in place for purchases and upgrades to your team as well as stadium, head coach et al. There are multiple ways to earn coins in Madden 11 and most will take time to grind out any real production unless you're willing to spend hard cash on upgrading your Ultimate Team. This article details the easiest way to earn coins in Madden 11 as well as providing an overview of what can be unlocked or purchased with the accumulated coinage.
Earning Madden 11 Coins
Madden 11 coins are cumulatively gained through two separate methods. Firstly, players can purchase card packs or a set number of coins with real money through the use of Microsoft Points or Playstation Network currency. The much coveted Platinum pack (which contains several rarer cards for players to use in their Ultimate Team) costs 240 MS points or the equivalent of $2-3. Secondly, players can earn – rather laboriously – Madden 11 coins by playing games or super-simulating them in the Ultimate Team mode. While it may take a long time to build up the necessary funds to purchase better cards, the grind of earning coins in Madden 11 is a better value proposition than purchasing the DLC packs.
The instant nature of the DLC and potential rare cards that can be purchased may sway people with some errant currency to spare. However, most players will garner points from playing matches and the auction block system in Madden 11. Coins can be used to buy auctioned cards that indelibly have a lower market value than their specified default. Therefore, if effective use of the auction block system occurs, players can buy, trade & sell their cards at a profit. Unfortunately, players will have to gain a series of silver to gold rarity cards in order to effectively auction or trade them off, ergo a new player will not have this luxury.
Best Ways To Earn Madden 11 Coins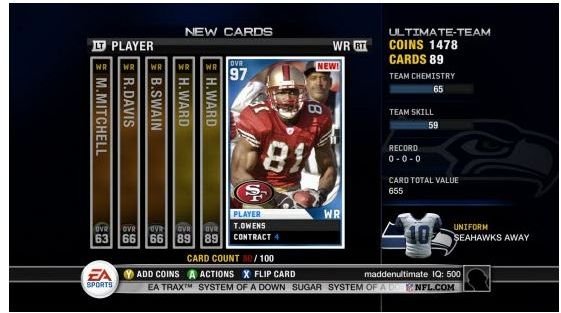 Both online ranked & player matches yield coin rewards in Madden 11. The fruits of your labor may be initially small, with around 100 coins being awarded for a good performance against a fellow human opponent, they will build up over time if you continue to enjoy and play the online mode. In addition to this, players earn between 500-1000 coins through playing or simulating games in the Ultimate Team online mode. Unlike the normal ranked matches, this mode forces you to play with the deck of players you currently have, meaning early matches will likely see your team losing against both humans and CPU controlled teams.
The easiest way to earn coins in Madden 11 is to simply play the game, whether you're in the Ultimate Team mode and using the supersim function or just playing against friends online in casually competitive matches. If your enjoyment of American Football and the EA Tiburon developed franchise release is great enough, then the accumulation of coins shouldn't be too big a problem, granted you indulge in the online portions of the game instead of Franchise mode et al. But, some people enjoy spending disposable income on downloadable content, so if patience isn't your thing, buying the platinum packs for around $2 may be your avenue to Ultimate Team Madden 11 coins success.