Star Trek: D-A-C - A Preview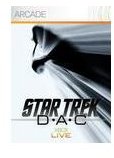 Paramount Games
According to Paramount Games, Star Trek: D-A-C will be one of the space shooter games that is similar to previous Star Trek games for consoles that are still available, (i.e. Star Trek: Encounters). But, this newest release in the Star Trek gaming arena is said to allow you to play in the same genre of Star Trek as the new J.J. Abrams' movie. Which basically means, in the early days of Captain Kirk and Mr. Spock. For me, this sounds awful cool, as there aren't many newer games out that will allow you to play in this era. According to Paramount, you will be able to choose a specific starship and challenge your friends, and enemies, in online multiplayer modes and even co-op modes to get a full experience of a Federation Captain in battle. So, basically, you'll get to pilot your ship and battle alongside friends in multiplayer battles. Sounds cool enough right?
From the information that is available on Paramount Games' web site for the Star Trek: D-A-C (which is not much, trust me), you will be able to play in up to 12 person multiplayer mode, where you have two teams of six players on each side. There will be three different gameplay modes and an extremely detailed "Stat Tracking" to help both sides see who the clear winner is and why so that you can work on your skills for the next battle.
Paramount is also releasing that you will get to choose from three different ship classes: Fighters, Bombers, and Flagships. Each different ship type will have it's perks - and it's bad areas - so a good mix of these ships on each team will help you to ensure that your team is victiorious.
Don't want to play on multiplayer mode? No problem. There will also be single player modes where you can play against the computer to see how good you really are.
According To "Other" Sources
There are a few other sources that have released information about Star Trek: D-A-C. The game itself is being developed by Naked Sky Entertainment along with Bad Robot Productions, which is producing the upcoming Star Trek movie.
For those that are wondering if the original U.S.S. Enterprise will be in the game - have no fear, it will, except in a variation of the ship that is playable.
Each level in the game will hold different features and objectives. These levels have been designed to have a ten minute time limit so that battles don't take forever to complete.
You will be able to upgrade your ship, in both multiplayer and single player modes. Which is a good thing - especially if you've played other Star Trek console games where you can't upgrade.
The new Star Trek: D-A-C will be more of an "arcade" style game than previous Star Trek versions, which are more narrative in their game style. So, this will be a change from normal movie games where you aren't trying to follow a set story line.
Graphics
From the few screenshots that are out of the game (which I've posted for you below), I'm impressed so far with the graphics. I can only hope that these are really what the game will be like and not just the best of the best to get us all hooked. But, as you can see, the graphics are superb here - bright contrasting colors, great detail on the ships, and a wonderful array of brightly colored "laser" beams. You can make up your own mind if these graphics impress you or not - personally, I think I'll wait for the game to come out before I make a call either way.
Images From Star Trek: D-A-C




Release Date
According to Paramount and Naked Sky Entertainment, the release date for Star Trek: D-A-C is mid-May 2009. Hopefully it won't be too long after the movie is released as I am really hopeful that this game will be worth the wait.
Other Star Trek Games
If you don't want to wait to see if the game is released on time or not, there are other Star Trek console games out there. Star Trek: Encounters is one of the PlayStation 2 console games that is fun to play and offers some major challenges to those that decide to undertake this one.
And, for you MMO lovers out there, Star Trek Online should be releasing in 2009 as well to allow us all to live out our Star Trek captain dreams. There is actually a lot out about this upcoming MMO game as well, and you can find more about it here.
This post is part of the series: Other Star Trek Reviews
A collection of various reviews of Star Trek games.