Football Manager 2011 Guide: Signing Players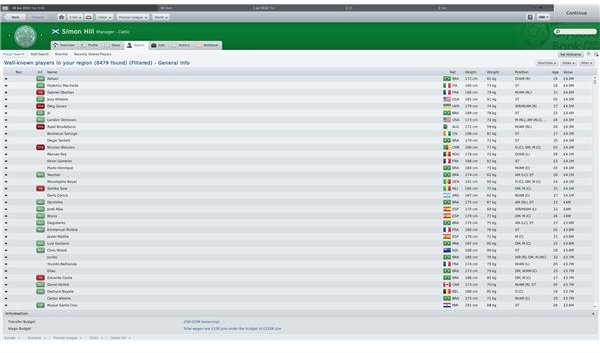 Signing Players in FM 2011
One of the most enjoyable aspects of any football management game is signing players. Building your own team and bonding them into a successful force is a tricky prospect. Whether you are splashing millions on an exciting international superstar or taking a chance on an old fading pro who hasn't played a competitive game for six months you'll need to master contract negotiation to get your man.
Player Search
You can take different approaches to player searching. If you like the squad you have inherited and you just want to fill a couple of specific roles then use the Edit Filter option at the top right to focus your search. You'll find every search has the "Ask assistant to filter out unrealistic targets" box ticked and it's best to leave it.
If you are happy to pore through thousands of entries then don't set any other filters and just begin scanning through the players who might consider signing for you. The easiest players to sign will be Out of Contract or Transfer Listed and you can select either in the Edit Filter options.
If the player is happy at their current club and the club don't want to sell then you'll have to make an offer well above the value stated. The bigger the club you are trying to buy from, the harder it is to get your man. I'd recommend checking out Views and choosing Contract because then you'll be able to see the Asking Price if it has been set. This can be a great way of finding bargains that clubs are keen to offload for reduced fees.
When searching through the Out of Contract player's list it's a good idea to filter out some of the names that aren't worth looking at. You can always pick an attribute like Passing and set the minimum to 12 and then you'll be left with a much more manageable list. Set the attribute according to what you are looking for.
Something which seems to be much more common in Football Manager 2011 is that clubs or agents will invite you to take a look at a player. If a club wants a player off their books they'll sometimes offer them to you for free. Agents are trying to secure moves for their players and will give you a good idea of the bid necessary to get them.
Bidding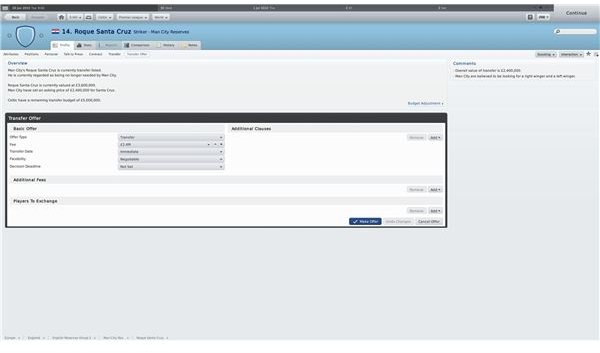 This works just the same in FM 2011 as in previous versions. Make a bid and wait to see if it gets accepted. If an asking price is set and you meet it then you'll definitely be successful, otherwise you'll need to guess. If you scout a player before you approach to sign then your scout will give you an approximate price tag but it's never very accurate. Once your bid is accepted you are allowed to talk to the player, or usually their agent and you have to agree a contract before the move will go ahead.
Agents
There's a pretty convincing argument that ridiculous player demands fuelled by greedy, grasping middle-men is to blame for the financial crisis facing many football clubs. Regardless of whether you hate agents trying to line their own pockets by stirring up player discontent and leaking rumours to the media to secure a move for their client there's no getting away from the fact that they are a part of the game. In Football Manager 2011 you'll have to deal with these agents for the first time.
I expected to hate the introduction of agents, despite the fact it adds more realism, but in actual fact it's a nice addition. Each agent has their own personality which is cut down to three stats:
Willingness – how likely they are to tout the player.
Fee – how much they want paid for their services.
Patience – how patient they are during negotiations.
A really annoying agent can totally scupper a deal, while an undemanding agent can help you secure a great deal.
Contract Negotiation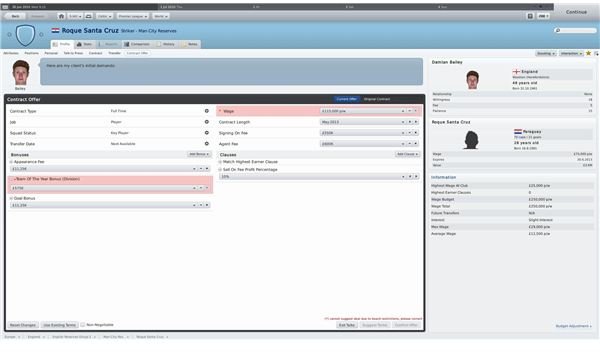 To begin with they'll state their demands for their client and for themselves. Sometimes they'll ask you to make an offer because they don't want to show their hand. Obviously you want to negotiate but sometimes it is immediately obvious you are not going to get your man. This screenshot shows a perfect example. Roque Santa Cruz is on £75,000 per week at Man City and he wants £115,000 per week to come to Celtic. Since the highest wage at Celtic is £25,000 per week and the entire wage budget is only £250,000 it's pretty clear these negotiations are going nowhere.
You can tweak the terms on the table and then hit Suggest Terms at the bottom to start negotiating. The agent will come back with a counter offer. Try to persuade them down with a lower offer than you are actually willing to pay because you can always come back up if they won't agree. If you are both happy then hit Confirm Offer and you'll find out if they've accepted, sometimes immediately, more usually after a few days.
As you negotiate you can also see how interested the player is by looking at the information on the right of the screen. The more interested they are, the more likely you can negotiate them down and conclude a successful deal but even a really keen player is no guarantee of success if the agent is being difficult.
You can try and play hardball by checking the Non-Negotiable box but many agents will react angrily. You should also note that if you Exit Talks without agreeing a deal then even if a subsequent bid for the player is accepted the agent will probably refuse to deal with you.
The whole process is easier if the player doesn't have an agent but this is fairly rare unless the player is young or lower league.
Realistic Expectations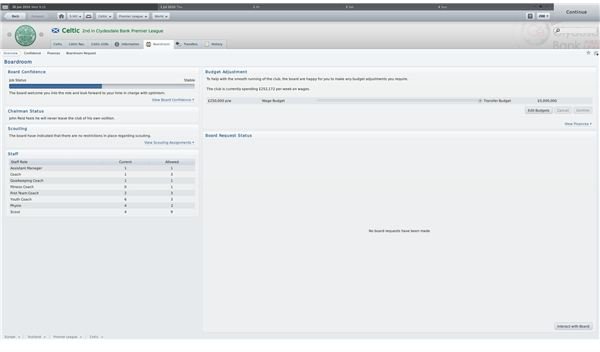 You have to be realistic about your signings especially if you are at a smaller club. Take a look at the wage the player is currently on and if it is astronomical you probably don't want to enter contract talks. You can always go to your Boardroom and edit the budget. Usually you are allowed to decrease your transfer budget so that you can increase the wage budget but there will still probably be an individual cap in place for the maximum wage you can offer.
Loan Deals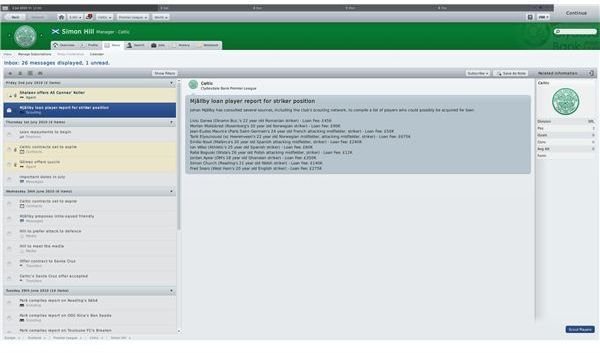 One way to potentially get some players in that you couldn't otherwise afford is loan deals. You go to bid in the same way but change the Offer Type to Loan instead of Transfer. You can also ask your assistant to compile loan reports of available loan players for specific positions. Go to your Backroom Advice screen and choose Assistant Advice and then choose a loan report for them to compile. It can take a few days. The majority of prospects will be young players but if you loan a youngster from a big club there's a good chance you won't have to pay a fee or contribute towards their wages (as long as you aren't a rival of any kind).
Staff Search
You should also probably hire in some of your own staff and thankfully this is generally a lot more straightforward. Identify the staff member you want and make an offer. Avoid going for employed staff members if you can help it and that way you won't have to pay any compensation to their current club.
Coaches, scouts and other staff members don't have agents so you can talk to them direct and get the deal sorted. You can see how interested they are in the deal by checking out the right hand side of the screen.
Contract Renewals
You'll find that contract renewals for your existing players are also handled by agents now. This can be a nightmare and if you are unable to secure a new contract with a player and they have less than a year left then you'll have to consider offloading them if you don't want to lose them for nothing when their contract expires. The actual process is exactly the same as it is for a new player.
That's it for FM 2011 Contracts good luck with your negotiations. Next up we'll kick off the season with a guide to Playing a Match.
This post is part of the series: Football Manager 2011 Guide
This is a five part guide to Football Manager 2011. Find out how to get started with the game, learn about training, formation and tactics. Get the lowdown on the new agents in FM 2011, how to negotiate contacts and find out how to play a match. There's a wealth of handy FM 2011 hints and tips here.