Football Manager 2011 Guide: Setting Formation and Team Tactics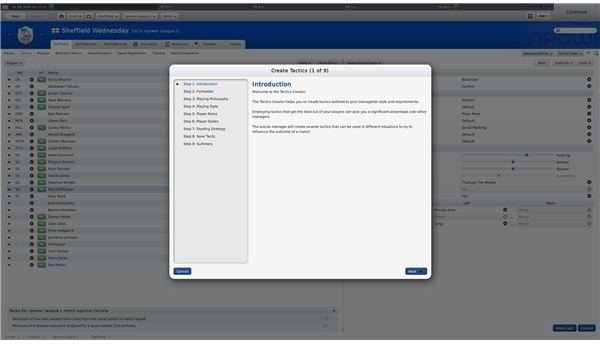 FM 2011 Tactics
Most football fans love to break down the tactical weaknesses and strengths in their chosen clubs over a few beers with mates. In Football Manager 2011 you get the chance to put your ideas into practice. Whether you've always wanted to try four up front or you just think you can get the best from a simple 4-4-2 formation you can prove it here.
Tactics Wizard
Sports Interactive has tried to make the tactics in FM 2011 more accessible with a Tactics Wizard. If you select Tactics from the top right and Create Tactic the wizard will pop up. It will guide you through the basic steps of setting up a formation and tactics for your team. It's a straightforward process and well explained but most players will probably want to access more details. Well, the depth is still there for those who want it and you can select your own formations and detailed tactics without using the wizard at all.
Formation
The first thing you'll want to decide on is your preferred formation. Most people have an idea about this before they start playing. You'll need to make sure you have the right players to make the most of it. If you want to play with a lot of width and attack your opponents you'll need decent wingers. If you want to muddy up the midfield and protect your back four you'll need a dedicated defensive midfielder.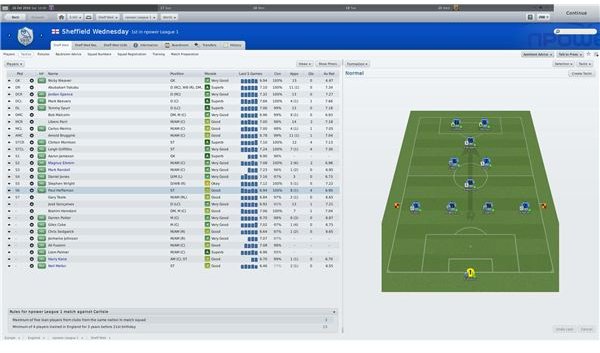 You can get advice on the best formation from your backroom staff and weak areas of the team will be identified in your Assistant Manager's Team Report. You'll need to pay attention to this. If you have a formation in mind but you don't yet have the right players it's no good trying to bang a round peg into a square hole.
With the new Match Preparation option you can focus on three separate formations and the more your team practices them the better they'll get. Think about what formations you are likely to use and make sure you prepare accordingly. Choosing your attacking, normal and defensive approaches might be the best way to divide this up.
You should use your friendly matches to try out some different formations and tactics and get your team up to speed for the season start. The earlier you can settle on a formation, tactics and first eleven the better because that will give them more time to gel and learn your tactics before the competitive season gets underway.
Tactics – Team Instructions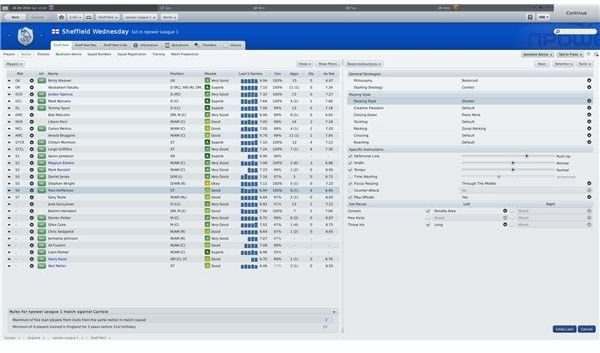 The Team Instructions screen is where you can set up your general tactical approach to each game. Do you want to play attacking football, zonal marking, and a short passing game? Do you want to play with a high defensive line, lots of creative freedom and focus passes through your playmaker in the middle of the park? This is where you can set all the details and by selecting Advanced you can get even more options.
Although you might have a general tactical approach in mind it's not a good idea to set this up once and then leave it the same for every game. You should check your scout report for the next opposition and listen to your backroom staff before each match for ideas on how to approach the game. You don't have to agree with them (they can often be wrong) but it does help to see what they are saying.
If you are generally an attacking side and you like to play with a high defensive line but your next match is away against a big opponent with a speedy striker and a long pitch you should consider sitting your defense a bit deeper. How often you tweak your tactics is entirely up to you and there are certain things you should keep fairly consistent but if you don't adapt for different challenges you will run into problems.
Tactics – Player Instructions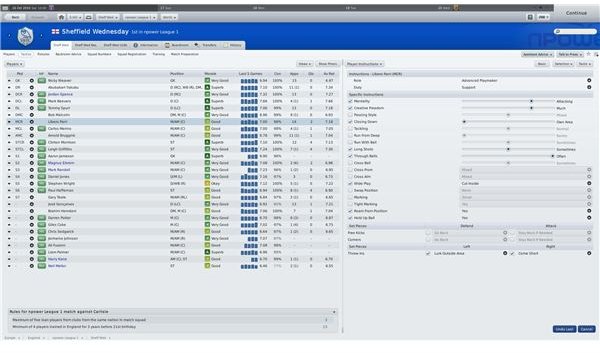 You can set your general team approach but often you'll want to fine tune your tactical instructions for individual players. For example if you have a silky attacking midfielder you'll want to give him some creative freedom but it would not be a good idea to give your big stopper in defence the same option. You can just click on the player slot on the left to bring up their individual instructions. The basic options allow you to select a role and the text is pretty informative, the stats they need for each role are highlighted when you select it so this is an easy way to set up your player's approach.
If you want to delve deeper and give some really specific instructions then click Advanced and you can access loads of details about they should approach the game. Tell them where to stand for defending a corner or how often to try through balls. If you tick the box next to each entry you can override the team instructions and use the slider or drop down menu to select each tactic. This is probably isn't worth spending loads of time on for each player but for your key men it is well worth tweaking.
Tactics - Set Pieces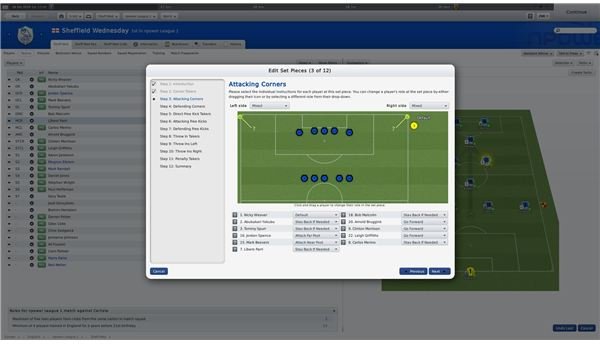 The last thing you need to do on the tactics screen is to select various player roles. You'll get advice on this from your staff but you can always just check out the individual stats. It's pretty straightforward stuff, if they're good at Free Kicks or Throw Ins or Penalties then you can see at a glance and add them to the relevant list.
For your Captain and Vice Captain you need people with good Influence but make sure you also consider how often you're going to play them. Ideally you want the kind of Captain who plays every game and won't need subbed off frequently. Even if you have an old veteran with great Influence, if you don't think they'll be a regular starter then don't set them as your Captain.
If you go to Tactics at the top right and select Edit Set Pieces you'll get a really handy list of the likely candidates for each role with their key stat displayed. You can also set up positions for attacking and defending corners and other set pieces. This is by far the easiest way of setting up your set piece tactics.
Match Report – Tactical Analysis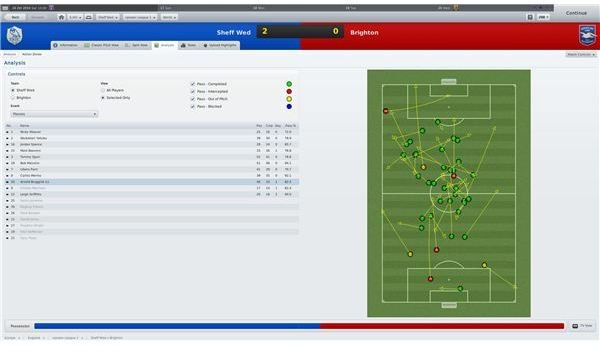 The amount of information offered up by Football Manager 2011 is astounding. If you really want to analyse where you are going right or wrong you should pay attention to the match reports after each game. In the Analysis tab you can select individual players and see exactly what they did in the match. You can see all their passes, shots, crosses, headers, tackles, and you can even see their average positions during the game. There's a wealth of info in here which can highlight where your players are succeeding and where they are failing. Tweak your tactics accordingly and take advantage of their strengths.
That's it for FM 2011 Tactics and Formation. Next up we dive into the world of Contracts and talk about how to sign players with the all new agent system.
This post is part of the series: Football Manager 2011 Guide
This is a five part guide to Football Manager 2011. Find out how to get started with the game, learn about training, formation and tactics. Get the lowdown on the new agents in FM 2011, how to negotiate contacts and find out how to play a match. There's a wealth of handy FM 2011 hints and tips here.