Star Trek Online Character Creation Guide: Species, Traits, Character and Uniform Customization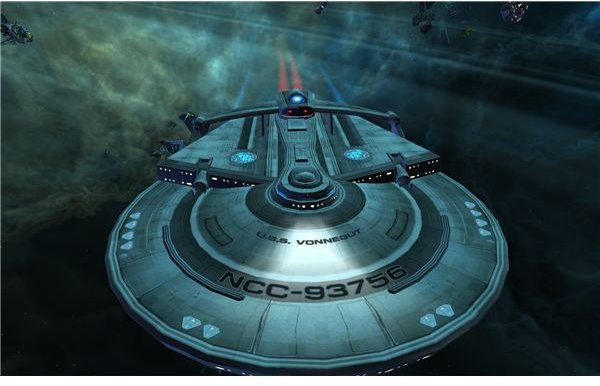 Like all of Cryptic's games, Star Trek Online is chock full of options for character creation and customization. While this multitude of choices can allow experienced players to create incredibly unique characters, it can be a little daunting for those who are just venturing into the world of STO. Fortunately, you've found our guide.
We'll walk you through the process of setting up your first character, including choosing a species and a specialization, as well as choosing attributes and customizing your character's appearance.
Whether you're going to work towards peace in the galaxy as a member of the Federation or seek out conquest through armed conflict as a member of the Klingon Empire, our guide has got your covered.
Log In
First thing's first, fire up Star Trek Online, input your account name and password, and hit the enter key.
The game may need to download and install some updates, and when it's finished the "Cancel" button at the bottom of the updater will change to an "Engage" button. Press it to progress to the Character Selection Screen.
Create your Character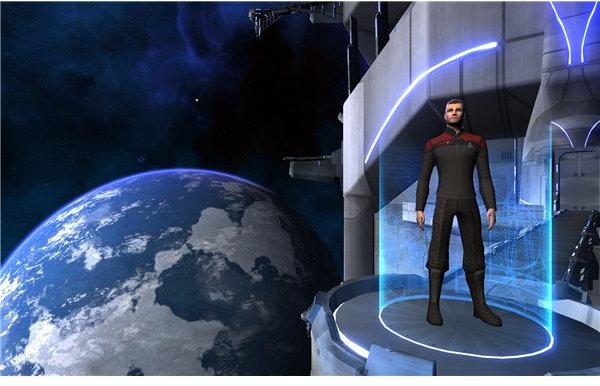 If this is your first time logging into STO, you'll have but a single option on this screen, "New Federation Character." Select it, then hit the button in the bottom right to continue to the "Choose your Career" screen.
You will have three options: Engineering Officer, Science Officer, or Tactical Officer. Your choice here affects the type of abilities your main character can learn and utilize both in space and on the ground. Don't sweat the choice too much, though, as you can always recruit bridge officers to make up for any gaps in your own training. Pick the specialization that most appeals to you and press the "Next" button in the bottom right corner to continue.
Next up is the "Choose your Species and Gender" screen. If you're unsure which species to choose, be sure to check out our Guide to Star Trek Online Federation Species and our Guide to Star Trek Online Klingon Empire Species for some great advice and a full listing of the traits of each species.
Make your species and gender choice, paying special attention to the bonus traits of your chosen species, and press the "Next" button once again to continue.
Choose your Traits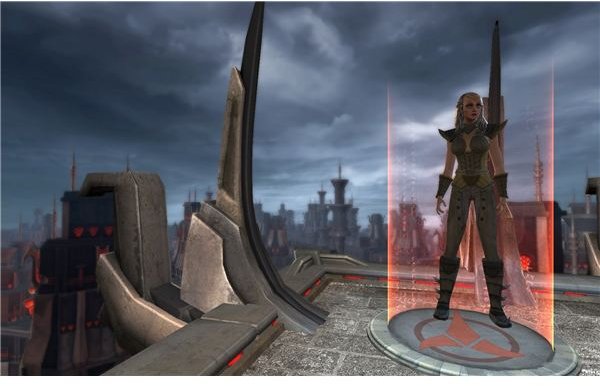 The next screen is the "Choose your Traits" screen. Depending on your choice of species, you will be able to pick from one to three additional traits for your character. Try and pick traits that will accentuate your personal playing style. If you're making a character that will typically attack enemies head on, then a trait like "Covert," which grants a bonus to stealth, may not be the most useful for you.
Click on the check boxes next to your chosen traits, then press the "Next" button to continue.
Check out page two for more on customizing your character's appearance and uniform, and tips for naming your very first vessel.
Customize your Character's Appearance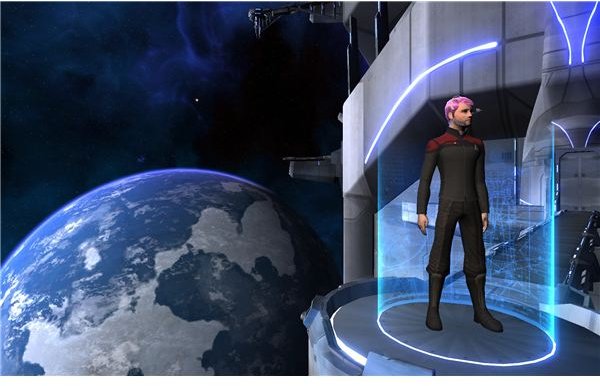 Now it's time to dig through Cryptic's immense library of character customization options. Some races have more options than others, but all have enough possibilities to ensure that you can create a truly distinct character. The options in the basic editor are fairly limited, but if you press the "Advanced" button in the bottom right, you can access a large number of customization options, including tattoos, scars, and scale sliders to alter the size and shape of your character's head to fit your desire.
As you add facial hair and accessories, or customize the shape of your character's head, keep in mind that you can use the "+" and "-" buttons and the sideways arrows near your character to get a look at him or her from all angles.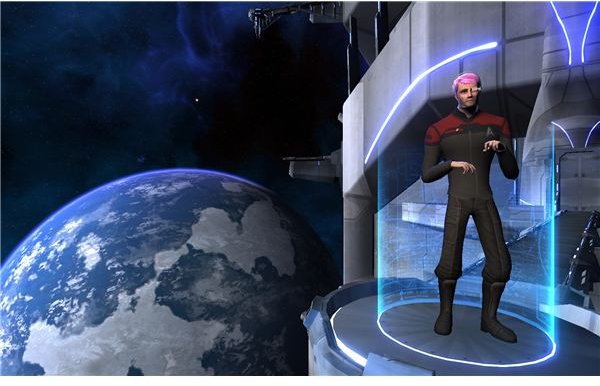 Once you've got the head styled to your liking, press the "Next" button once again to continue.
The "Customize your Body" screen is next. Like the previous screen, the basic editor is fairly limited, so press the "Advanced" button if you want to truly make your character your own.
You can manipulate the scaling and stance options to create an approximation of your own stature, or push them all the way to the right to create a freakishly huge abomination, completely up to you. Keep in mind that it will cost you credits to make changes to your character later on, though, so try and make something you can live with.
Uniform Customization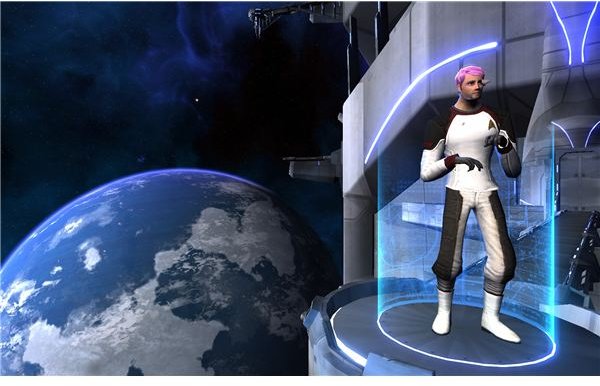 Once you've gotten your character looking presentable, you can press the "Next" button to progress to uniform customization. The options here are quite varied as well, ensuring that Starfleet and Klingon uniforms are anything but. As with the Character Customization options, advanced mode is the only way to go here.
You can customize uniform patterns, colors and insignia here. It's possible to create some approximations of past Star Trek series' uniforms with the diverse options in the editor, but why would you want to when you can create something completely new.
As with the character editor, make sure you get a set up you like here, as it will cost you money later on to change it.
Choose your Story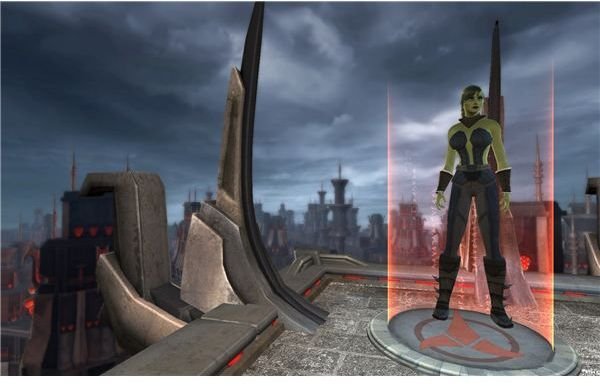 The "Choose your Story" screen is the final stop on your character creation journey. Enter a nickname for your character, this will be displayed along with your ship in space, and show up as your character name on the ground. You will also be asked to enter a name for your starship. Once again, make sure it's something you can live with it, as altering it later is not free. Try and come up with something in keeping with the Star Trek mythos, if possible. Past ship names have included famous authors and scientists, mythological figures, and location names. A name like "U.S.S. Bong Ripper" may seem like a good idea now, but it probably won't be met with much love from a community familiar with the history of Star Trek.
The full name of your character and bio are optional items that can be changed at any time or input later on, so don't sweat them too much at this point.
Fill out all the info you can, and then hit the "Submit Application" button to create your character.
After a brief loading period, you will find yourself in the observation lounge of your ship, ready to begin the tutorial. Congratulations, you've just joined the Federation or the Klingon Empire.
Good luck, and enjoy your time exploring the final frontier.
This post is part of the series: Star Trek Online Guide to Character Creation
Our complete guide to character creation in Star Trek Online covers the traits and bonuses of all the races, both Klingon and Federation, as well as providing you with step by step instructions to creating the best possible STO character.