Saints Row 2 General Cheat Codes for XBOX 360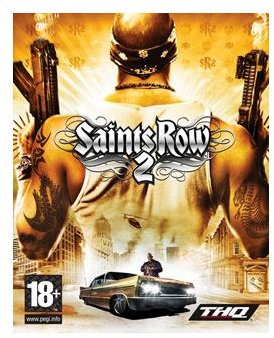 Saints Row 2 Information
To use these cheats for the XBOX 360 edition of Saints Row 2, you will need to pause the game and use the cell phone. You'll select the "dial" feature and then enter the number, make sure that you put the pound symbol in front of all the numbers and then when done press "call". If you used it right, there will be a message and then you'll go to "cheats" and select the option you wanted. Cheat codes will disable the achievements, so if you are looking to work on achievements you'll have to do them all on your own without the cheat codes to help you. However if you are wanting to see what achievements there are for Saints Row 2, you'll just have to look at Achievements for Saints Row 2 for XBOX 360.
On the other hand, there are plenty of other codes that aren't listed here in this article. What you'll see below is only the wacky effects, game state effects, and other world-wide codes. None of them are the weapon-specific codes or the vehicle-summoning codes. Those all come in a different set of articles altogether. Want to travel the city in style? Read our guide on vehicle codes. On the other hand, maybe you need a little more firepower to take out the gangs you hate? Go ahead and check out our weapons codes guide. Once you've done that, there's no reason you shouldn't be unstoppable.
Do Anything With These General Cheat Codes
To enter these codes you'll want to go to the pause menu and bring up your cell phone. Make sure you hit the # in the code, otherwise it won't work. Yes, some of these codes are as simple as one number, while others are half a dozen or more. Don't worry about overlapping codes, it only works when you press Call.
Don't forget, if you're trying to get achievements, don't use these codes. If you want to know what the achievements are, read our achievement guide!
#1: Effect – Brings you up to Full Health

#2: Effect – Increase Car Mass for Harder Collisions

#3: Effect – Milk Bones (Better Attack Damage in Melee combat)

#4: Effect - +1 Star to Police Wanted Meter

#5: Effect – Player Pratfalls (press RB or LB to fall)

#6: Effect – Infinite Sprint

#7: Effect – Super Explosions

#8: Effect – Super Saints (near invincible with better weapons to the saints)

#9: Effect – Unlimited Clip (doesn't work on RPGs unfortunately)

#11: Effect – Infinite Ammo, for when unlimited clip isn't cool enough.

#12: Effect – Heaven Bound, dead bodies will float

#15: Effect – Pedestrians will be drunk. Combine this with others for extra fun.

#16: Effect – Drivers will try to run you down, Evil Car Code. Don't do this if you like your safety.

#18: Effect – Low Gravity (won't work on helicopters) Makes you jump farther

#19: Effect – Pedestrians at War, they'll fight you and each other. Combine with drunk pedestrians for hilarity

#20: Effect – Raining Pedestrians, people will fall from the sky like rain, but die when they hit

#35: Effect – Add +1 to Gang Attack Level

#36: Effect – Never Die. Ever. That's all. Not a very detailed code, this one.

#50: Effect – No Cop Notoriety

#51: Effect – No Gang Notoriety

#200: Effect – Be Very Tall

#201: Effect – Be Very Short

#202: Effect – Everyone gets very small. Combine with others and you can have a liliputian war!

#666: Effect - Wrath of God, There will be thunderstorms and lightning atmospheric effects.

#1200: Effect – Time Set Noon (the hour on the clock will go to noon and minutes unchanged)

#2400: Effect – Time Set Midnight (the hour on the clock will go to midnight and minutes unchanged)

#78665: Effect – Overcast Skies, a cosmetic weather effect

#78666: Effect – Heavy Rain. Not the PS3 game, just the weather.

#78668: Effect – Light Rain. Also not a PS3 game.

#78669: Effect – Clear Skies

#78670: Effect – Normal Weather

#2274666399: Effect – Get $1,000 added to your total immediately. Useful if you ever want to buy something.
If this selection of cheat codes, combined with the vast array of weapons and vehicles you can summon to your aid, doesn't give you a feeling of ultimate power… perhaps this isn't the game for you. Of course you can always turn the codes off and load an earlier save, to try to gain those last few achievements you may have missed.
References
Data from Saints Row 2 Guides
Images from wikipedia
This post is part of the series: Saints Row 2 for the XBOX 360 Cheats, Unlockables, Achievements
A look at the cheat codes, the unlockables, and the XBOX 360 achievements that you can do in Saints Row 2.