Real Player Names PES 2011 - A Listing of PES 2011 Real Names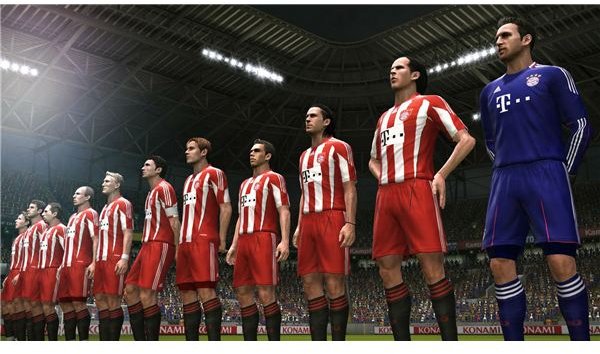 PES 2011 Real Names List
Pro Evolution Soccer, as a series, suffers from several minor complaints that often beseech players to buy from the pool of FIFA releases instead. The subsequent chastisement of PES has continued for several years and has hurt its once glistening reputation. One of the problems even PES players will agree upon is the lack of licensed teams or names. It is sometimes harrowing for newer players to find themselves looking at fake names of real players throughout the database.
This article provides a listing - which can be manually input into the game - of the real player names.
PES 2011 is the latest release, hence these names will fit with this years game. Due to the sheer amount of names that need changing, the first part of this article will focus on the European & six of the nine African national teams. The players will be listed in the order they are shown while viewing them in edit mode - for ease of input to users of this real player names list. PES 2011 real names that have brackets next to them are an indication that the player is already in the database. Use the search function during edit mode, with the Square or X button, to find them.
Bosnia & Herzegovina
HASAGIC
JAHIC ()
NADAREVIC
SPAHIC ()
RAHIMIC
MURATOVIC
IBRICIC
SALIHOVIC
MISIMOVIC
DZEKO
IBISEVIC
SUPIC
MRAVAC
PANDZA
BERBEROVIC
DAMJANOVIC
DAJRAMOVIC
VLADAVIC
PJANIC ()
STILIC
MEDUNJANIN
ZEC
MUSLIMOVIC ()
Monetenegro - PES 2011 Real Names
POLEKSIC
BASA
BATAK
PAVICEVIC
V. BOZOVIC
DRINCIC ()
PEKOVIC
VUKCEVIC ()
BOSKOVIC
JOVETIC ()
VUCINIC ()
M. BOZOVIC
JEKNIC
DZUDOVIC
TANASIJEVIC
PEJOVIC
ZVEROTIC
DELIC
NOVAKOVIC
KASCELAN
DAMJANOVIC
DELIBASIC
GLUSCEVIC
Serbia - Real Player Names (PES 2011)
STOJKOVIC
VIDIC ()
LUKOVIC ()
IVANOVIC ()
KOLAROV ()
STANKOVIC ()
MILIJAS ()
KRASIC ()
JOVANOVIC ()
PANTELIC
ZIGIC ()
ISAILOVIC
DURICIC
SUBOTIC
RUKAVINA
OBRADOVIC ()
PERTOVIC
KACAR
NINKOVIC ()
KUZMANOVIC
TOSIC
LAZOVIC ()
MRDA
Slovakia
MUCHA ()
SKRTEL ()
DURICA
PEKARIK
ZABAVNIK
STRBA
KUCKA ()
WEISS ()
STOCH ()
HAMSIK ()
VITTEK
PERNIS
KUCIAK
SALATA
M. CECH ()
PETRAS ()
KOZAK
SAPARA
KOPUNEK
HOLOSKO ()
JENDRISEK
SESTAK
JAKUBKO
Ukraine PES 2011 Real Names
PYATOV ()
KUCHER ()
CHYGRYNSKIY ()
KOBIN ()
RAKYTSKYI ()
TYMOSHCHUK ()
MYKHALYK ()
NAZARENKO
IARMOLENKO ()
SHEVCHENKO ()
MILEVSKIY ()
BOGUSH ()
RUSOL
KHACHERIDI ()
SHEVCHUK ()
MANDZYUK
GAI ()
GUSIEV ()
ROTAN
ALIEV
VORONIN
HOMENYUK
SELEZNYOV
Wales - Real Player Names PES 2011
HENNESSEY ()
J. COLLINS ()
NYATANGA
A. WILLIAMS
GUNTER
BALE ()
D. EDWARDS ()
A. RAMSAY ()
D. VAUGHAN ()
BELLAMY
S. CHURCH
MYHILL ()
L. PRICE
C. MORGAN
EARDLEY ()
S. RICKETTS ()
C. FLETCHER
LEDLEY ()
COLLISON ()
COTTERILL
C. EVANS
VOKES
EARNSHAW
Algeria
CHAOUCHI
HALLICHE ()
YAHIA
BOUGHERRA ()
BELHADJ
YEBDA ()
LACEN ()
KADIR ()
ZIANI
MATMOUR
DJEBBOUR ()
GAOUAOUI
MBOLHI
BELLAID
MEDHANI
LAUFAOUI
MANSOURI
GUEDIOURA ()
BOUDEBOUZ ()
MESBAH ()
ABDOUN
GHEZZAL ()
SAIFI
Angola
CARLOS
RUI MARQUES
KALI
ZUELA ()
CHARA
MABINA
GILBERTO
DEDE
STELVIO
MANUCHO
FLAVIO
LAMA
WILSON
JAMBA
MARCO AIROSA
YAMBA ASHA
JAMUANA
MACANGA
ZE KALANGA
DJALMA
JOB
CABUNGULA
MANTORRAS ()
Guinea - PES 2011 Real Names
N. YATTARA ()
M. DIALLO
ZAYATTE
H. BALDE
I. CAMARA
A. CAMARA
CONSTANT ()
A. KEITA ()
IBRAHIMA
FEINDOUNO
YOULA
K. CAMARA
B. BALDE ()
KALABANE
M. CISSE
M. CAMARA
I. DIALLO
BAH
KANFORY
SOUMAH
MANSARE ()
K. DIAWARA ()
I. BANGOURA ()
Mali - Real Player Names (PES 2011)
M. SIDIBE
SOUMARE
DIAMOUTENE ()
BERTHE
TAMBOURA
B. TRAORE
M. DIARRA ()
S. KEITA ()
BAGAYOKO ()
MAIGA
KANOUTE ()
O. SISSOKO
S. DIAKITE
COULIBALY ()
FANE
D. DIAKITE ()
SIDI YAYA KEITA
S. DIARRA
L. DIARRA
M. TRAORE ()
NDIAYE
DIALLO
SAMASSA ()
Morocco
LAMYAGHRI
BENATIA
ERBATI
CHRETIEN ()
EL KADDOURI ()
EL AHMADI ()
KHARJA ()
ZEMMAMA
CHAFNI ()
HADJI ()
EL HAMDAOUI ()
ZAZA
FEGROUCH
OULHA
MAHDOUFI
REGRAGUI
HERMACH ()
SAFRI
TAARABT
ZAIRI ()
BOUSSOUFA ()
ABOUCHEROUANE
CHAMAKH ()
Nigeria - 2011 Real Names
ENYEAMA
YOBO ()
SHITTU
ODIAH
TAIWO ()
HARUNA ()
D. ETUHU ()
S. KAITA
OBASI
OBINNA ()
YAKUBU ()
EJIDE
AIYENUGBA
AFOLABI
DELEYE
ECHIEJILE ()
A. YUSSUF ()
K. UCHE ()
KANU
UTAKA
MARTINS
I. BROWN ()
ODEMWINGIE ()