Pro Evolution Soccer 2011 Review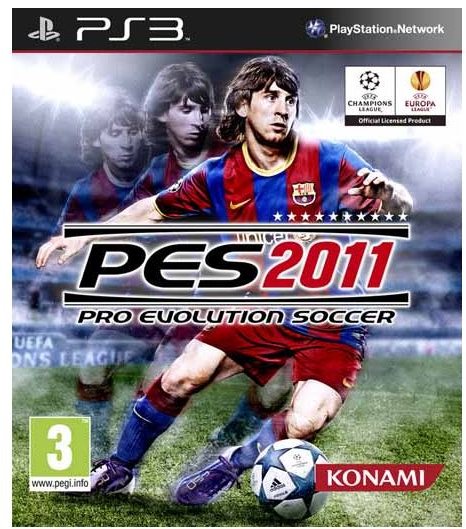 Within a few minutes of playing Pro Evolution Soccer 2011 it becomes obvious that this is the biggest overhaul the series has had in a long time. There's no doubt Konami needed to do something to combat EA's ascendancy with FIFA. Last year's releases were written off as a mismatch with the vast majority of critics declaring FIFA the winner and consigning PES to the wilderness. Amid EA boasting of the most successful release yet, with FIFA 2011 soaring to the top of the UK chart, PES 2011 takes to the field.
PES 2011 is virtually unrecognisable when compared to PES 2010. For a start the speed that has always set the series apart and given it that arcade feel is gone. The gameplay has been redesigned and the biggest change is the introduction of a power meter under the player which indicates the strength of passes, shots and even headers. Combined with a truly unassisted control of the ball you can expect to send several early passes straight into touch. You really need to pick your passes carefully now, assigning the right amount of power and getting the direction right.
This new system is a real shock at first but once you overcome the initial frustration you'll soon find the potential exciting. You can fire out fantastic diagonal long balls into space and slot high powered passes through narrow gaps to create those essential goal opportunities. Interestingly the through ball has been retained but you'll need to pick the right time to use it or it will be effortlessly mopped up by the opposition defence.
Getting to Grips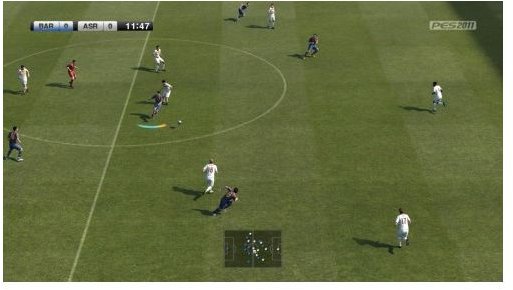 A new iteration of a football game always has a learning curve and it often proves difficult to score at first. Generally this wears off with a few plays but with PES 2011 you'll need to develop all new strategies for putting the ball into the back of the net. Another huge change which makes the whole game feel different is that dribbling speed has been drastically reduced. It takes players more time to bring the ball under control and even speedy players will struggle to outrun the opposition with the ball at their feet. You may find yourself limited to long shots until you can get those passing movements working.
On the other hand mazy dribbles from your own half into the opposition box are not impossible. The trick system is now assigned to the right stick and you can chain tricks together to leave defenders flat and create enough room for a goal scoring chance. Just be careful you don't try to get too cute because being over elaborate rarely results in a goal.
Modes On Offer
In terms of stock modes PES 2011 offers up the Master League and Become a Legend options once more. Both of them still feature an awkward menu system. It's not difficult to navigate it is just difficult to make sense of because some of the terms sound odd and things aren't necessarily grouped how you would expect. If anything the menu system is better than previous efforts and it certainly looks tidier but it remains a good distance off perfect.
You can also play the UEFA Champions League or the South American Copa Libertadores competitions and they are presented beautifully with all the right touches to make them feel authentic. There's also the option to create your own cup competitions but the big addition in terms of modes is the ability to play an online version of the Master League.
Multiplayer PES
The PES series has always been the best when it comes to playing against actual human beings. There's no real substitute for having a load of mates round and getting stuck into a big PES session but the wealth of online options on offer here is impressive. Since the AI still suffers from a bizarre mixture of incredible skill and utter donkey-like behaviour (often in the same move) it is far more rewarding to play friends or even strangers online.
Still Lacking Some Licenses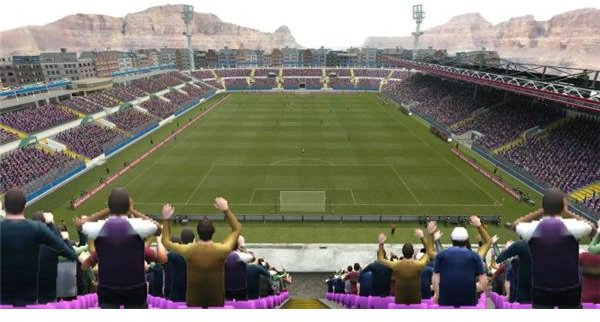 PES 2011 still lacks some licenses and so team names like North London remain along with some dodgy strips. You can edit all these things or find a saved file online to edit them for you. As with last year's release you can also add chants, use your own likeness for the Become a Legend mode and edit various names and strips. This year you can also create your own stadium, though to be honest it seems doubtful that too many people will bother.
Sound & Commentary
The sound in the game has been improved. Officially licensed competitions are very authentic and you'll hear appropriate teams chants from the stands for some clubs (although they do sound oddly muffled). The commentary is still pretty poor. They've ditched Mark Lawrenson and subbed on Jim Beglin to partner Jon Champion. They still come out with nonsensical or inappropriate lines quite often and in my first play through they conspired to talk at the same time which was seriously unpleasant. You'll find the usual mix of music tracks in the menus, they don't seem especially relevant but then again a soundtrack of football songs would be pretty painful.
Scrubs Up Well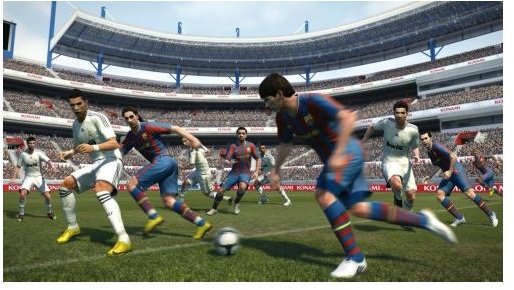 Overall the presentation of Pro Evolution Soccer 2011 is excellent. The menus look streamlined, although sadly they can still prove perplexing when you dig a little deeper. The intro movies and cinematics are excellent. As for the players, the likenesses are very good for the big names - in general the lesser known the player is on the world stage, the less likely they will look right. The animations are very polished, players battle each other more convincingly and there does seem to be a greater variation.
Verdict (4 out of 5)
Pro Evolution Soccer 2011 shows a real desire to compete for honours and despite the flaws it offers up a lot of content. This release is still better when played against humans but the online Master League is a good addition, combining single player depth with multiplayer gaming. It is clearly aiming for a more realistic feel on the pitch, and if only the off pitch details matched up, it would be great. While the effort to slow things down and emulate real football is positive in some ways the old rocket-paced end to end craziness will be missed.
To sum up with a football analogy PES 2010 was an aging squad of overweight superstars still capable of moments of individual brilliance. PES 2011 represents the new youth team coming through and this is their difficult first season. This is a game which is building for the future of the series.
References
All references, cover art and screenshots from Pro Evolution Soccer 2011 for PS3.
This post is part of the series: Pro Evolution Soccer 2011 Reviews
Curious about Pro Evolution Soccer? Check out this list of reviews for various platforms and versions.