Best MMO Related Accessories and Gadgets: Special Gaming Mouse, Keyboards & More!

Accessories and Gadgets
MMO gaming can be a full time obsession and you might spend hours, days, weeks or even years in your virtual world of choice. Why not consider investing in some accessories or gadgets to enhance your MMO hobby? You can get various bits of hardware designed especially for your game, gadgets to help you survive those long hours at the computer, and gifts which are perfect for the MMO gamer in your life. Let's kick off with some practical considerations.
MMO Keyboard
There are a lot of specialist gaming keyboards on the market and you can read about them in the top ten gaming keyboards. You can get keyboards with LCD displays for playing with the lights turned off. Some keyboards have numerous programmable keys that are handy for MMO gaming if you take the time to set them up right. But what about dedicated MMO keyboards? When it comes to World of Warcraft you have a number of choices. The Steel Series Zboard is a high performance keyboard with a dedicated WoW keyset. There is also a WoW edition of the foldable Ideazon Zboard. You can also get Lord of the Rings Online keysets for both of them and they cover a few other games as well.
MMO Mouse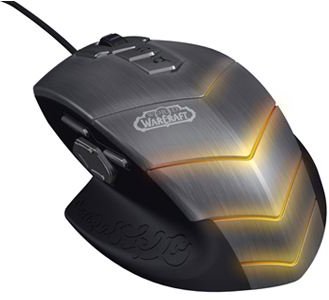 A standard mouse won't necessarily survive those long hours of MMO gaming and you want something that is comfortable to use. You can check out my article on the top ten gaming mice. Once again, there are options which are specifically designed with MMO titles in mind.
One example is the Steel Series WoW mouse which is comfortable, accurate, customizable and stylish looking. Those stripes on the back can be set to whatever color you want and the rubber grip is ideal for long gaming sessions. It also features programmable buttons for flexibility.
MMO Headset
For quick chatting while gaming (especially during raids or PvP), a headset is essential. You can read this article to find out about the top ten gaming headsets. There aren't really any specifically MMO branded headsets so you just want to look for comfort, quality, and get the best pair your budget will allow. Remember: a cheap headset may be a false economy if you spend hours wearing it and find it uncomfortable.
Comfort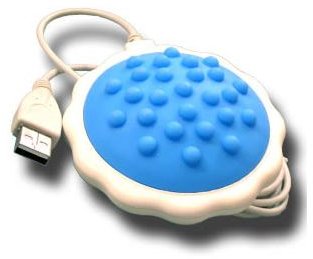 To maximise your comfort for those long term gaming sessions you should invest in a decent chair - possibly even a specialist gaming chair moulded for the contours of your spine. You should have a wrist rest to provide proper support and make sure your screen is at the right height to avoid any muscle strain.
By sitting still for long periods of time you will naturally develop some stiffness in your joints, muscles, and back. Perhaps you'll fancy trying out a USB massager to vibrate away those aches and pains. You can pick them up really cheap and they plug right into your USB port.
MMO Action Figures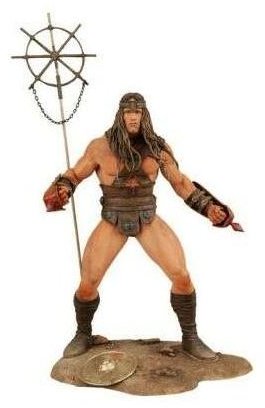 There is no shortage of MMO related action figures on the market especially if you are into World of Warcraft or Warhammer Online. You can also pick up loads of Lord of the Rings related action figures and there is a Conan the Barbarian set available as well. Star Wars may still be struggling to produce a decent MMO but they also have an endless variety of great action figures. Sadly, there are no action figures related to Eve Online, but you can find fairly detailed, nicely constructed replica models which sit proudly on display stands. The action figures are often cheap but models intended purely for display can set you back well over $100.
MMO Clothing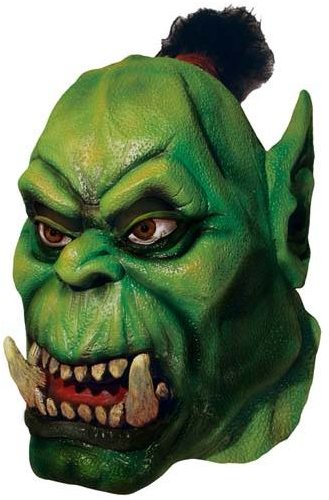 You can get T-shirts and caps for just about any MMO game that are emblazoned with a simple MMO logo. Everyone seems to understand the importance of merchandising nowadays. If a logo on a T-shirt just isn't quite enough for you and you would prefer to fully immerse yourself in a fantasy world then maybe you'll be interested in buying a costume. You can actually get latex Orc masks and Warcraft branded Elf ears at many online location. Just remember you are wearing them when you answer the door or the pizza delivery guy is going to get a nasty shock. The Orc mask pictured costs $50 but you can pick up Elf ears for just $15.
MMO Swords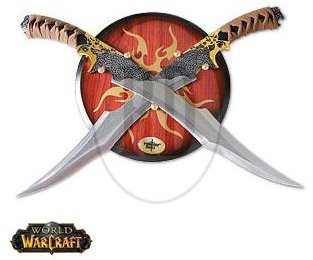 There are possibly a bit dangerous but they are intended for display purposes only. Personally, I'm thinking Blizzard might have gone a bit far with the whole merchandising thing and I have to wonder how many people have Night Elf replica swords hanging on their living room walls. You can also pick up replica weapons from Lord of the Rings such as a nice shiny High Elven Warrior Shield. They aren't cheap though - the shield is over $300 and the swords are $150. I suspect they wouldn't perform well in actual combat so avoid taking on any creatures in real life and keep them well away from kids.
MMO Merchandise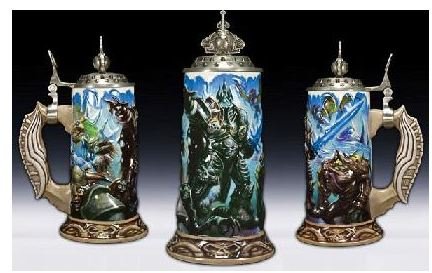 There are many other bits and pieces of MMO merchandise you can pick up for the obsessive MMO gamer. You can get mugs, posters, plates and fancy beer steins. Again the steins are official Warcraft merchandise and they start at $90. Is there anything the Blizzard guys haven't thought of? Well I'm surprised to find that there are no WoW duvet covers on the market but for just about anything else they've got you covered.
As you can see the range of accessories and gadgets for MMO gamers is quite impressive and you can sit dressed as a World of Warcraft character with a sword in one hand drinking from a stein surrounded by action figures while you play with your official WoW mouse and keyboard. I'm not suggesting that you do. There is such a thing as going too far.