A Roundup of the Top Ten Gaming Keyboards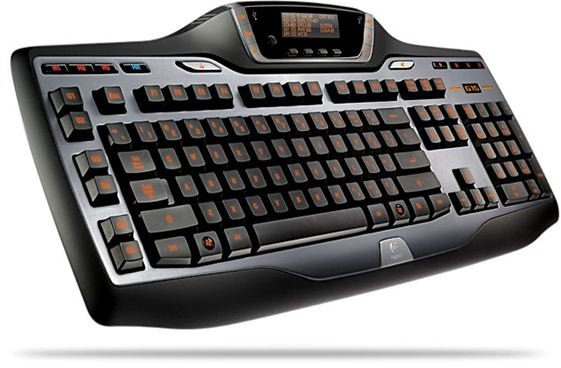 Gamers spend hours tapping away on their keyboards and so it is worth investing in a keyboard that is comfortable to use. A few keyboards have been developed specifically with gamers in mind with handy features designed to aid gaming and they make great gifts. Here's a rundown of the top ten gaming keyboards on the market. For a lot of games you're going to want a headset as well for chatting to friends as you play so check out our Top Ten Gaming Headsets article as well.
Logitech G15
This is a solid gaming keyboard with backlit keys for playing in the dark, a pop-up LCD display for system information or game stats and six fully programmable keys for macros. The LCD display can even display which server your friends are on. The keyboard also has grooves on the underside to keep your cables out of the way. The Logitech G15 also has instant media access and a detachable palm rest. It costs under $100.
Logitech G11
This is similar to the G15 with 18 programmable keys for macros, backlit keys and cable channels on the underside to keep cables out of the way. It is lacking the LCD display but it is also a fair bit cheaper at under $70. The Logitech G11 comes in black or silver.
Saitek Cyborg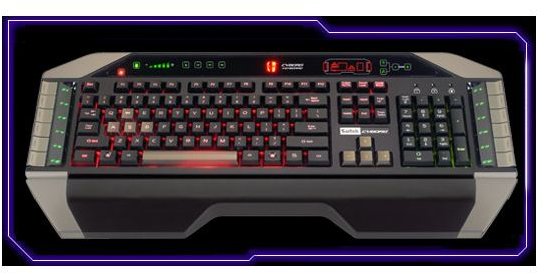 I love the visual design of this keyboard which is both angular and futuristic. It features adjustable backlit keys in various colors, a touch sensitive control panel and 12 programmable keys for macros. The construction is sturdy with hard wearing metal plated keys which will stand the test of time. There is a pass through USB connection for audio and microphone and an adjustable wrist wrest. At under $70 it offers great value for money as well. The Saitek Cyborg is definitely my favourite keyboard designed specifically for gaming.
Saitek Eclipse
The Eclipse is now in its third iteration and features an attractive ergonomic design. It also has backlit keys in a choice of colors, an adjustable wrist wrest, pass through audio ports and with durable keys all it really lacks are programmable keys for macros. They have added a touch sensitive control panel to this latest model. The Saitek Eclipse will set you back around $75.
Razer Tarantula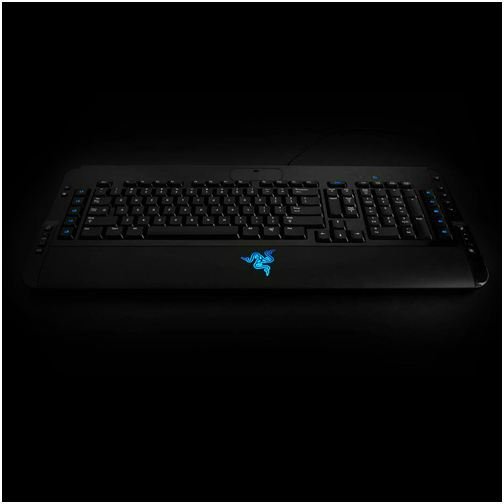 This is designed with hardcore gamers in mind, the anti-ghosting feature allows you to press up to ten keys simultaneously without signal failure, it has onboard memory to store game profiles and it promises super fast reaction time (1 ms). It also has ten programmable keys for macros, two USB ports and a pop up light option for dark conditions. There's also a battledock for accessories and a dock for a webcam should you need it. All of this doesn't come cheap though and you are looking at just under $100 for a Razer Tarantula gaming keyboard.
Razer Lycosa
The Lycosa has a host of features including non-slip backlit rubber topped keys, fully programmable keys for macros, super fast response times, anti-ghosting, 10 customizable software profiles and an adjustable wrist wrest. It's a little cheaper than the Tarantula and you can pick a Razer Lycosa up for around $70 now.
Microsoft Razer Reclusa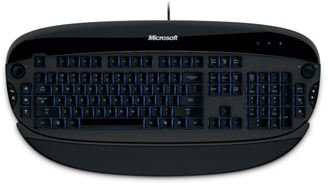 This is a joint development between Microsoft and Razer to bring you an ergonomic keyboard packed with handy features. Backlit keys, fast response time, two 360 degree jog dials, four bumper buttons, six programmable keys for macros and an adjustable wrist wrest. You can also tuck your cables away neatly underneath. You can pick up the Microsoft Razer Reclusa keyboard for under $70.
Wolf King Timberwolf
This keyboard is really aimed specifically at the first-person shooter addict. The circular pattern of keys on the left are designed specifically to allow for comfortable and easy FPS gaming, although FPS controls are so standard now that it would serve well for other games too. It doesn't have much in the way of features, no backlighting, no programmable keys but it does have a couple of USB ports and media keys. When you consider it only costs around $50 you can forgive the lack of features. However you either love the different layout on the Wolf King Timberwolf or you hate it.
Ideazon Zboard

This is a strange keyboard which can fold into a Z shape. It has a great range of features including two USB ports, seven multimedia keys and programmable keys for macros. The main idea with this keyboard is the dedicated key layouts for specific games where the keys are even labelled with the relevant command (the World of Warcraft version is pictured). The dedicated layouts are a great idea and since most gamers spend the majority of their time on a favourite title this option might just be attractive enough to sell it for you. The Ideazon Zboard is $50 and you can get the dedicated World of Warcraft layout for just $20.
Cyber Snipa Warboard
This is a feature rich keyboard with 10 dual mode programmable keys for macros, anti-ghosting technology, 104 keys in total, 17 replaceable custom combat keys and a slick mock armor plate finish. You should be able to pick up a Cyber Snipa Warboard for under $60.
Conclusion
As you can see there are loads of gaming keyboards to choose from. It just depends what type of games you like to play, how rough you are with your hardware and of course how far you can stretch your budget. Personally I recommend the Saitek Cyborg it looks and feels great but not everyone likes the visual style. Logitech keyboards are always good quality, Razer keyboards feature quite a stylish look and some of the other options offer you something a little bit different. If possible you should try and get your hands on them before you buy and see what you like the feel of.