All the Strategies For NHL09 - Quick Play Offensvie Tactics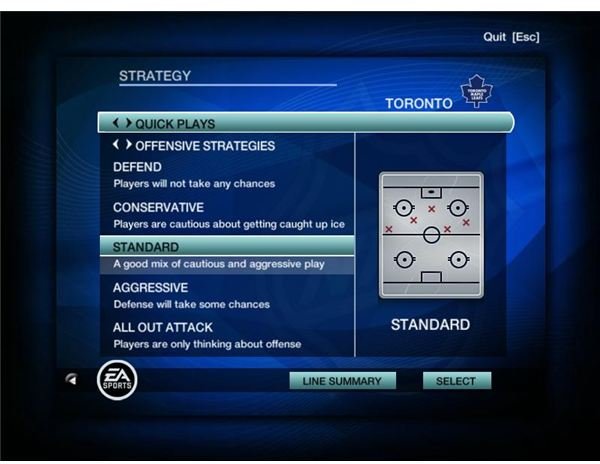 Quick play strategies
Beside the regular offensive and defensive tactics, which a generally used for "set offense", there are also quick play tactics in NHL09. Those are very important, as many times your team will go on a break (or be caught on a break by your opponent) without all the skaters involved. Offensive quick play strategy defines the aggressiveness of your team and a level of risk you are willing to take on quick plays.
There are 5 levels of offensive quick play tactics: Defend, Conservative, Normal, Aggressive, All Out Attack. Here is a brief explanation of each:
Defend
When you are leading by 3 goals or maybe want to hold on to a one goal advantage in the dying seconds, there is little logic in sending many players forward. With this quick play strategy your defensemen will stay close to the opponents blue line and never go for a rebound or pinch. The wingers will also first of all consider their return to defense, staying close to the boards. The only player to actually chase rebounds a shot will be the center – if he is fast enough, he can steal a goal on the break.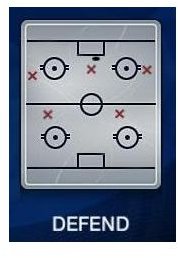 Conservative
This is a slightly more offensive tactic, but still gives defensive concerns preference over offensive ones. The strong side winger will try to get a rebound and drive closer to the goal. Also, one defender can sometimes move to the center of opponents zone looking for a shot. This is a good strategy if you are not sure about your goalie's ability to handle a breakaway.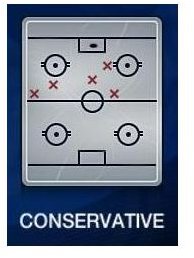 Standard
This is an ordinary strategy which combines an offensive and defensive approach. The forwards will try to score and look for rebounds, the defensemen will have their occasional shots from or even ahead of the point – but still head backwards as soon as the opponent gets the puck.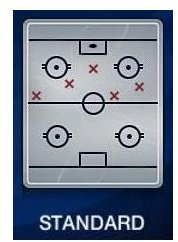 Aggressive
If you want to put some extra pressure on your opponent and are confident about your goalie – this is the strategy to use. Only one defender will be left behind and stay close to the blue line, many times allowing opponent a two-on-one situation. Thus, it is very important for this defender to be quick and a good checker, so he can board one of the opponents and face the second one. The advantage of this tactic is that you will have 4 players trying to get shots and rebounds.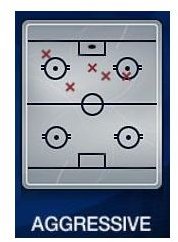 All Out Attack
Well, if you have nothing to loose you can try this tactic. Your players only think about scoring and neglect the defense almost completely. Crash the net, get rebound, score – that is the strategy. But don't even consider playing like this for a whole period – even a superstar goalie will be eventually beaten by a one-on-one breaks or even two-against-a goalie situations with one-timer shots. The best time to pull this out is at the end of a period or game when there is a face off in the opponent's end, so that they won't have to much time with the puck if things go wrong.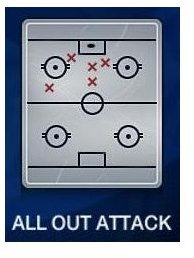 Summary
Choosing a quick play offensive strategy is pretty important in the NHL 09 game, as many of your attacks will actually be quick plays. More important – changing this tactic throughout a game can give you an advantage – keep the score low and prevent your opponent form scoring with Conservative tactics if their offense is likely to outshoot yours, or throw all your offensive weapons at the rival team in the closing stages of the game with All Out Attack!