Tiger Woods PGA Tour 10 - One Of The Best Golf Games Out When It Comes To Sports Games From EA Sports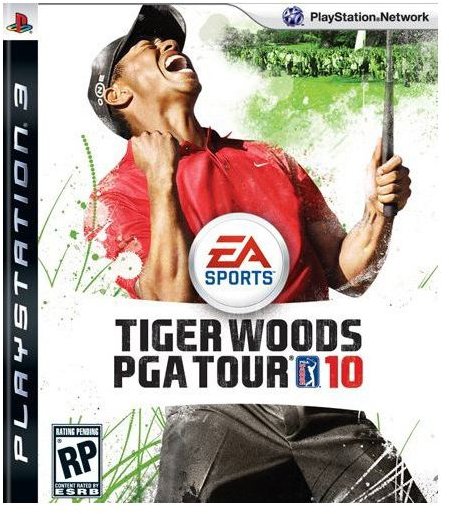 Overview of Tiger Woods PGA Tour 10 From EA Sports
Tiger Woods PGA Tour 10 is the latest in a long-running series of golf games from EA Sports. This sports game features sixteen golf courses and a variety of gameplay options that will keep you busy for a long time as you play your way through the U.S. Open or compete in tournaments against other pro golfers. If that's not enough, there are more courses and equipment available online via the PlayStation Store. Plus, getting to play with any of the major golfers out there today, even Tiger Woods, is a wonderful way to really get into golf games as you can play against your favorite golfer. Let's take a look at what makes Tiger Woods PGA Tour 10 stand way out above the rest of the sports games and golf games out there:
Gameplay (5 out of 5)
You start your career as a professional golfer in Tiger Woods PGA Tour 10 by designing the look of your character, then you compete in a series of matches on real golf courses like Torrey Pines or TPC Sawgrass. New courses are unlocked as your progress through the U.S. Open, and along the way you will win money that can be used to upgrade your equipment. This EA Sports game includes a personal coach who will help you improve any weaknesses after each game. One really neat added feature is called Tournament Challenge where you go against real pro golfers and try to outshoot them based on actual holes they had played in the past.
Every time you play a round of golf, the weather is different. Wind can blow in all directions and rain can pop up at any time, and both wind and rain will drastically change the way your ball flies and rolls. You will need to constantly adjust your swing in order to deal with the weather conditions, so you have new challenges every time you walk out on a course, no matter how many times you've played it before. This added feature makes the game play in Tiger Woods PGA Tour 10 more realistic and creates a better way to really improve your own golf games by learning how to play in different weather.
Controls (5 out of 5)
The big new change this year with Tiger Woods PGA Tour 10 is called Precision Putting. It takes the old three-click putting system and makes for a more precise control mechanism that takes into account distance and elevation. It's a little tricky to learn at first, but can be quite useful when making difficult shots, especially in golf games. In addition to this new system, you can still control your swings using the thumb stick. Overall, I found the control system to be pretty easy to learn. What makes the game difficult is a combination of dynamic weather conditions and unique landscaping. Which makes the ease of the controls even better after you have learned them in this great golf game from EA Sports.
Graphics and Sound (5 out of 5)
The graphics in this game were very nicely done, and the courses upon which you play are all based on real locations. Painstaking detail was put into making each course in Tiger Woods PGA Tour 10 look and play just like the real course. You'll see just how tough it is to be a pro golfer when you have to work around so many obstacles. You can also thoroughly customize the look of your golfer by using a face creator or actually using one of your own photos - which is an excellently unique touch from EA Sports.
The sound effects are fairly minimal, but the ambient crowd noise can help heighten excitement, especially when they start cheering for you. You can even assign yourself a nickname and you'll hear random fans shout it out during play.
Screenshots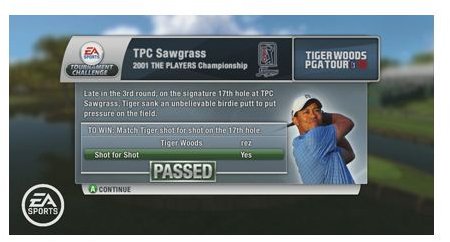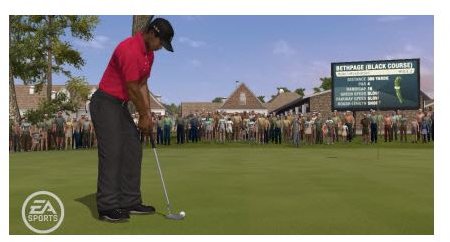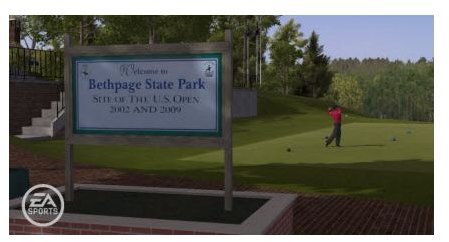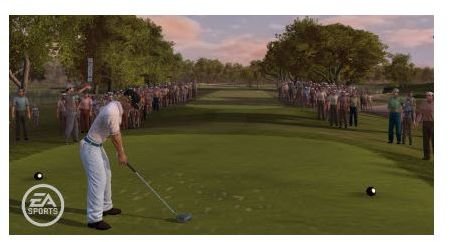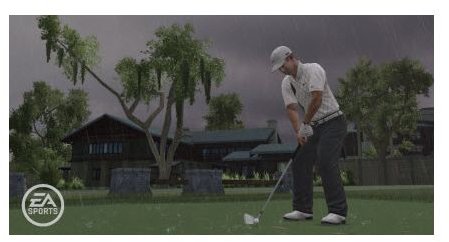 Commentators (1 out of 5)
My least favorite thing about this game is the running commentary that I couldn't find a way to turn off. If you are doing great and not going over par on any holes, then there is no problem and the comments are occasionally complimentary. If you miss a key putt or go over par, the comments become very harsh and downright rude at times. I've had missed putts called 'pathetic' and had comments made about my 'pitiful effort'. You can't miss a shot without one of the commentators saying something demeaning about it, and I found it to be rather aggravating. So, get ready for this part of Tiger Woods PGA Tour 10, as it can get to you while you're playing this EA Sports title.
Overall Opinion of Tiger Woods PGA Tour 10 (5 out of 5)
In the end, I have really enjoyed playing Tiger Woods PGA Tour 10. It is packed with so many features that playing a full 18 holes of golf on any course is just one of the many things you can do in the game. Even if golf is not your thing, I still think you should give this one a try. The tactical elements of ball placement and precise swings should appeal to any gamer. I just wish it gave you the option to slap the commentators if you miss a shot.
More EA Sports Titles
There are hundreds of wonderful EA Sports titles out there, both with and without Tiger Woods, for both consoles and the PC. Here are some other great titles that we've covered here on Bright Hub that will help you with any of your chosen sports:
Madden NFL 10 Online Game Play and the Audio to Back It Up
Xbox 360 Review: Madden NFL 10 - Does This Game Score A Touchdown
NASCAR 09 Review - EA Sports NASCAR 2009 for PlayStation 2
NHL 09 Achievements for the Xbox
All the Secrets of FIFA 09 Revealed - Winning EA Sports Game