Xbox 360 Review: Madden NFL 10 - Does This Game Score A Touchdown or Forfeit the Game?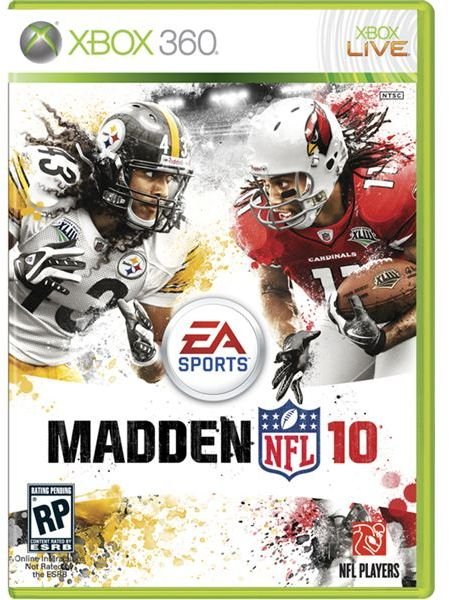 The NFL season is right around the corner, and video gamers know that can only mean one thing, a new Madden NFL game. Many people see sports games as just a continuous roster update with minimal changes to the game. Is that the case for Madden NFL 10 this year or has EA Sports thrown in some new things to keep your attention?
The Game
The Madden NFL series from EA Sports really needs no introduction. It has been a dominating gaming franchise for almost two decades now. Madden NFL 10 is no exception to the rule. It has gradually grown over the years to include modes like franchise, online play and even a Madden IQ system. The largest issue with games involving the sports world, is that people tend to see them as just a roster update. I sometimes have even questioned whether Madden is worth buying from year to year, but this year is different. Madden NFL 10 has made strides to perfect their already stellar football simulation.
Gameplay (5 out of 5)
The gameplay in the Madden series has always been a strong point. This is no different with Madden NFL 10. Anybody who is familiar with the Madden series will be able to pick up and play this without any type of a hang up. Those new to the franchise may have a little learning curve, but it won't take long to get the grasps of the controls. One of the new additions to the gameplay this year is the slowing down of the game speed. This gives Madden NFL 10 a much more realistic feel. You have time to really see what plays are developing around you, as well as being able to spot holes in the defense on running plays. This may seem like a minor adjustment, but it really does make Madden feel more like the real NFL speed than ever before.
Graphics (4 out of 5)
One of the things that Madden really emphasizes this year is the similarities between real life broadcasts and the game itself. The developers really tried to get that television feel, bringing in clips of the chain gang measuring first downs, fans waiting outside of the stadium before the game, and even a post game show. This is all done very well and gives a better production value for the game. The player models and stadiums look directly like their real life counterparts. My only gripe falls with the fans. Yeah it was nice to have them added into the game during cut scenes, but they still just don't look that realistic. I would also like to see an engine overhaul of the whole crowd in general. Give them a little more life then just repeated animations in the background. Outside of that minor issue, the graphics in Madden are phenomenal and gives Madden NFL 10 its best graphics to date.
Images from EA Sports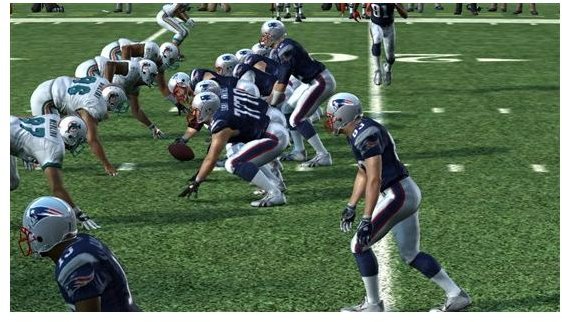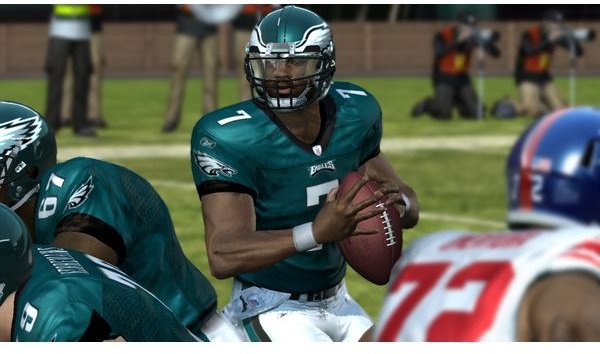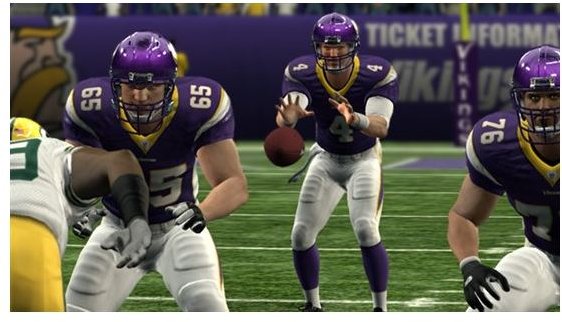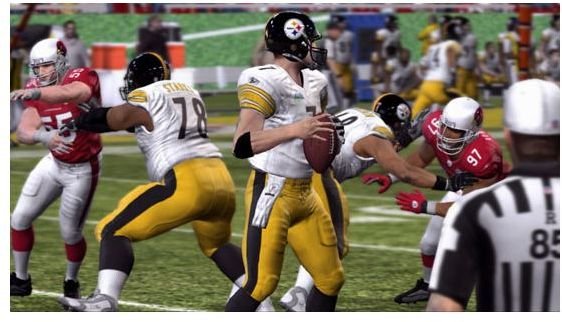 Audio (3 out of 5)
The audio in Madden NFL 10 has its high points and its lows. The high points fall in the place of the soundtrack. There are great songs from bands like Rage Against the Machine and the Beastie Boys. Normally in EA games, you'll hear songs over and over again and quickly grow tired of them. These songs are a little more enjoyable to listen to. The negative thing for the audio in Madden falls with the commentary and voice overs. You'll hear a lot of repeated phrases from Chris Collinsworth and the post game show sounds a little robotic. The atmosphere in the game still holds its own, and the crowd seems pretty into it. All of the sounds on the field are also done well from hits to referee calls.
Online (4 out of 5)
If there was ever a better year for sports games, then this year would be it. All of the EA Sports games are taking online play to the next level and Madden is no different. New this year is the online franchise, which fans have been waiting ages for. What this feature does is allow you and up to 31 of your friends to start a franchise online. You each pick your team and go through an authentic franchise as your team. The schedule matches up directly with the real NFL season which is a plus. Keep in mind though, this is a new feature and there are some things missing. The most notably is the fact that there are no player contracts or negotiations. So if you want to sign a player there isn't much too it. There is also an issue with trading. If you only have a couple of people in the franchise, then you may do some trading with the computer. This would be fine and all if the computer was a little more intelligent about who they were giving up and getting. Granted that this feature can be turned off so trading is only done with human players, but it is still something that needs to be addressed.
Also added is the online co-op mode. This lets you and a buddy play a game on the same team against the computer. It's not a bad start but it will take a few more years to get it to a point where you can have a full team of players.
Final Verdict (4 out of 5)
Madden NFL 10 is a solid game. The addition of online franchise, will have gamers playing this all through the year. Having the ability to do a fantasy draft within the online franchise is just another plus. It is a mode that can only get better next year and that's great news for fans. Outside of a few minor audio and graphical issues, Madden NFL 10 is a must have for any NFL gaming fan, and let's face, it it is the only choice since EA Sports has an exclusive contract with the NFL.
Of course, there are plenty of other great video sports games out there, and here are some others that you'll want to check out:
Madden NFL '09 All-Play Traning Camp
Cheat Codes for the PS2 Madden NFL '08