Review: EA Sports Tiger Wood PGA Tour Online - Console style golf goes online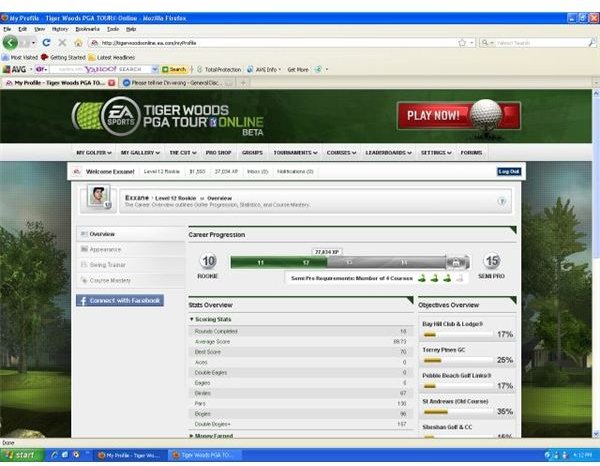 Tiger Woods PGA Tour Online Game Basics (3 out of 5)
EA Sports Tiger Woods PGA Tour Online takes the world of EA Sports golf and puts it online in an entirely web based golf game. You won't find console quality graphics here but the game does look impressive for a web game. You start with a basic golfer, equipment, and limited skills. There are several courses available in this game but a subscription is required to access most of the content. You can improve your golfer by buying equipment in the pro shop and using the swing trainer to acquire better golfing skills. Players earn money by completing objectives on the greens such as sinking birdies or they can sponsor top players for cash prizes if that player makes the cut. There are several courses available such as Torrey Pines, Wolf Creek, and St Andrews.
Tiger Woods PGA Tour Interface (4 out of 5)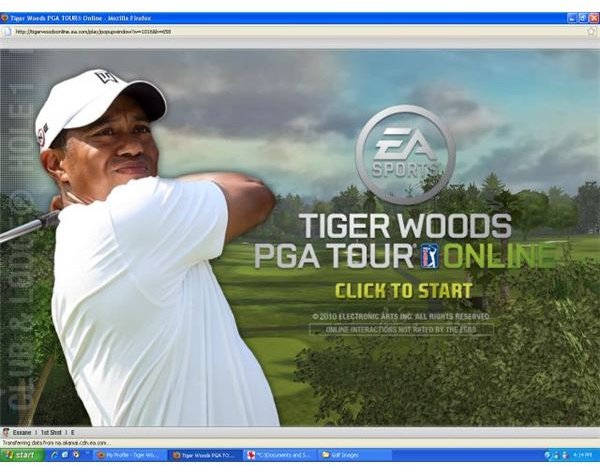 The game interface features the golfer management screen and the game itself. In the golfer management screen you can setup your golfer appearance, access the swing trainer, pro shop, courses, tournaments, and other game play options. In single player you can set course options such as wind, tee color, difficulty, and the number of holes you want to play. You can't change the tournament options but beginner to pro tournaments are available to play giving the player several options in that area. The game itself requires a small plug-in but it downloads quickly getting you into the game fast. The game features a short commentary for each hole and you can see other players shot arcs but no other golfers are visible on the screen. Each course looks quite good but the graphics are not up to par with the console version of the game so don't expect outstanding graphics here. After each hole of golf you will get a score card before proceeding onto the next hole.
Playing Golf (4 out of 5)
Getting into a game of golf in Tiger Woods Online is easy to do and you will be playing right away. Most players will start with a single player game where you can set the options. There are two courses available in the free version with others accessible if you pay a monthly fee. There are two golf swing types available a 3-click option and the true swing option. With the 3-click option you simply click the mouse to swing and release on the appropriate part of the swing meter to get an accurate shot. If your accuracy if off you will either hook or slice the ball, while a perfect shot will drive the ball straight towards your target. With true swing you use your mouse to swing and pull the mouse back then forward to create your shot. The 3-click option is by far the easiest to master for beginners with the true swing an option you might want to try after you have been playing the game for a bit. After each hole you will advance to the next one after reviewing your score card. Inside the game you can also talk to other golfers using the chat system.
Swing Trainer (5 out of 5)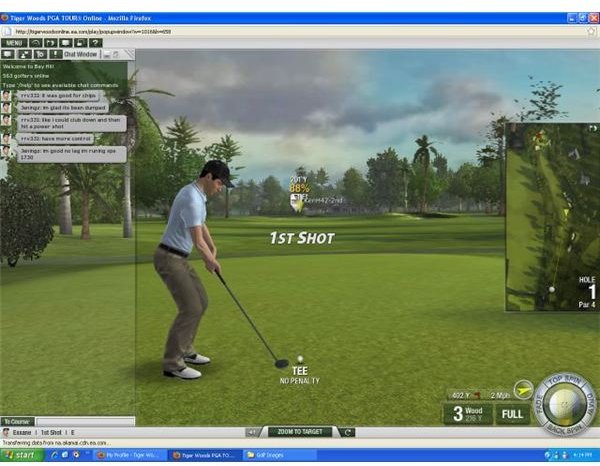 When you first begin playing the game you will notice that no matter how hard you try your golfer plays terrible golf and this is where the swing trainer comes in. In the main interface you can access the swing trainer which will improve the abilities of your golfer such as shot power, accuracy, and putting. As you play a round of golf and complete objectives you will be rewarded cash which you can spend on the swing trainer. As you improve each area of your golfer the costs will rise requiring more cash to reach each new level. You will notice a big difference the next time you take to a course with your golfer performing better and getting better scores. Most players start with shot power so the ball drives further reducing the number of shots you need to get the ball in the hole.
Making Money With Objectives And The Cut (3 out of 5)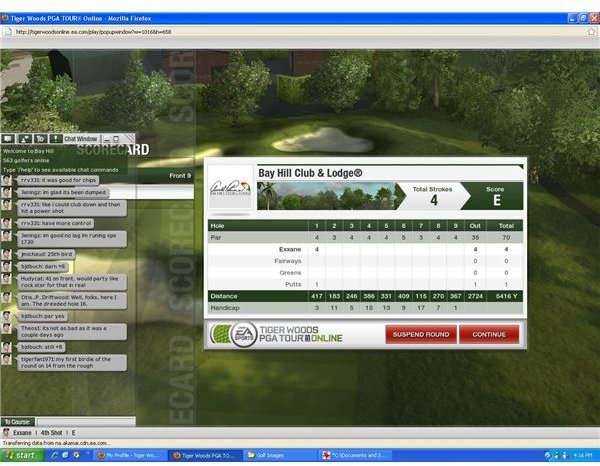 You can make money several ways with Tiger Woods PGA Tour Online. Each course features a series of objectives you can complete for cash payouts. So for example, if you get the ball on the green, drive it far, or score a birdie you will receive cash each time you reach each objective. There are numerous objectives to keep you busy with each course and you can view your progress in the interface. You can also make money by sponsoring top players in the game as they compete in tournaments. If your sponsored player makes the daily cut you will receive a cash payout. You can also earn cash yourself by winning tournaments but this is quite difficult for new players to achieve.
Pro Shop (3 out of 5)
In the pro shop you can buy new items for your golfer such as clubs, balls, and clothing. These items act like glorified powerups improving certain areas of your golf game such as power and accuracy. The downside is that they expire after several rounds and you need to buy them again. Items are available with game cash or you can buy them with your membership points. Non members can also buy membership points to spend on premium pro shop items. It would be nice to see some clothing options that were permanent after purchase for some variety to the look of your golfer.
Conclusion
EA Sports Tiger Woods PGA Tour Online is a decent golf game but it doesn't match the console versions of the franchise. The month membership fee to access all the content may turn off many players who can get a better game playing the other games. If EA Sports continues to add more courses and game content this golf game does show promise. Tiger Woods Online does provide an option to playing golf on a console and is well worth checking out if you love golf games.