FIFA Manager 10 Walkthrough - Transfers And Contracts Explained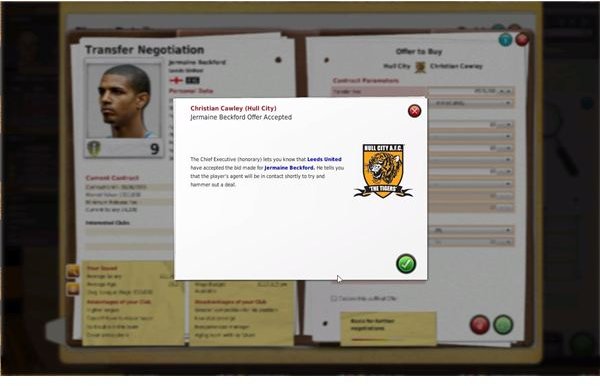 Enhance your Squad with New Players
Upon starting a game of FIFA Manager 10, the chances are you will be looking for some new players to strengthen your team. This might be due to players becoming "out of contract" and moving on, other teams making bids for your players that you cannot afford to miss, or simply because you don't like some players and wish to bring in your own personnel.
As such, you will need to look for some new players and once identified, approach their club with a transfer bid. If successful (and the player is happy to join your club) you will then be able to enter into contract negotiations with the player. Once these negotiations are completed, the player will be ready to be signed!
Making a Transfer Bid
Some players start FIFA Manager 10 already on their team's transfer list. This might be due to a number of reasons – the player might have fallen out of favour, or expressed a desire to leave.
Other players that you might want to buy might not be transfer listed – however this does not mean you shouldn't make a bid. You can bid on any player you like but should only expect to receive a positive response if you're able to match the asking price. Remember, in FIFA Manager 10 by default you're in charge of your budget and club cash flow, so you need to choose your transfer targets carefully, basing your decision as much on value for money as on ability, mentality and experience.
In extreme circumstances, such as when you're trying to capture a popular and talented player, you might find yourself in the middle of a bidding war. The trick here is to avoid paying over the odds for the player in question. If a similar, cheaper player can be found, possibly a bit younger with more experience to gain, they would be a better purchase than stretching your budget on an inflated price tag.
Offering a Contract
When a transfer bid is accepted, or when you have approached a player who is out of contract, it is time to offer a contract.
FIFA Manager 10 includes a useful tool on the Offer Contract screen that gives you a clue as to how likely the player is to accept your offer of a basic wage, signing on fee, possible goals and appearance bonuses, and so on.
At the bottom of the screen, just to the right of center, a meter will indicate whether or not the offer is suitable. As you increase the wage on offer, the bar will increase, and the words "Basis for negotiation" might appear, to be replaced with "Acceptable" if the player is happy with the offer.
Other information on offer on the left side of the screen describes the player, his current circumstances and the general view of your own club. This is a good way to see both how likely players are to join you, and to see what work needs to be done in order to improve your club.
This post is part of the series: FIFA Manager 10 Guide
Articles outlining the key steps to success in FIFA Manager 10