F1 2010 Car Setups Guide Part Two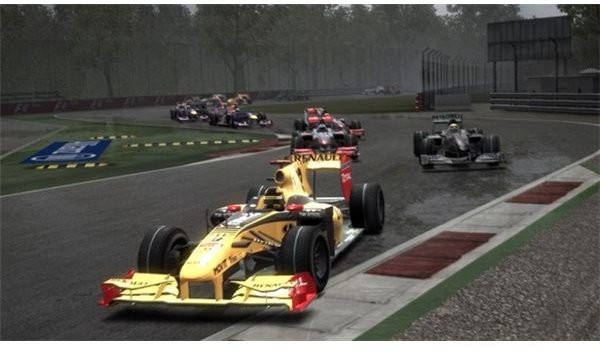 F1 2010 Car Setups Guide: Part Two
F1 2010 allows the player a brevity in customisation options. They can now change many different facets of their car which can often have stark consequences when on the track. In the second part of this look at F1 2010 car setups, we will analyse the remaining tracks on the race calendar, giving a quick list of all the necessary settings you need to tweak in order to get the optimal performance from your selected car. Read on for the continued list of F1 2010 setups.
Silverstone, Great Britain
Both wing angles should be set to 1. High braking pressure is required around some of the tighter bends in sectors one and two. All suspension settings should be upped to 9. A rear ballast distribution of (30%-70%) is preferred while heightened front camber of -0.70 is useful. Tweaking the anti-roll bar to your own personal taste would also be advisable, with a default of (9,4) providing a good jumping off point.
Hockenheim, Germany - F1 2010 Setups Part Two
A faster throttle map, coupled with lowered wing angles (1,2), high brake pressure and some suspension modification (3,3,5,6) will give a better performance on the new Hockenheim track. Lowering the gearbox speeds helps to navigate the differences between the now shorter circuit.
Budapest, Hungary
Marking the gearbox settings down works well for acceleration out of corners. Suspension settings of (1,1,7,9) and alignment of (-1.50,-3.40, 0.11, 0.38) also help. Complimenting this with a fast throttle map and high braking pressure can give you the necessary speed to compete during the straights while also propping up your cornering ability.
Spa-Francorchamps, Belgium
Lowest settings for aerodynamics (1,1) and low suspension settings (1,1,5,5) are integral. A high rear anti-roll bar (11) coupled with a fast throttle will be beneficial also. Camber and toe alignment tweaks are also necessary, preferably setting them at (-1.50, -3.50, 0.15, 0.50).
Monza, Italy - F1 2010 Car Setups Guide
The Monza circuit is similar to Spa, as far as F1 2010 car setups goes. Lowering the front anti-roll bar setting to 3 and having high brake pressure with small brake pads are the only differences between the Belgian track before it. For some extra acceleration coming out of the chicanes, up the gearbox numbers by a couple of MPH/KPH.
Marina Bay, Singapore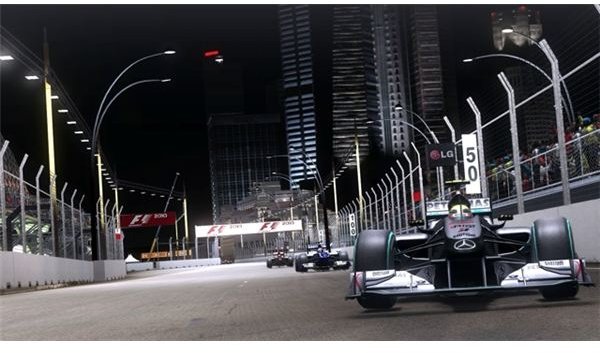 Alignment should be the same as the last two tracks. High brake pressure and a front oriented ballast distribution of (60%-40%) can be coupled with a higher front wing angle (around 7-9) for this Asian circuit. For further F1 2010 setups tweaking, lower the front ride height on the suspension while raising the rear anti-roll bar to between 8-10.
Suzuka, Japan - F1 2010 Car Setups
Same alignment as tracks before (-1.50, -3.50, 0.15, 0.50). A fast throttle map with high brake pressure and small brake pads are desirable for the Japanese circuit. Balance settings of (11,11) and suspension settings of (1,1,11,11) will provide a lot of downforce. Lowered wing angles (between 1-3) will also help.
Yeongam, South Korea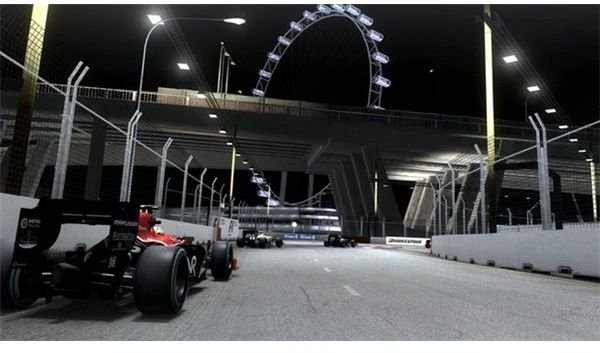 Yeongam requires low wing angles and ride heights, a fast throttle map and small brake pads in order to navigate its huge landscape. Tweaking the alignment will help also, as will stiffening the suspension springs (setting them to around 8-9), giving you the necessary fidelity when braking hard into turns.
Sao Paulo, Brazil - Penultimate F1 2010 Setups
Suspension settings similar to (2,2,7,8) coupled with aerodynamics of (3,4) are the only major changes needed for the quick Brazilian circuit. For further improvement, changing the ballast distribution to favour the front end (60-40 should work), while making the brake pads small and pressure high could also quicken your best time.
Yas Marina, Abu Dhabi
Using the same suspension settings as Brazil and alignment as Japan, the UAE GP is a hard track to master. With a ballast distribution of (80%-20%) and aerodynamics of (5,3) it should become easier to navigate quickly and effectively.
This post is part of the series: F1 2010 Car Setups Guide
A guide to tweaking your car in F1 2010. Each track comes with a different set of parameters and setup options. This guide lists the key points and settings for each track in the race calendar.