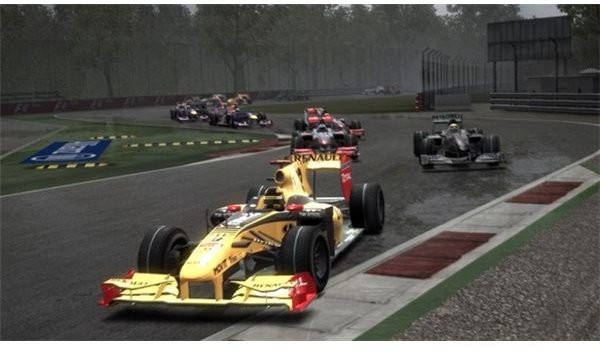 F1 2010 - Driver List
In the 2010 Formula One season, there were twenty-seven drivers who competed in the full nineteen race calendar. Of the number, three were mid-season replacements and are not fully featured in the F1 2010 game by Codemasters. In this game, the original cast of twenty-four F1 2010 drivers appear. This article will break down the teams and each of their driver choices, providing an up-to-date F1 2010 driver list. A small package of information on each of the F1 2010 driver list tiers will also be present, insofar as there in-game skill or how good they are during the F1 2010 career mode.
There are three main tiers regarding the AI of the F1 2010 drivers. The top tier features the best drivers, invariably with the better cars and features front runners such as Mark Webber, Fernando Alonso & Lewis Hamilton. Given the nature of their cars, these F1 2010 drivers will head up almost every race – unless they spin out or are involved accident – while competing against each other for the top six or so championship spots. The three teams that incorporate this top tier are Ferrari, McLaren & Red Bull.
F1 2010 Drivers Tiers & Skill Levels
The middle tier consists of the drivers who consistently perform well enough to pick up points finishes. These mid-pack of F1 2010 drivers includes the likes of Adrian Sutil or Robert Kubica, who can be 12th one race and finish in the top six the next. The middle tier is certainly the largest, with plenty of jostling and changing of position from race-to-race occurring. As an example, Nico Rosberg may grab a podium finish during the Monaco grand prix but may be shunted into a low position in Montreal a few weeks after, allowing the likes of Schumacher, Liuzzi or Petrov to stake a claim to that podium or points tally.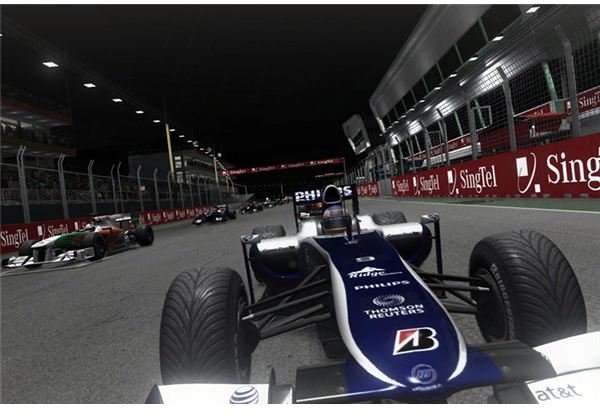 The bottom tier focuses on the F1 2010 drivers who struggle to gain any points finishes. If they manage it, then they have been granted a slither of fortune during the race, enabling them to artificially climb the field into a points position. When starting a seven year career, players will be offered a seat on one of these teams, with each of the three (HRT, Virgin or Lotus) expected to finish near the back of the grid in each race. The teams slightly above these three are part of the low-middle or high-bottom tier, as they have more chance of successfully reaching a top ten finish.
Top Tier F1 2010 Drivers
Jenson Button (McLaren)
Lewis Hamilton
Sebastien Vettel (Red Bull)
Mark Webber
Felipe Massa (Ferrari)
Fernando Alonso
Mid Tier F1 2010 Driver List
Michael Schumacher (Mercedes)
Nico Rosberg
Adrian Sutil (Force India)
Vitantonio Liuzzi
Robert Kubica (Renault)
Vitaly Petrov
Low-Mid Tier F1 2010 Driver List
Rubens Barrichello (Williams)
Niko Hulkenberg
Pedro De La Rosa (BMW Sauber)
Kamui Kobayashi
Sebastien Buemi (Toro Rosso)
Jaime Alguersuari
Bottom Tier F1 2010 Drivers
Jarno Trulli (Lotus)
Heikki Kovalainen
Karun Chandhok (Hispania)
Bruno Senna
Timo Glock (Virgin)
Lucas Di Grassi