Call of Juarez: Bound in Blood Walkthrough - Chapter 15 - The Big Finish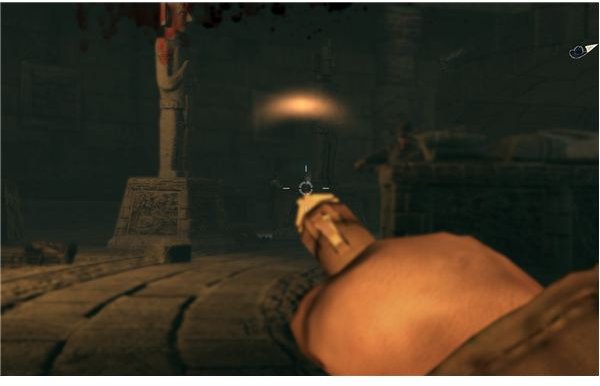 A Rough Start
Advance and kill the first three guys taking up position. Then take cover and get a good look at their formation. This is going to be tough. All of their weapons do a lot of damage. You'll probably die a few times before this level is over.
Rush forward to the next raised stone and just take up a position. Start firing as fast as you can to start working through the 12 soldiers running around. If you have a concentration mode, now is the time to use it. Once you move a bit further, the big heads will start pouring out sand. This shouldn't be too tight of a time limit, but it's something you need to watch. The biggest problem is that those stone tables disappear quickly, leaving you without much cover. You need ever hiding place you can get.
Advance a bit further. The men seem to be confused by all of the sand raining down, so take advantage of it. Just keep firing as they run to find cover. You should be able to get a few easy kills that way. Continue to advance slowly and watch for gunfire. Your visibility will be low in this area, so be very careful. Feel free to unload a lot of bullets in the general direction of gunfire. You'll have to depend on sound and muzzle flash to aim a lot of your shots in here. Ray might be able to survive close range combat, but it's suicide for Thomas.
As you approach the second tower you'll be able to hear Barnsby. Turn and see if you can hit the sniper from the first tower. He can easily kill you as you try to climb. Once your brother catches up, you need to start climbing up the stairs quickly. There should just be one more guy on the steps. Blast him and continue up the steps.
To Die in the Ruins
You're free from the time limit now.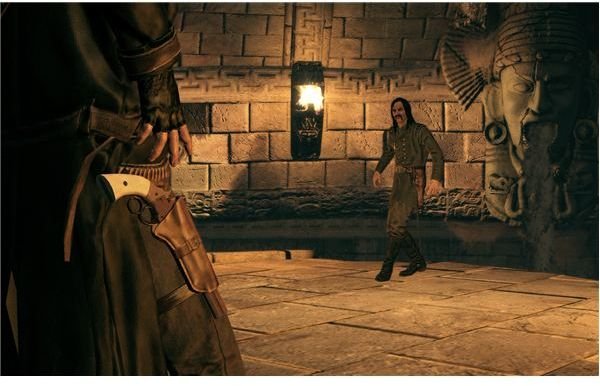 That doesn't mean that things get any easier though. Just take up a position behind the large pillar and be ready for a fight. Take out the first 2 soldiers coming out from the pillar. Another one comes out on the left side. Pump him full of lead before he can use the Gatling. Keep picking off the soldiers as they come out from the pillar and the back wall. If you get hurt, then fall back and actually crouch behind the pillar. The cover system can leave you partially exposed. Wait until you are fully healed to come back out with your guns blazing.
Barnsby should come out after about 6-8 soldiers die. Shoot him about 4 times to bring about the final duel. I actually thought this was easier than Juarez's duel. His movements are easier to read and he doesn't seem as quick on the trigger. Just ignore the shaking from the collapse and outdraw him. Once he's shot in the gut, just sit back and watch the ending of Call of Juarez: Bound in Blood. Congratulations, you won.
This post is part of the series: Call of Juarez: Bound in Blood Walkthrough - Chapters 11-15
The big finale to Call of Juarez: Bound in Blood is coming up. These last 5 chapters are going to give you a lot of trouble. The enemies are tougher and the levers are more hectic. If you need some help getting the medallion and finding the vast treasures of Juarez, then look here.