WWE SmackDown vs Raw 2009: One of the Best WWE Wrestling Video Games Ever to Grace the PS2 Console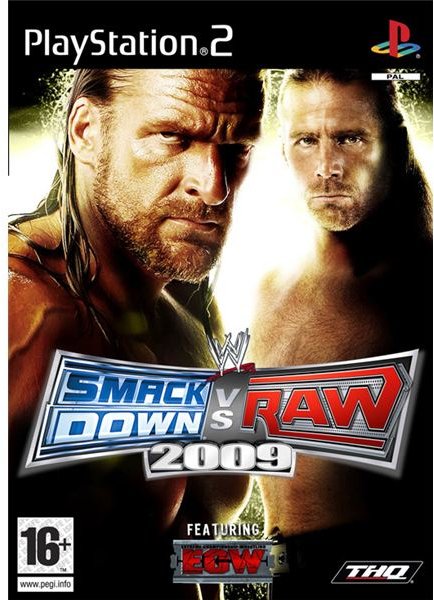 WWE SmackDown vs Raw 2009 (5 out of 5)
The entry of THQ's SmackDown series has something special for everyone. The graphics, gameplay modes, unlockables and goodies are much better than other WWE wrestling video games. With seven formats, including a mobile phone version, WWE SmackDown vs Raw offers guts and gores to satisfy both hardcore and casual WWE aficionados.
Despite the economic meltdown, THQ continues to offer the best in the WWE ring. This is the eleventh consecutive year a WWE SmackDown title got released by the same publisher. But, is it worth 60 bucks for the PS2 console version? What features differ from the previous SmackDown Titles? Let's see…
Gameplay (5 out of 5)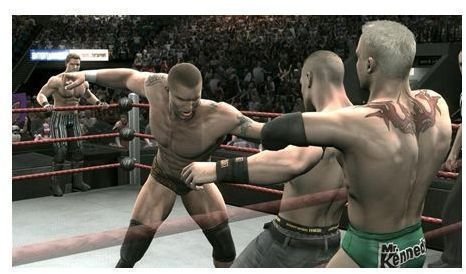 There have always been mixed responses and reactions about wrestling video games. Certain older titles are still remembered while promising ones are rejected by wrestling fans and hardcore gamers alike. But, the WWE SmackDown vs Raw titles have always engaged and entertained gamers and continue to do so with this latest version.
At first, newbie players might find themselves kicking and punching their opponent. But, this game isn't a button masher. There are complex moves to learn, which can be easily understood through a handy tutorial mode in the pause menu. It teaches key pull off and signature moves of popular WWE players. The onscreen tutorial will also tell when to perform moves and finishers to avoid any timing difficulties.
After learning those important maneuvers, players can jump right into singles wrestling or tag team and Royal Rumble matches. Tag team matches can certainly be the best play moments of your life. There are novel ways of tagging your character's tag team partner, including hot tag, and forced blind tag. Tag team matches in WWE SmackDown vs Raw 2009 also lets you play local co-op with your friends, which adds to the excitement of intense tag matches.
If, for unknown reasons, you get bored with the tag team matches, it's time you head towards the new season mode. The single-player Road to WrestleMania story mode lets you select one of five characters including John Cena, Chris Jericho, The Undertaker, Triple H or CM Punk. The sad part is that you only have five characters to choose from. The best part is the story, which is much interesting than the original season.
WWE SmackDown vs Raw 2009 Features (4 out of 5)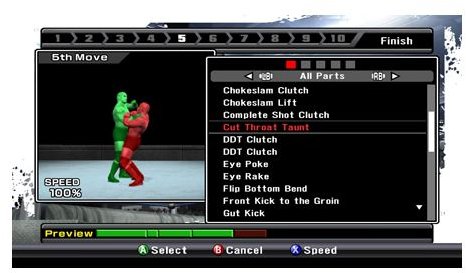 One of the best features of the game is the Career mode, which lets you play all of 60 WWE superstars featured in the game. To add more depth, the Create-a-Finisher and Create-a-Wrestler (CAW) options are included in the game. With Smackdown vs Raw CAWs, one can create new characters and play them in the career mode. The Create-a-Finisher option lets you combine four finisher moves at first, but as you go stronger, you can unlock more and can string more than ten moves together. This option has more than 500 animations to choose from. For those who like some pyronics, flashy special effects, and stylish camera angles can opt for the Entrance Creation option in WWE SmackDown vs Raw 2009 PS2 game.
This 2009 SmackDown title also has many other modes including a co-op storyline where you and your friend will have the option to choose Rey Mysterio and Batista to fight other characters. Additional stunt matches such the Inferno mode is fun to play. Unlike real life matches, where fire comes out from gas fed pipes, the in-game matches have ropes set on fire. Watching your opponents wriggle with burns can be fun and exciting. Sadly, there won't be any charred bodies to please the sadist in you!
Overall, excellent features, easy controls, great customization options and a good tutorial make WWE SmackDown vs Raw a solid recommendation for all WWE aficionados and fans alike.
Graphics (5 out of 5)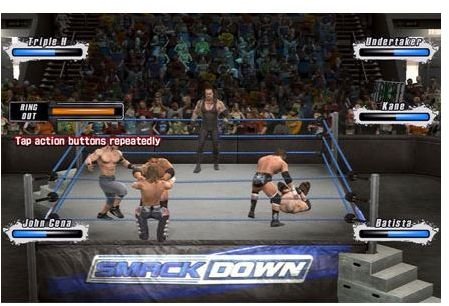 The WWE SmackDown vs Raw 2009 PS2 version has amazing realistic graphics. You might get surprised by the realism. Characters such as John Cena, The Undertaker, and Batista are perfectly rendered in the attempt to meet real-life counterparts.
Character animations are good enough to give hours of non-stop wrestling entertainment. The way Undertaker enters with his torch-bearing druids and performs his favorite Old School is surely a perfect example of the kind of animation and realism I am referring to. The super athletic feats performed by HHH or John Cena are eye-candy for all WWE fans and gamers. However, certain matches such as Royal Rumble have some graphical glitches and slowdown problems. Overall, the graphics are perfect for a 2009 SmackDown title.
Sound (4 out of 5)
The soundtrack used throughout the WWE SmackDown vs Raw 2009 PS2 game features actual themes. Of which some of them are performed by real-life rock bands and musicians. The voiceovers are excellently done by the wrestlers.Sound effects, grunts and pain cries are as realistic as graphics, creating a great WWE ambience . However the in-game announcer's audio seemed a bit on the lower side, but thanks to the subtitles, which can aid in understanding the quick references, taunts and praises made by them.
Overall (5 out of 5)
SmackDown vs Raw 2009 is vintage WWE that most gamers are looking for years! With a blend of 60 old and new wrestling superstars, realistic graphics, tag team and gimmick matches, the game is sure show-stopper.
The new create-a-wrestler and create-a-finisher customization modes add more excitement and depth, particularly when you create your superstar and play him in the career mode. WWE Smackdown vs Raw 2009, is probably the most entertaining, feature-rich and realistic WWE games ever to hit the PlayStation 2 platform.
More WWE Games
Want more WWE games for your favorite consoles? Here are some other articles that no WWE fan can live without:
WWE Smackdown Vs Raw 2009 Guide to Secrets, Characters, and Cheats
WWE Legends of Wrestlemania Preview
WWE Legends of Wrestlemania Cheats for Xbox 360