WWE Day of Reckoning 2 Review for Nintendo Gamecube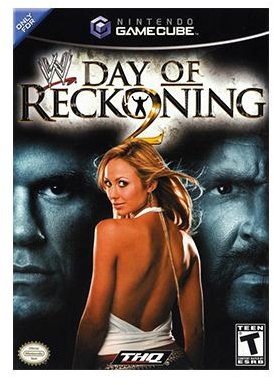 THQ's WWE Day of Reckoning 2, which came out in 2005, was the last wrestling game to be released on the Nintendo Gamecube. Like its predecessor, Day of Reckoning 2 features a plot-driven single-player story mode that allows the player to choose from multiple paths. However, the core gameplay has been radically overhauled for the better, making this one of the better WWE titles of its generation.
Gameplay (4 out of 5)
In terms of basic gameplay, Day of Reckoning 2 is an odd mix of fast-paced arcade style action and strategic grappling. Like in the PS2's Smackdown games, players can run around, deliver high-impact moves and come flying off the top rope with ease. That should come as no surprise, considering both this title and the Smackdown games were all developed by Yukes. However, Day of Reckoning 2 also features a very cool submission system in which both wrestlers choose from four options (Submit, Rest Hold, Taunt or Drain), and the strength of the hold is effected by the outcome. Counters also play a big part in the action, and are performed using the shoulder buttons.
There are plenty of features included in Day of Reckoning 2. Match types include normal, hardcore, ladder, table, TLC (tables, ladders and chairs), steel cage, and even WWE trademarks like the Royal Rumble and the Hell in the Cell matches. Furthermore, matches can be one-on-one, tag team, Triple Threat, Fatal 4 Way or handicap. It even includes a fairly deep Create-A-Wrestler mode, in which you can create a male or female WWE Superstar and customize his/her appearance, wrestling style, move set and more. Perform well and you can earn money that can in turn be used to purchase new move sets, arenas, entrances and more. In terms of features, this roughly four-year-old game beats the pants off some more recently released wrestling titles.
Character Roster (4 out of 5)
Considering the age of the game, the roster is woefully out of date. In some ways, that's a good thing, though. The game features several great wrestlers who are no longer with the WWE, and playing as some of these guys and even listening to some of the old entrance themes was wonderfully nostalgic for this longtime wrestling fan. Among the wrestlers featured are the likes of Batista, Big Show, Booker T, Chris Benoit, Chris Jericho, Christian, Eddie Guerrero, Edge, JBL, John Cena, Kane, Kurt Angle, Randy Orton, Rey Mysterio, Ric Flair, Rob Van Dam, Shawn Michaels, Triple H and the Undertaker. Believe it or not, also included in the game are some of the most forgettable wrestlers in WWE history, including Eugene, Heidenreich, Kenzo Suzuki, Orlando Jordan and Rene Dupree.
Story (3 out of 5)
The plot picks up after the ending of the original WWE Day of Reckoning. In that game, the created wrestler the gamer is playing as won the World Title from former Evolution stablemate Triple H. However, since then, Triple H lost the title to Chris Jericho in controversial fashion, so a title tournament has been ordered. Along the way, there's a pretty lame love story and something about a stolen title belt. It's nothing special, but it does a fair job of tying all the action together, which really is all a wrestling storyline is supposed to do anyway.
Graphics and Sound (3 out of 5)
Visually, the game looks pretty nice. I'd say the arenas and character models are about as sharp as anything you'd find in the Smackdown series. Wrestler themes are great, too, as are the original contributions the group A Dark Halo made to the game's soundtrack. On the other hand, it is a little disappointing that there is no play-by-play during matches, nor are there any wrestler voiceovers during Story Mode. The ring announcer is good in some ways and lousy in others. Sometimes, there's a long pause between parts of his speech that make it seem unnatural, but on the positive side, at lease the guy uses emotion to announce a created wrestler's nickname. That was long overdue.
Overall Rating (4 out of 5)
WWE Day of Reckoning 2 isn't the best wrestling title I've ever played, but it is the best one available on the Gamecube. The strategic submission system is the real highlight here, at least in this wrestling fan's opinion, but the wealth of match options and unlockable content are fantastic as well. Plus you've got a fully fleshed out story mode mildly entertaining and a roster chalk full of past and present greats. All in all, it's a nice package that is well worth picking up if you're a fan of wrestling video games.