Learn About All the New Downloadable Street Fighter IV Chun-Li Costumes; PC, and Console Systems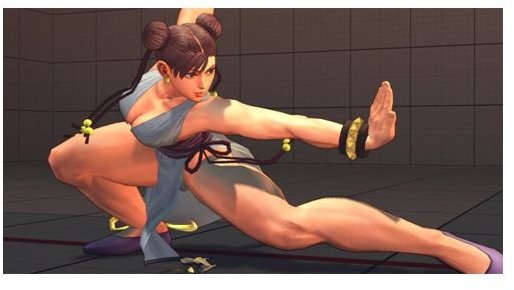 Street Fighter IV: Dressing for a Brawl
Sometimes you need the right attire before participating in a bout. In Street Fighter 4, characters might not look menacing, absurd, or sexy enough. Even the well-known Street Fighter character Chun-Li can't please everybody with one outfit. Fortunately, Capcom has come to the rescue with additional costume packs, including the Femme Fatale Pack. The pack contains new downloadable Street Fighter IV Chun-Li costumes, PC and console versions both available, along with additional packs available with costumes for the other fighters. And fans have contributed as well with their own Chun-Li alternate costumes, along with many others, for free downloads for other fans.
Street Fighter IV Costumes: Official and Unofficial
If you're looking for the official way to expand Chun-Li's wardrobe look no further than the Femme Fatale Pack, released last year by Capcom. The pack includes alternate costumes for not only Chun-Li but also Cammy, Sakura, Rose, and C.Viper.
There are additional official costume packs as well, available for other fighters. They are:
Brawler Pack DLC Pack; will include alternate costumes for: Zangeif, E.Honda, Rufus, El Furete, Abel
Shoruken Pack; will include alternate costumes for: Ryu, Ken, Akuma, Gouken, and Dan.
Shadowloo Pack; will include alternate costumes for: Seth, M.Bison, Sagat, Balrog, and Vega.
Classic Pack; will include alternate costumes for: Guile, Dhalsim, Fei-Long, Blanka, and Gen.
The official alternate downloadable Street Fighter IV Chun-Li costumes for PC or consoles from Capcom can be purchased and downloaded individually or as part of a bundle.
If you aren't satisfied with the official costumes, there are also alternate costumes for download free available unofficially from fans that are a part of the Street Fighter 4 PC community.
Downloading and Installing Street Fighter IV Costumes
The official Street Fighter IV costumes from Capcom are paid downloadable content (DLC) available for the PC, PS3, and Xbox 360. For the Xbox 360, the packs for all SF4 characters cost 1000 Microsoft Points combined, or 320 Microsoft Points for just the Femme Fatale Pack, The individual Femme Fatale Pack costs $3.99 for PlayStation users, for comparison. PlayStation Network and Xbox Live users simply have to use the PlayStation Store and Xbox Live Marketplace, respectively.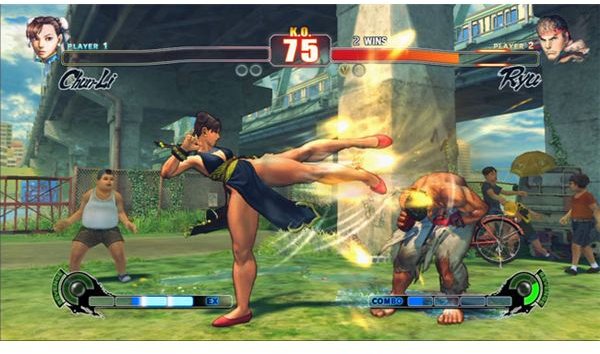 All the official Street Fighter 4 character costume packs, including the Femme Fatale Pack with Chun-Li costumes, are available to users through the Games for Windows Live Marketplace, which require a free Windows Live ID Account. The packs cost 320 Microsoft Points each, just like on the Xbox Live marketplace; about $4 U.S.
Also available for PC users are user-designed costumes, which can be downloaded from a number of the Street Fighter IV fan and modification sites in the SF4 community. To install these custom alternate Chun-Li costumes, or any others, navigate to the "CAPCOM\STREETFIGHTERIV\Battle\" folder and then open the folder for the character you want changed. Make back-up copies of all the files in the folder, in case there is a problem and you need to revert to the original skin. Now copy the .emz files you downloaded into the folder, and the new skin should now be available in the game!