RPG Maker VX Resources
Finding some RPG Maker Resources can be a difficult task. They are far and few in between on the internet and often end up being slight variations of the RTP.
In this article we'll discover new websites to gather much needed resources.
First Seed Material
First Seed Material is a fairly important RPG Maker community of mostly Japanese users. Quite a lot of resources are shared on the website but it can be difficult to navigate your way around without any knowledge of Japanese.
If you look at the top banner of the website, you'll notice there's an option to change the language of the website to English.

This will certainly make things a bit easier to understand but most of the conversations and sharing on the forum is made in Japanese so it won't make much of a difference anyway.
This is why I will introduce some of the art on this forum which I thought deserved to be mentioned. Note that pictures in this article will be watermarked as authors prefer for users to download their art directly from their conversation thread. Worry not however as each resource will be clearly linked so that you can easily find the files.
A Bloody Mess (RPG Maker VX Resources)
Author: Uma
Link: Click here!
Let's begin with a creation from Uma. This one is mostly a modification of the basic RTP but it is done quite well. This kind of tileset, quite gruesome, would be perfect for horror games or RPG with a dark setting. Note that the author has also provided some samples of bloodstains so look up the rest of his stuff in case you're interested in this kind of gory detail.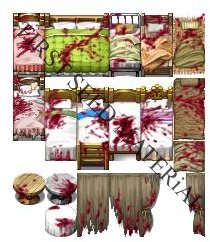 Classroom Material (RPG Maker VX Resources)
Author: Enterbrain (shared by ちょー)
Link: Click Here!
Interested in having classrooms in your game? The following tileset will allow you to do just that. Originally shared on Enterbrain's blog, it is now fairly well known among RPG Maker communities.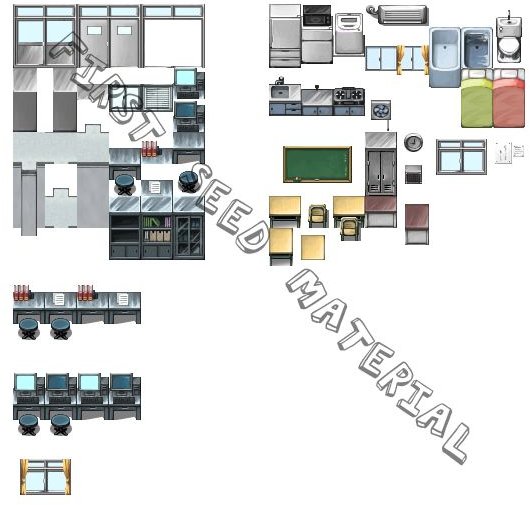 With all kinds of computers, beds and a blackboard, you'll surely find something you like on this tileset.
One Step at a Time
Author: DO4狼斗
Link: Click Here!
There are unfortunately very few varieties of stairs in the RPG Maker VX RTP. Thankfully, DQ4Wolf 狼斗 has prepared a great variety of stairs which are just waiting to be used.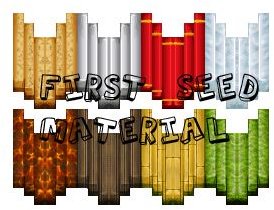 Beds of Many Colors!
Author: 瞬駈天魔
Link: Click Here!
As the last resource for this article, I would like to share some beds with you guys. Ever noticed how the beds provided in the RTP were very few? Well thanks to this new selection of beds your bedrooms will have a unique feel to them.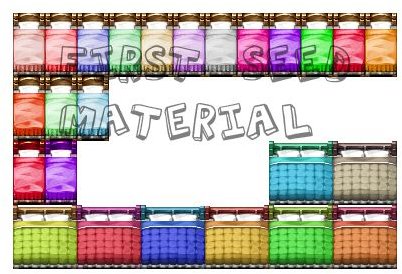 More Resources…
In case for I've shared here is not enough for the reader, it is simple to find a lot more. This forum is filled with all kind of high quality art for RPG Maker VX so take some time to browse around, there are pictures for the art so no knowledge of Japanese is really necessary.
Enjoy!