Guide to Perfect World International Wiki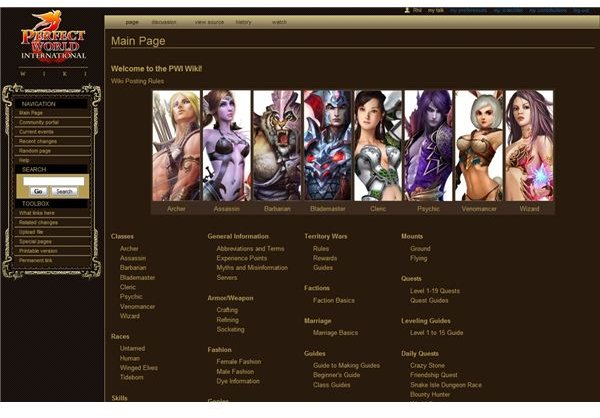 Perfect World International is an MMORPG hosted across several different global areas, developed and published by Perfect World Entertainment.
Because of its expansive nature, several wikis (community-edited websites) have been created to attempt to catalog all data about the game, including player guides. These wikis, listed and reviewed below, have their own benefits and weaknesses.
PWPedia (PWI Wiki) (4 out of 5)
The PWPedia is the official Perfect World International Wiki, hosted by Perfect World Entertainment and edited by the community. It is most commonly sourced and referred to in the Perfect World International official forums as a reference.
The main page of the PWPedia is very welcoming, and offers links to each class, race, skill list, and more without having to navigate through sub-menus. This makes the information highly accessible from the start. Class information and skills are thorough, and include the pros and cons of each class, their roles in PvE and PvP combat, and links to outside guides and resources. There are also a series of thorough guides covering every aspect of the game, from fashions and dyes, to selling, daily events, and rare mounts and pets.
What the PWPedia lacks most, however, is thorough quest and leveling guides. Although both are present, only detailed guides exist for low levels. The NPC section is also still lacking a great deal of information. While needing more development, the official wiki is the most robust and complete of all current wikis.
Perfect World International Wiki (Wikia) (2 out of 5)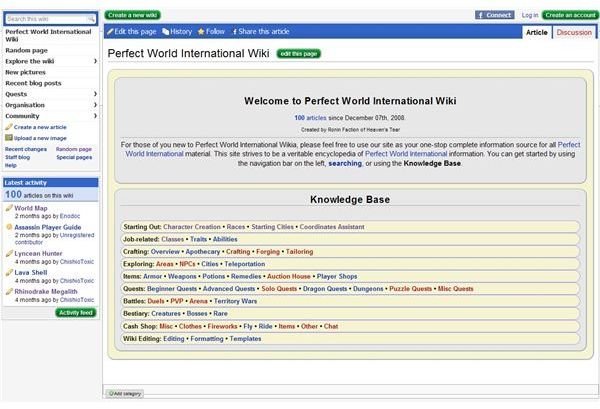 The Perfect World International Wikia is a fan-based wiki.
This particular wiki is currently underdeveloped. While some sections are fleshed out (for instance, the race section has the complete lore), many are empty or lack any real development (for instance, the class player guides). Some information is completely missing, like the Tideborn and the Assassin and Psychic classes.
Some quests, however, have detailed walkthroughs, and some NPCs are detailed greatly and linked to the quests or services they provide. Some enemies and pets have also had a thourough passing-over, detailing location, drops, and more.
Unfortunately, the Perfect World International Wikia feels like an abandoned and unfinished project, with the last edit in May 2010. Bookmark the few resources here you find useful, and move along.
iPerfect World Wiki (2 out of 5)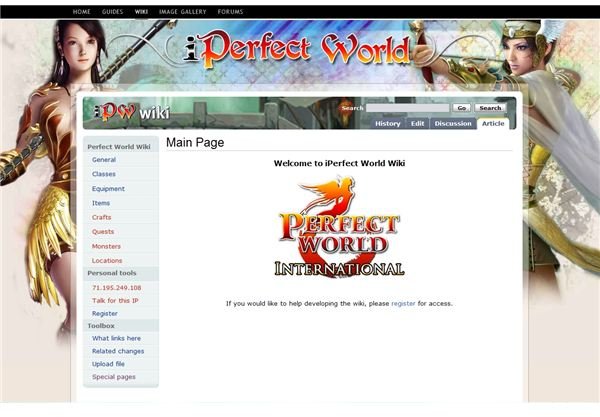 iPerfect World wiki is a community project on iPerfectWorld, a fansite for PWI.
iPerfect World is navigated through a left menu. Like the Perfect World International Wikia, it has not been updated since early 2010, and so is lacking information on the latest expansion's new race (Tideborn) and classes. What information it does have is, unfortunately, inconsistent. For instance, some classes have full skill lists, and some have incomplete lists; those that are complete are not consistent in their description methods. Some pages are completely missing (crafts, quests, monsters, and locations, for example).
The only thing that feels truly complete about this wiki are the Character Creation and Attributes pages.
Stolen Knowledge (wikidot) (3 out of 5)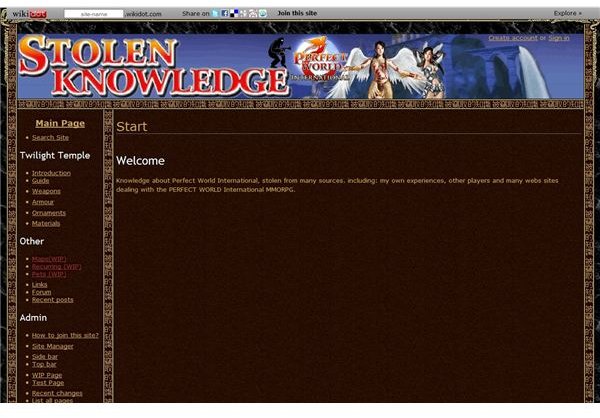 Stolen Knowledge is a PWI wiki hosted on wikidot. Its name refers to, as its creator describes, "Knowledge about Perfect World International, stolen from many sources. including: my own experiences, other players and many webs sites dealing with the PERFECT WORLD International MMORPG."
Currently, Stolen Knowledge only has one section, dedicated to the Twilight Temple, an instance for players level 60+. However, the Temple guide is very thorough and helpful, covering how to access the Temple as well as the gear obtainable there. Although the wiki lacks scope, it's highly recommended to visit this wiki if you are looking for Twilight Temple information.
Perfect World Wiki (Zam) (1 out of 5)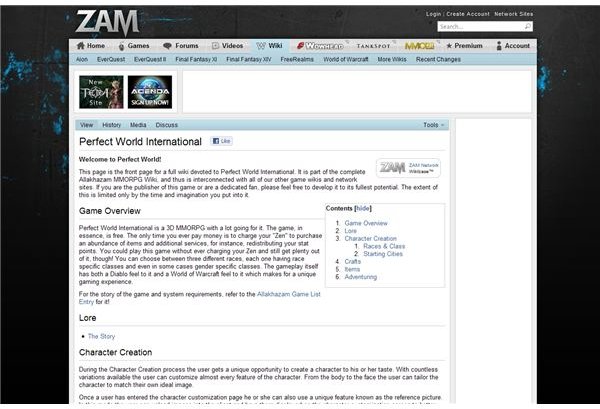 The Perfect World Wiki is part of Zam's network of wikis and information on MMORPGs.
Currently, the Zam wiki is undeveloped except for a page that includes the story of Perfect World International, and a brief paragraph describing character creation.