Guide to In Game Chat for Talisman Online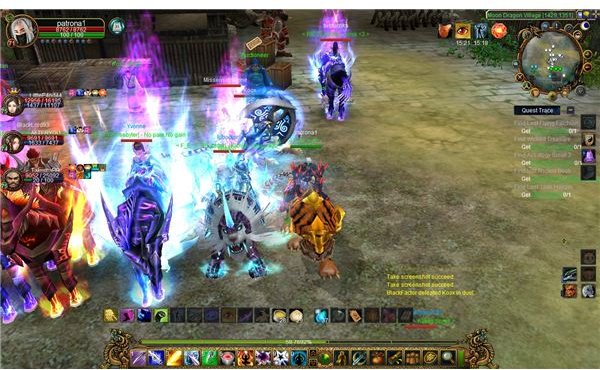 While you are out and about in Talisman Online, people will be talking to you and to other players in game, offering up trades or guild memberships. If you are confused on how to work the in game chat screens, here is a handy guide to help you know what is what. Keep in mind that in the World chat screen there is a requirement that only English can be spoken, the other channels are not that monitored.
Chat Channels
There are ten channels to the chat system in Talisman Online. Each of these channels is for a specific type of chat that you'll want to do, try not to chat in the wrong channel (for instance, don't use the Rumor Channel to talk to your master or team).
Rumor – The Rumor channel will deliver rumors. If you aren't sure or just want to spread some gossip, this is the channel for you. But, be careful what you say here - as this channel works both ways.

Call On – The Call On channel is where you can find players that want to go on quests with you. Or find a team to go to scenarios with.

Master – This Master channel is an independent channel so that you can talk directly to your Master. It is like a two way radio channel for that purpose.

Apprentice – The Apprentice channel is an independent channel so that you can talk directly to your apprentice (apprentices). It is also like a two way radio in that respect.

Guild – The Guild chat channels is a private channel that is for all the members of the same guild. This is good to communicate quickly with an entire group no matter where they are.

Team – The Team chat channel is for the players in a team that are in game. It operates like the guild channels in that it's a way to communicate quickly between all team members.

World – The World channel is for all players in the gaming world. This channel has the restriction in that you must be higher than a level of 10 to use it.

Whisper – This is a private chat between two individuals. Only the two that are in the chat can see what is being said and if the person you are trying to have a private chat goes offline you'll get a message stating that.

Shout – The Shout will be seen in the Normal channel and it has a larger range for people to "hear" you.

Say – The Say channels will be seen in the Normal channel but it has a smaller range for people to "hear" you than the Shout one.
Chat Expressions
To bring up expressions or emoticons for use in the chat channel you can simply click on the smile face that will appear in the right hand side of the input box for chat. This will bring up a selection menu with different expressions for you to use and enjoy. These are nice to spice up the conversation or to save you a little time in typing out something like *smiles* when you can just use a smiley face.
Chat Styles
There is a few ways that you can make your chat stand out, which can be handy in expressing your personal style or to make a certain point. These are the abbreviation directions to get different chat styles.
#n – This will return you to the default color and way of chatting

#c – When followed by the RGB numbers of hex, it will allow you to type in that color.

#K – Type in black

#W – Type in white

#Y – Type in yellow

#B – Type in blue

#G – Type in green

#R – Type in red

#u – Your chat will be underlined

#b – Your chat will be in flashing type

## - Types in the mark of #

#r – Types in a new line

#numbers – Will type in symbols this way.
Overview
As you can see the chat options in Talisman Online are pretty varied. With 10 channels, there is really a great variety of places that are designed to keep conversation following in themes and to be uncluttered. With the chat styles you can stand out from the crowd as well. You can find a ton of other guides right here at Bright Hub for Talisman Online as well as dozens of other popular and fan-favorite MMORPGs, including World of Warcraft and Dragon Nest.
References
Information gained from author experience
Images are from Talisman Online
This post is part of the series: Talisman Online Guidebook
A look at what you need to know about the free MMORPG game of Talisman Online