World Of JingWu English Guide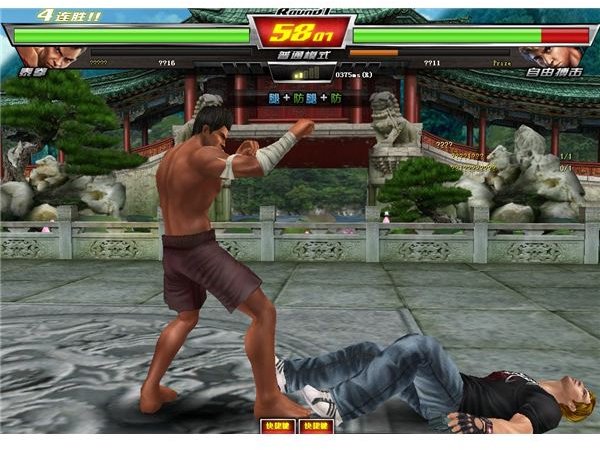 World Of JingWu Online Is Like Tekken For MMO Gamers
So you want to play the newly launched World of JingWu now that it's picking up steam and being offered online by OurGame network? Well, that's not a bad idea if you want to play an MMO version of Tekken. And yes, it is very similar to the Tekken series. Now, for those of you who don't exercise linguistics for the Chinese language, fear not for there are still ways to play and navigate the game fairly easy.
Some of you might be wondering why someone would even bother with a game like this with so many other MMOs out there. The answer is quite simple: there are no other MMOs out there like the World of JingWu Online. There are a few battle-royal type fighting games like Rumble Fighters, but JingWu is the only game of its kind, so far, and it's quite fun if you enjoy playing 3D fighting games but would like to have more character customization and constant competition from online players. If this sounds remotely interesting, you might want to keep reading to get in on the action.
Downloading The Only MMO One-On-Fighting Game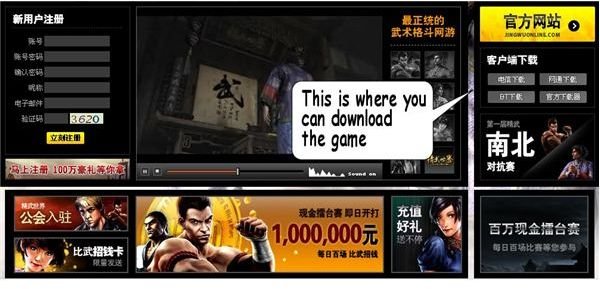 The first step is to register an account with OurGame. This is pretty simple if you managed to download the World of JingWu from the main website. You did download it, right? Well, if you didn't download World of JingWu from the website just head to the Official World of JingWu Website and off to your right (and yes, it's all in Chinese) you'll notice a box near the bottom of the page with four gray smaller boxes inside. This mini-toolbar houses the download links for the game.
You can download the game from any of the locations that best suit your downloading desires, including a torrent file. After you get done downloading the game it'll be time to install it and get it patched. Just run the setup file and the following process is pretty easy. Just click on the right tab (which is also in Chinese) in the setup screen to install the game. Once the game has been installed and patched it will be time to register an account with OurGame in order to actually play.
The Fonts That Break The Barriers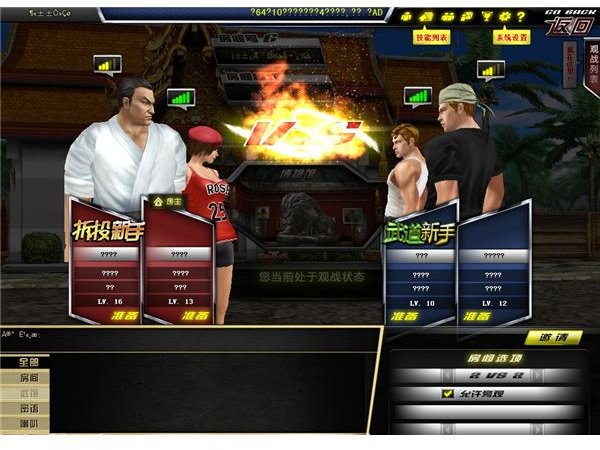 Before being able to log-in or register you may need East Asian fonts installed on your computer, which shouldn't be too hard if you visit the main JingWu website. More than likely it should ask you if you would like to install the new fonts, if so just click 'yes'. Alternatively you can easily gather up some new fonts by using Google and typing in "Free East Asian fonts". Google works like a charm in these sort of situations. Some of these fonts may be necessary for making out the mixture of Chinese and English words that the game may use and can be beneficial for playing the game.
Registering For JingWu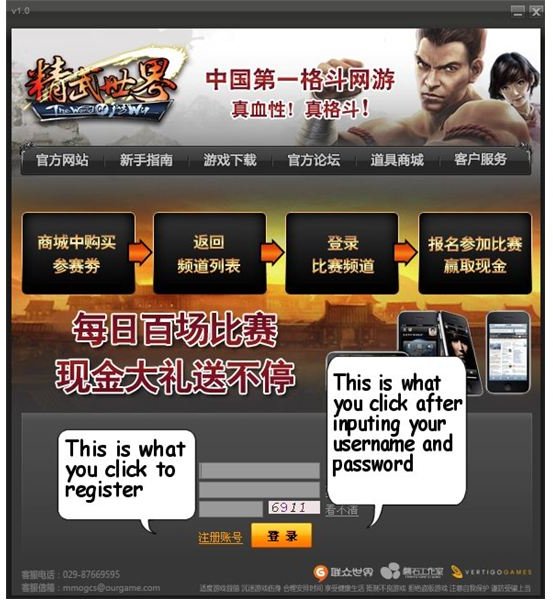 Now, once you get the fonts installed you're pretty much all set to register. Click on the JingWu icon on your desktop and it should bring up the client. Make sure you also have the latest Adope flash player installed because the game does make use of it. In the main client window select one of the two main servers to play on and click the orange button. In the next screen, in order to register first, just click on the link to the left of the bright orange button and you'll be magically teleported to the OurGame MMO portal account registration page. This next step is quite easy because even though the website is in Chinese – in order to register – the process is setup as follows (in English):
(Basic information (all required)
Username:
Password:
Re-type password:
Nickname:
(Additional information (in order to protect the security of your account, please fill in all)
E-mail:
Real name:
ID Number: (head here to get an ID number https://id.unet.cc/ alternatively an 18 digit number should do)
Code: (Captcha to ensure that you're human and not a robot)
The last two check-boxes are for the service agreements and all that jazz. Once you get through with that you're home free. An account activation e-mail should be sent to the address you provided. It may take up to 10 or more minutes to send out the e-mail but once it's sent the first link will allow you to activate your account. Now that you have an account it's time to load the game up and start playing. Be sure to check out the continuation of this guide for getting started and playing the game.
This post is part of the series: World of JingWu English Game Guide
The first part of the guide helps gamers get registered and download this free-to-play MMO fighting game.