Xbox 360 Gamers' Need for Speed: Shift Video Game Review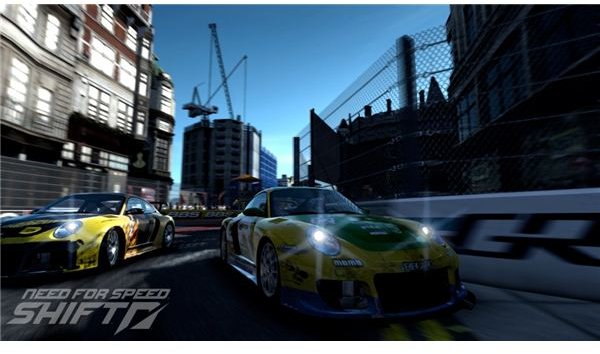 The Fun Parts of Need for Speed: Shift (4 out of 5)
EA Games and Slightly Mad Studios obviously know realism in driving games is what sparks the interest of most virtual racers and Need for Speed: Shift does a great job of driving down this well travelled road. They don't really improve on the physical experience of the feel of velocity, tire grip, and a collision that games like Forza and Gran Turismo have done before it. They have still done a great job of heading away from the arcade driving experience of their previous Need for Speed titles to a simulation racing experience that rocks!
The Parts of Need for Speed: Shift That Need to be Improved (5 out of 5)
Need for Speed: Shift does add a few new twists to the fun of driving with this title but the simulation racing genre is starting to hit a dead-end. Innovations in the racing simulation are going to be needed in the future to keep the Need for Speed franchise at the front of the grid.
How is the Graphical Presentation of Need for Speed: Shift? (4 out of 5)
Need for Speed: Shift splashes graphics all over your viewing screen as you're racing and the heads up display they included is poorly designed. It was hard to tell where I was on the map because reading it was just difficult to achieve. The sensation of speed is still there and they did a nice job of adding effects that immerse your senses in the driving experience. You'll see the screen go hazy and grey for a few seconds when you crash which is to simulate the disorientation that would realistically occur. This along with the beautiful driving animations and crash physics help to make the driving the strength of Need for Speed: Shift.
Screenshots
How Does Need for Speed: Shift Sound? (4 out of 5)
Need for Speed: Shift provides you with the same sound effects and a similar sound track to racing games like Forza and Gran Turismo. Still the production values of the sound are first rate and add significantly to the experience of driving.
How is the Game Play of Need for Speed: Shift? (5 out of 5)
The racing in Need for Speed: Shift is definitely the best part of this title and this is exactly as it should be. They did add a Driver Profile feature that is unique and different, but it isn't anything more than a glorified indicator of your career progress, with a few bells and whistles. The career structure of Need for Speed: Shift and the driving are the anchor that keeps the game play entertaining. You have new race types to try and locations that open up on their own as you progress thanks to the star system included, along with five career tiers to choose from. The driver duels are the best race type both online and off, but Need for Speed: Shift does offer plenty of challenges to the mix. The damage system is very forgiving for a realistic racing experience, but then we all like to at least cross the finish line.
The Last Word on Need for Speed: Shift (4 out of 5)
Need for Speed: Shift shifts into high gear quickly and goes from zero to ninety in a flash, but where they'll head with this series is the real question. This racing simulation is difficult enough to interest a hardcore gamer and easy enough to learn for a casual gamer to enjoy. This video game works, plays, and looks beautiful and what more could we ask for in a game.