Madden 2010 Achievment Guide For The Xbox 360: What You Need To Know To Get Them All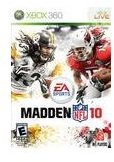 New Year, New Achievements
One of the first differences I noticed in Madden NFL 10 from its other Xbox 360 counterparts were stark contrasts in the achievements. In Madden NFL 10, the achievements are much more situational than quantitative. Essentially this means many achievements are easier and less time-consuming (though a few are moderately difficult). There are also far fewer achievements worth more points each.
The best part of the new achievements is there is no need to simulate countless seasons of a franchise in order to get points. I still remember (not so fondly) simulating 30 years of a franchise to get points for Madden 06. One thing to keep in mind is that the majority of the achievements must be done on all-pro difficulty in non co-op mode games with five minute quaters. All achievements fall under these guidelines unless otherwise noted.
Here's the Breakdown

Go Back to Basketball (40 pts.): Tackle Antonio Gates inside the five yard line (no Pro Bowl) - I found the best way to get this was to wait until Gates caught a reception inside the red zone, let him run toward the end zone and tackle him once he reaches the five yard line. This option is far easier than waiting until the offense is already situated there as most of the time the artificial intelligence will attempt runs and some offensive formations won't even include Gates.
Frozen Tundra (30 pts.): Win at Lambeau Field in freezing weather - This is one of the easier achievements and is pretty self-explanatory.
Mr. Not-So-Perfect (40 pts.): Intercept a Tom Brady pass (no Pro Bowl) - This one is also relatively easy, in fact, odds are you're AI players will achieve this one for you (this often goes hand in hand with the next achievement.)
Buzzkill (40 pts.): Intercept a pass intended for Randy Moss (no Pro Bowl) - This one is bound to happen, especially as the AI is smart and will throw to Moss fairly frequently.
Sprint 2 Minute Drill (30 pts.): Win after being behind in the final two minutes of a game - Best bet here is to play the computer tight and be close enough that even a field goal would win you the game.
Super Bowl MVP-Like (50 pts.): Catch a TD to take the lead with under 30 seconds left - This is fairly straight forward and similar to the previous achievement, making it tempting to try and complete both simultaneously. The only downside to both are that if you mess it up, you have to play a whole other game.
All Day No Way (40 pts.): Record three tackles for a loss on Adrian Peterson (no Pro Bowl) - What works best is to wait until obvious rushing downs and either blitz like crazy (especially out of a 4-3 alignment) or go with an aggressive goal line formation.
Laser Arm? (40 pts.): Intercept Peyton Manning three times (no Pro Bowl) - Like the Tom Brady achievement, the AI will help a great deal and Manning will give you plenty of chances with the pass attack. Your best bet is to play tight coverage with dime, nickel and quarter formations.
Now Things Get Tougher in Madden NFL 10

Fight for the Fumble (30 pts.): Win possession of the ball after a fumble pile-up - Recover a fumble once the new (and arguably stupid) fumble pile-up 'mini game' pops up, be ready for some button-mashing.
Look what I found! (80 pts.): Win a fumble pile-up in the end zone for a TD - This one's a bit harder, try to get the opposition lined up on their own goal line, blitz like crazy and make good use of the hit stick. Again, be ready for the button-mashing.
Larry Stickyfingers (40 pts.): Get 10 user catches (no drops) with Larry Fitzgerald (no Pro Bowl) - This is also a bit on the tough side, wide receiver screens are good bet though you have to be quick in switching your user control to Fitzgerald. So button hooks are your next best option.
Have to Be This Tall to Ride (40 pts.): Stiff arm or juke Bob Sanders (no Pro Bowl) - All things considered, I think it's much easier to juke Sanders than stiff arm him. Just like in real life, the man's a beast.
Go Bag Some Groceries (40 pts.): Force Kurt Warner to fumble on a sack (no Pro Bowl) - Timing can make this an easy achievement. Nailing Warner while his arm is still moving back for a pass with a well-timed hit stick will do the trick. Picking a team with a great outside linebacker or defensive end will make it quicker.
The Gang's All Here (50 pts.): Trigger a gang tackle with seven-plus players - This is a very random achievement to get, just run up the gut and wait for enough AI-controlled defensemen to engage you.
Wounded Duck (50 pts.): Complete a pass to an unintended receiver - This is ironic, you're intentionally trying to pass to an unintentional receiver. Throwing a pass in a three-wide receiver set is a way to better the odds. This is another achievement that can easily happen by accident.
Pocket Monster (80 pts.): Stay in the pocket for at least 10 seconds - Doing this legitimately is near impossible, you can pick a team with a good offensive line and hope for the best, or, use two controllers and have the defensive play deep zone coverage (cheap, but effective.)
Almost There
Nothing Without the Dark Visor (40 pts.): Force a LaDainian Tomlinson fumble (no Pro Bowl) - The best way to do this is to use a defense like the Baltimore Ravens or New England Patriots and strip (LB button) or hit stick LT until he coughs it up.
Nano (50 pts.): Sack the QB before he can hand the ball off - Just as simple as it sounds, though it requires patience. Using a lot of blitzes with a strong defense will get the job done quicker.
Bring a Friend (co-op modes)

All three of these can be achieved in one game.
Why Can't We Be Friends? (75 pts.): Complete an online co-op game - This one is easy and self-explanatory. Just complete the game - you don't even have to win!
From Me to You (40 pts.): Complete a pass for a TD with your partner in an online co-op game - This is as simple as it sounds, just score a passing TD, again, the outcome of the game is not important. Just remember the quarterback and receiver must be user-controlled (one by you, the other by your friend.)
Hey Buddy! (50 pts.): Complete a lateral with your partner in an online co-op game - To perform a lateral, hit the left trigger. Like the previous achievement, both players must be user-controlled. This can be done on the opening kick off, might as well get it out of the way.
Don't Tell Anyone - Secret Achievements
Mature Newbie (10 pts.): Create a player or superstar at the oldest possible age - Go to either mode and create a new player. When creating said player, make him as old as possible (the earliest possible birth date in the game is January, 1st, 1954.)
Safety Inspection Required (10 pts.): Create a team from Springfield - When creating a team, go to team editor in team data and merely change the team's city to Springfield.
Well Played. Really (5 pts.): Throw the ball away on 4th down - Fail to gain a first down three consecutive plays in a row to get to fourth down. Pick a pass play, run your quarterback outside the pocket and click the RS button to throw the ball away. Easy enough.
Last Tips
A key trick to getting all 1,000 points quicker is to multitask and try to tackle more than one achievement in a single game. For example, if you play against the New England Patriots in Lambeau Field, it's possible to nail three achievements at once (if you're able to intercept a Tom Brady pass intended for Randy Moss, that is.) You may even stumble upon one of the many fumble achievements.
Other Great Madden NFL Articles
There are so many great versions to the Madden NFL franchise for any console, and here are some other articles that you'll enjoy:
Cheat Codes for Madden NFL 08 for PS2
Cheat Codes for Madden NFL 09 for PS2