Halo: Reach Achievements Guide: All the Xbox 360 Achievements and How to Get Them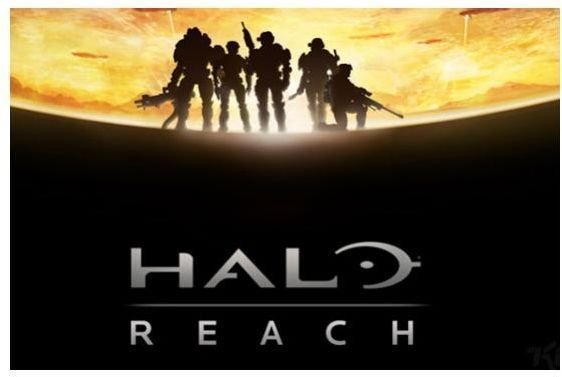 Halo: Reach Achievements - Introduction
The latest entry in Bungie's epic Xbox 360 FPS franchise is here, and Halo: Reach not only brings with it a whole new Campaign bursting with fresh characters, epic set-pieces and their patented "thirty seconds of fun" formula, as well as one of the most comprehensive online Multiplayer and Co-Operative matchmaking systems, resplendent with a whole new raft of maps and Game Modes to while away the next few years, but also a mass of new Xbox 360 Achievements for you Gamer Score junkies out there to get your teeth into. We've gathered together all the information you'll need on all 49 Halo: Reach Achievements, the Gamer Points on offer for each one and exactly how to unlock them all into one easy to follow guide, covering Campaign, Any Game Mode, Multiplayer, Firefight and Player Experience Achievements categories.
Halo: Reach Campaign Achievements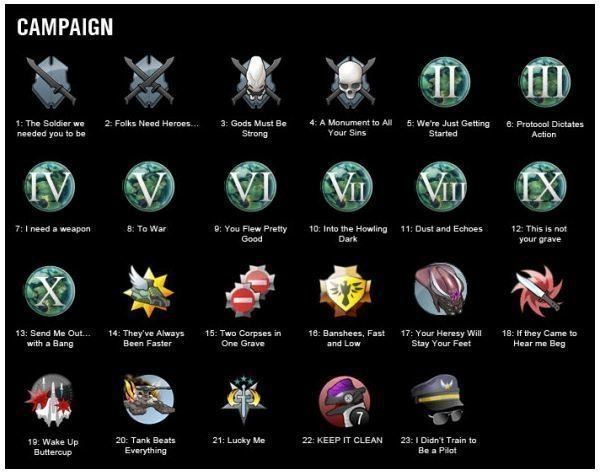 The following Xbox 360 Achievements are unlocked during the course of the main Campaign in Halo: Reach, with rewards for completing Chapters and other awards for achieving certain goals in the game.
The Soldier We Needed You To Be (25G): Unlocked by completing the main Campaign on Normal or higher difficulty.
Folks Need Heroes (50G): The equivalent Achievement for completing the main Campaign on Heroic or higher difficulty.
Gods Must Be Strong (125G): For the Halo: Reach experts. Unlocked once the main Campaign has been successfully completed on Legendary difficulty.
A Monument To All Your Sins (150G): Complete every single mission in Halo: Reach in singleplayer on Legendary. No Co-Op allowed.
We're Just Getting Started (10G): Awarded upon completion of the 2nd mission in Halo: Reach, on Normal difficulty or higher.
Protocol Dictates Action (10G): This Achievement unlocks upon completion of the 3rd mission, again on Normal or higher.
I Need A Weapon (10G): Same again for the 4th mission.
To War (10G): And the fifth.
You Flee Pretty Good (10G): This time it's the 6th mission.
Into The Howling Dark (10G): Can you see a pattern developing? 7th mission under your belt.
Dust And Echoes (10G): And now the 8th mission.
This Is Not Your Grave (10G): The 9th and penultimate mission in Halo: Reach rewards you with 10 more points.
Send Me Out… With A Bang (10G): The epic tale draws to a close upon completing the 10th mission. On Normal or Higher.
They've Always Been Faster (25G): Here's where the Achievements start getting interesting. To unlock this, you're going to have to get through the entire 2nd mission without once using a drivable vehicle.
Two Corpses In One Grave (25G): Rewarding use of one of the new weapons in Halo: Reach, take out 2 enemy vehicles simultaneously using the Target Locator during the 3rd Mission to unlock.
Banshees, Fast And Low (25G): To get this reward, you're going to have to hijack a Covenant Banshee at some point during the main Halo: Reach Campaign.
Halo: Reach Campaign Achievements, Contd.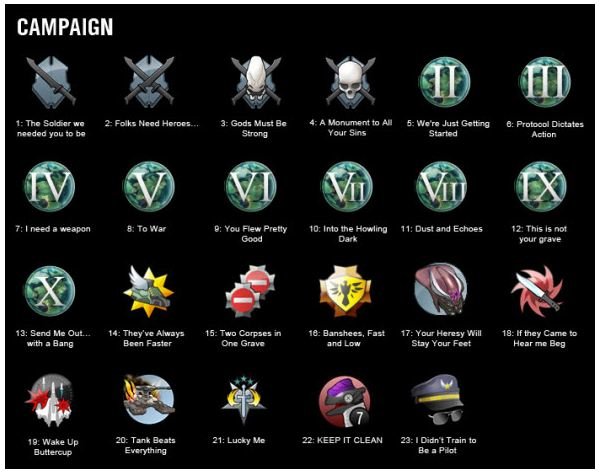 We'll round up the remaining Halo: Reach Achievements for Campaign Mode.
Your Heresy Will Stay Your Feet (25G): Take out the Elite Zealot before he can make good his escape in the 5th mission to claim this award.
If They Came To Hear Me Beg (25G): Tricky one this - you'll need to use the new Halo: Reach Assassinations feature. Perform one upon an Covenant Elite to break a fall that would otherwise have killed you.
Wake Up Buttercup (25G): For the fast of foot and mind. To unlock, manage to destroy the Corvette's engines and its escort during the course of the 6th mission, all in under 3 minutes. Oh, and on Heroic or higher as well.
Tank Beats Everything (25G): Navigate your Scorpion through the entire duration of the 9th mission to gain this Achievement.
Lucky Me (25G): Make the most of those shiny new JetPacks, and claim a Triple Kill while in mid-air during either the Campaign, Multiplayer or Firefight Modes.
Keep It Clean (5G): Wipe out at least 7 of the Moa during the 2nd Campaign mission.
I Didn't Train To Be A Pilot (10G): Destroy at least 3 of the Anti-Aircraft Batteries during the course of Halo: Reach's 3rd mission to unlock this 360 Achievement.
Halo: Reach Any Game Mode Achievements

These 360 Achievements can be unlocked during one or more of Halo: Reach's different Game Modes, including Campaign, Multiplayer and Firefight.
Doctor Doctor (5G): Use one of the re-introduced Health Packs to replenish yourself at some point while playing Halo: Reach.
That's A Knife (10G): For Crocodile Dundee fans. Rewarded when you perform your first Assassination on an enemy.
I See You Favor A .45 (10G): Go all Dirty Harry on 10 enemies by killing them with the M6G pistol during Campaign or Firefight Game Modes to unlock this Halo: Reach Achievement.
An Elegant Weapon (10G): This Achievement unlocks after you've killed 10 enemies by wielding the DMR, again in Campaign or Firefight.
Swap Meet (10G): Share the love and a weapon with an A.I. buddy during the Campaign and this shiny medal is yours.
A Spoonful Of Blamite (10G): For those with an explosive temper, take out 10 enemies in Campaign or Firefight Mode through the medium of Supercombine explosion to receive this reward.
Halo: Reach Multiplayer Achievements

These are the Achievements specific to Halo: Reach's Multiplayer Game Mode.
Be My Wingman Anytime (5G): Be a good team player and allow a fellow teammate to spawn on you 5 times or more during Invasion multiplayer mode to unlock this Achievement.
Yes, Sensei (10G): Claim the First Strike Medal during a multiplayer match and this award is yours.
Skunked (10G): Dominate the enemy and be part of a team that wins an Invasion match in the very first phase to claim this Achievement.
What's A Killing Spree? (5G): You'll soon know, as this Achievement unlocks the first time you receive the Killing Spree Medal in Halo: Reach multiplayer.
Halo: Reach Firefight Achievements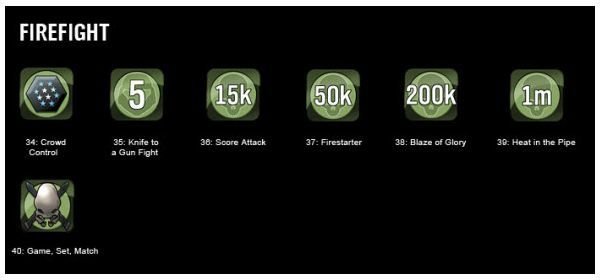 These Halo: Reach 360 Achievements are for its Co-Op vs A.I. Firefight Game mode.
Crowd Control (10G): Celebrate your first Killionaire Medal in Halo: Reach's newly jazzed-up Firefight Mode with this Achievement.
Knife To A Gun Fight (5G): While playing the part of an Elite, take out 5 Spartan players during Firefight Matchmaking Mode, and this reward is all yours.
Score Attack (10G): For those who like big numbers, rack up 15,000 Points or more during a Score Attack Firefight matchmaking session to unlock this Xbox Live Achievement.
Firestarter (10G): Even bigger numbers. This time they're asking for 50,000 Points or more in Firefight Mode.
Blaze Of Glory (25G): Huge numbers now. This Achievement requires a Firefight Points Score of 200,000 or over.
Heat In The Pipe (75G): For the Firefight millionaire. Break the 1,000,000 Point barrier to claim your reward.
Game, Set, Match (25G): Can you complete an entire Firefight set without dying once? On Legendary? Then you're probably a better man (or women) than me, which is why you will have this Halo: Reach Achievement and I probably never will.
Halo Reach Player Experience Achievements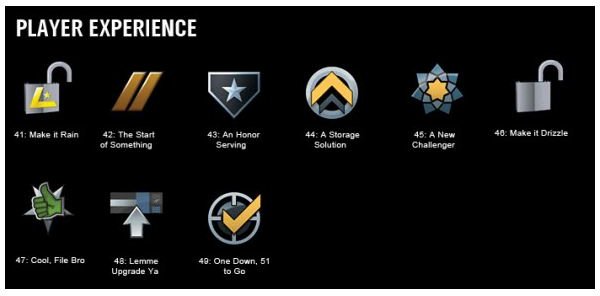 These Xbox Achievements are unlocked by progress through Halo: Reach's Experience Ranking system.
Make It Rain (10G): To gain this Achievement in Halo: Reach you will need to, firstly, be the rank of Lt. Colonel or higher, and, secondly, purchase an item from the armory that requires that ranking.
The Start Of Something (15G): Start your climb up the Halo: Reach Online Leaderboards by being promoted to Corporal to unlock this award.
An Honor Serving (25G): This Achievement is doled out once you hit Captain.
A Storage Solution (5G): Use the File Browser functionality to upload a file to your Halo: Reach File Share and this one unlocks.
A New Challenger (10G): Complete all available Daily Challenges on any one given day for this Achievement.
Make It Drizzle (10G): Purchase any item from the Armory to unlock this.
Cool File Bro (5G): Be all sociable, recommend a file to someone else and you get this little 5G pat on the back.
Lemme Upgrade Ya (10G): Advance one of your Commendations up to a Silver state for this Achievement.
One Down, 51 To Go (10G): Complete your first Weekly Challenge.
Conclusion
So there we are. Follow this guide to Halo: Reach Achievements and you should eventually have all 49 Achievements and 1,000 Gamer Points under your belt. As Bungie bids farewell to the Halo franchise that made their name, be sure to keep your eyes peeled for further Halo: Reach coverage here on Bright Hub.
This post is part of the series: Ultimate Halo: Reach Multiplayer Guide
Bright Hub gives you all the info you need to dominate online with its Halo: Reach Multiplayer Guide, including comprehensive coverage of the new weapons, armor types, vehicles, game modes and Xbox Live Achievements in Bungie's blockbuster FPS Halo: Reach.