Halo 3 ODST for Xbox 360: Basic Combat Training To Show You How To Be The Best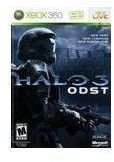 Halo 3 ODST
You've heard the hype about this newest edition to Halo, and you ran out and bought the game (or you're about to), and you want to know what to expect. Well, there are some changes to the normal Halo that you already know and love, and to help you jump into Halo 3 ODST, here is your basic combat training guide to have you kicking the competition's rear. Let's jump right into it:
New Mombasa City in Halo 3 ODST
The biggest change that you will find in Halo 3 ODST is the addition of the city of New Mombasa. The story line here starts that you're a Shock Trooper who ran off-course and crashed near the city. You get to New Mombasa about six hours or so after a major war took place here and everything is smashed and burning.
The good part about this new area is that the city itself is basically open to exploration, which means that you can really go about anywhere you want. This is sweet, as the more you explore here, the more artifacts you'll find that were dropped by other trooper and mobs. And, when you come across one of these artifacts, a cut screen will play the person's memories for you and give you a mission to play. When you get done with one mission, you'll be put back in your same place in Halo 3 ODST and keep your search going for more artifacts.
Your Halo 3 ODST VISR

Of course you still have your kick butt VISR, which is a super sweet night-vision that allows you to see in low light and no light conditions. Your VISR will also highlight anything that is important that you need to check out, enemies will be highlighted in red, and friendly NPC's will be highlighted in green. You should keep this activated at all times during your game play in Halo 3 ODST as it can help you collect all of the artifacts that you might otherwise pass over.
The Comm Stations

When you are in the new city, there are several different comm stations that you'll find on your explorations. These are normally highlighted in yellow when your VISR is on (yet another reason to leave it on). When you explore these comm stations, you'll be able to gather up more of the story line in Halo 3 ODST as it plays audio clips from NPC's from the city. You should come across about 30 different comm stations all over New Mombasa.
Halo 3 ODST Health

This is another area where the game changes a bit. Your health will be on a different system in ODST than it was in previous Halo games. But if you played the original Halo, then you will be familiar with this newer version, as it's pretty close to the same. Basically, you'll have a health bar that you need to keep watch on, and you'll have to recharge your overshield as well - both of which are now shown at the upper portion of your screen while in Halo 3 ODST. While you cannot heal yourself if your shield fails, there will be some health packs spread out throughout the city that you can find and pick up. So, make sure that you search everywhere for these as well.
When you take hits to your shield in Halo 3 ODST, you will see that the screen turns brighter and brighter red as your shield gives out. If it goes completely out, you'll hear yourself start to wheeze as you don't have any air now - and if you get hit, your health will go down. So make sure that you keep and eye on your shield all the time and give it time to regenerate when you can.
Overall

Basically with the addition of New Mombasa in Halo 3 ODST, the other changes are minor. But, there are enough changes that you need to keep yourself aware in the game so you don't stumble into something that will kill you right away. These changes also make the game extremely interesting and fun again, so if you haven't played Halo in a while, you might consider picking up a copy of ODST to check it out.
Want more Halo articles? Here are some others on Bright Hub that any Halo fan just can't miss:
Halo 2 Review for the Xbox 360
Halo 3 ODST Review - The Long Awaited Sequel
Halo Wars Cheats, Tips and Tricks for the Xbox 360