The Best Free Online Werewolf Games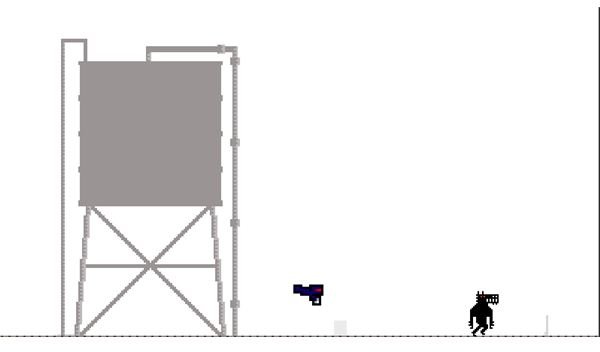 Top Free Online Werewolf Games
You have seen him battling Laurent and Victoria in Twilight Full Moon, spotted him on a Halloween costume party and watched his fatal fangs and claws rip through humans in many classic horror movies– Well, the werewolf is everywhere, gnarling and showing is vicious fangs on a full moon night. This mythological, folkloric wolf-like creature has terrified one and all since the medieval times. With superhuman senses, stout jaws and deadly paws, this shape-shifter is one of the biggest rivals of the vampire clan. The age-old vampire vs. werewolf rivalry can now be witnessed on the Internet as there are many horror MMORPGs tackling this mythical enmity.
While there are several Werewolves vs. Vampires and free vampire-themed online games on the Internet, finding a werewolf-themed online game is quite rare. However, there are some very good free online werewolf games that can really spice up your online gaming fun. These are browser-based flash games and are quick to load.
Vox Populi, Vox Dei (A Werewolf Thriller)
This pixel game looks deceptively plain and simple action title, but can be quite bloody and violent. You will have to help the hero save his sweetheart from the clutches of the dominant werewolf clan. The graphics will remind you of an oldie-goldie pixel game, but you will certainly be in for a surprise once you attack a werewolf – the blood splatters incessantly, which may be just too much for a pixel online horror game.
The controls in A Werewolf Thriller are simple. You will have to use the left and right arrow keys to move the character and space bar for jumping over obstacles. To attack a Werewolf, you will have to press the down button first and then press space. The hero will pounce and attack in typical werewolf style. There are also other controls, which you can learn in-game.
Play A Werewolf Thriller
Were Wars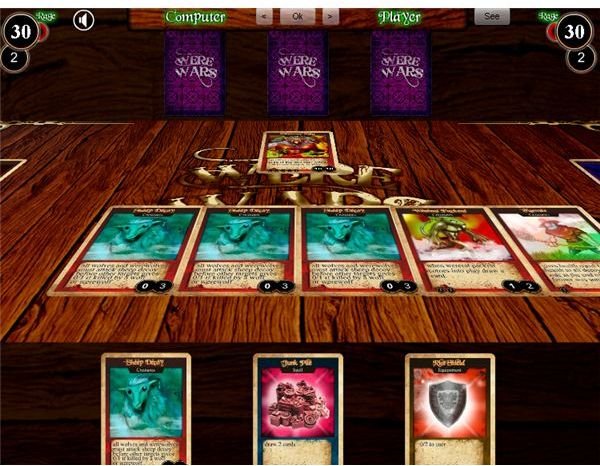 Witness the battle of Werewolves in Were Wars, a nice browser-based free battle card game, and one of the most played online werewolf games. There are variety of cards to play, including spells, attack and decoy cards and equipment cards to vanquish the rival werewolf clan.
The attack cards you put into play usually attack every turn, which is the best way to damage the AI werewolf clan's health. You can buy special rage cards by increasing your rage cost, which can be accomplished by reducing the health of the rival werewolf faction.
The creature cards in Were Wars are superbly designed and the art work is quite gothic. The cards are well laid in the bottom of the screen. Left-clicking on a card will reveal its details, i.e. whether it is a decoy, defense or an attack card. You will three option buttons: play, discard and abandon. The animation is excellent, especially when two cards come face to face and one of them gets attacked. Overall, Were Wars is one of the best free online werewolf games with a unique genre.
Play Were Wars
More Online Werewolf Games
Were Wars Jigsaw: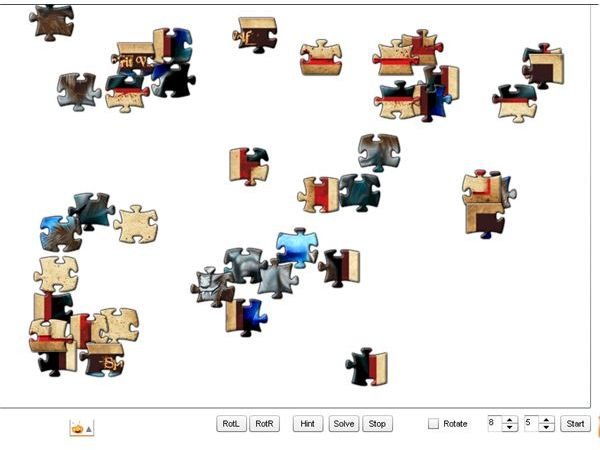 The popularity of Were Wars battle card game spawned a few spin-offs, including this jigsaw puzzle that has the creature cards converted to jigsaw pieces and scattered all around. Using simple in-game controls, you can rotate and piece the cards together. There's also a nifty hint system that highlights jigsaw pieces that can be put together. But, you need any hints if you are an expert jigsaw player!
Play Were Wars Jigsaw
Moonlight Sonata:
This is a nice 2D flash survival/shooting game that just requires your mouse and arrow keys to shoot and move your character. There are numerous levels and weapons galore, but each weapon can be unlocked after every successful completion of a level. The premise is that you will have to survive for 14 days (levels) from the incessant onslaught of menacing werewolves.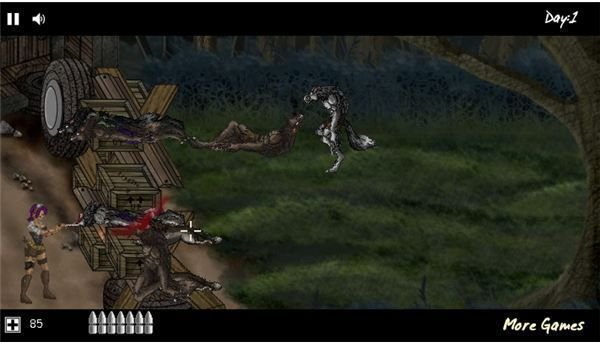 You will have to shoot them before they destroy your barricade made from wooden crates and other materials. If you have survived two or more levels, you can switch between your unlocked primary and secondary weapon. The nice hand-drawn artwork and addictive shooting make this game one of the best online werewolf games.
Play Moonlight Sonata