Preview to Upcoming Horror MMOs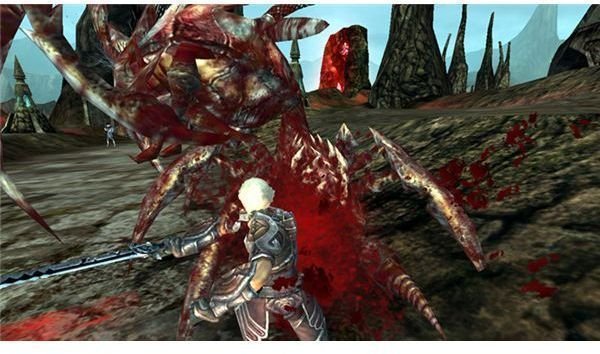 Why No Horror MMO?
MMOs have covered a number of genres but there is no escaping the fact that the vast majority fall into one of two categories, fantasy or sci-fi. I have nothing against either and they are both fertile ground for stories, worlds and characters however it is a surprise that developers haven't tapped into new areas. The forthcoming MMO All Points Bulletin looks set to hit the gangster genre, if it ever comes out, but my favourite genre of all remains relatively untouched. Luckily there are a few signs on the horizon that the situation may be about to change with a number of MMO horror games in development and some recent releases.
Requiem: Bloodymare
This MMORPG, released last summer, is a Korean futuristic fantasy/horror blend set in a world which has gone over the edge into the abyss and is now overflowing with warped creatures of every description. You have to slice them up with a big sword and as the terrible name would suggest there is a lot of blood and it is a bit of a nightmare. It plays exactly like any other RPG except that the creatures you slay while levelling up split apart with blood spraying everywhere and their heads roll off into the distance. It may be dark fantasy but this isn't truly horror because it never really scares you.
The Secret World
This has been in development forever but if it does see the light of the day it could prove to be a very interesting game. Set in the modern world it casts players as supernatural heroes fighting against all manner of nasties including vampires, demons and everyone's favourite, zombies. It is supposed to be skill based and will delve into ancient mythologies with a big dramatic plot. It is being developed by Funcom using the Age of Conan engine but as for a release date, your guess is as good as mine.
World of Darkness
After Crowd Control Productions (developers of Eve Online) merged with White Wolf (creators of horror themed role playing games) the development of an MMORPG based on the World of Darkness universe was announced. Development is due to start round about now so it will be a long time before we see this one. The universe in World of Darkness is rich with vampires and werewolves and it could definitely make an interesting MMO.
Exanimus
Zombies are for me the undisputed kings of the genre. Their slow shambling inevitably and hunger for human flesh are the very definition of horror and what could be worse than being eaten alive by a gang of rotting corpses? There have been various zombie game releases but surely the typical zombie set up is rich ground for an MMO. Well Exanimus was going to be that MMO and it was announced back in 2006 but before you get too excited I have to point out that development has been suspended. Whether it will resume is unknown but I won't be holding my breath.
Free Horror MMOs
There are a few free zombie MMOs out there, Dead Frontier and Oplex are just a couple but the quality is low. There is also an MMORPG that is free to play called Dark Eden which is set amidst a war between humanity and vampires but it is far from great. If you want scary horror video games you still can't beat the Silent Hill series and Left 4 Dead 2 is the best zombie option out there right now. Sadly the situation for MMO loving horror fans is decidedly bleak with a real dearth of online horror games and the prospect of a decent horror MMO is still distant at best.