BrightHub 2010 Game of the Year Candidates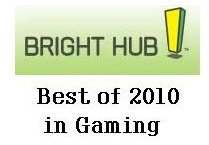 Looking Back on 2010
2010 saw a number of excellent titles on every platform imaginable. Some titles were far better than others, but there were a handful that ran a close race. The Xbox 360, PlayStation 3, Nintendo Wii, PC, DS, and PSP all offered countless entertaining games this year. Games like Metal Gear Solid: Peace Walker, No More Heroes 2: Desperate Struggle, Call of Duty: Black Ops, Pokemon HeartGold and SoulSilver, Heavy Rain, and Starcraft II: Wings of Liberty were all top games, but there can only be one winner. Before we reveal the 2010 Game of the Year, let's take a look at three of the top candidates for this prestigious title.
2010 Game of the Year Candidates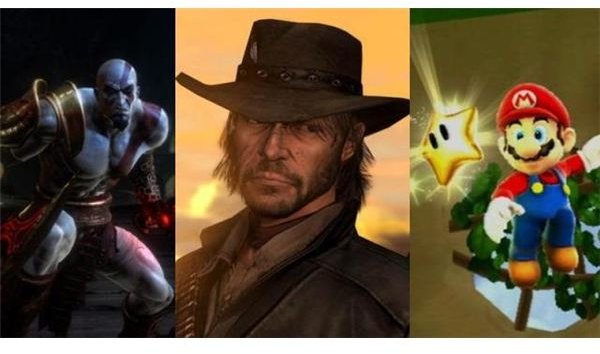 God of War III (PlayStation 3): Kratos returned to a Sony home console in God of War III, and he proved that he's just as tough now as he was back on the PlayStation 2. The game continued the dark and gritty tale of the ghost of Sparta, and it offered more of that same bloody action gameplay that previous titles delivered so masterfully. Even though the formula hasn't changed much, God of War III is just as gripping as its predecessors, and it provides one heck of a revenge story.
Red Dead Redemption (Xbox 360, PlayStation 3): Considered by many to be the greatest open world action-adventure game to date, selecting Red Dead Redemption as a nominee for 2010 Game of the Year was a no-brainer. With its vastly rewarding gameplay, massive open world to explore, high replayability, engaging DLC, and thoroughly impressive story, Red Dead Redemption offers a robust, long-lasting experience set in the Wild West.
Super Mario Galaxy 2 (Wii): In 2007, Super Mario Galaxy pushed the envelope for what a 3D platformer should be. The gameplay was superb; the orchestrated soundtrack was beautiful; there were plenty of hidden surprises to discover; and the visuals were not only the best on the Wii, but they also stood tall among the Wii's HD competitors. This year saw the release of Super Mario Galaxy 2, which fine-tuned the already stellar mechanics of the first game and threw in some of the most varied gameplay in any platformer.
And the 2010 Game of the Year Is…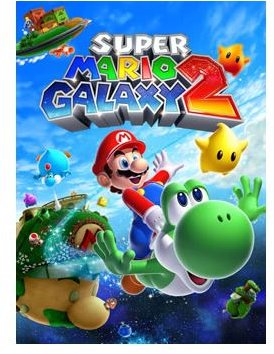 …Super Mario Galaxy 2! Making this decision was incredibly difficult. It came down to this game and Red Dead Redemption, but the famous plumber proved his might over John Marston. While Rockstar's open world Wild West action-adventure title had great gameplay, great lasting value, and some decent multiplayer modes, Super Mario Galaxy 2 provided some of the best—if not the best—platforming ever. It crafted its own personality with its addictive, engaging, and totally rewarding brand of running and jumping action, and it managed to feel like a completely different game when compared to its predecessor.
If you've ever enjoy platformers or Mario games, then this game is a must-play title. Super Mario Galaxy 2 isn't marred by bugs of any kind; the worlds make you want to explore them inch by inch; the power-ups are cool to experiment with; Yoshi and Luigi return to aid the titular plumber; and Nintendo once again proves why Mario is the king of the platformer.
One more thing that makes Super Mario Galaxy 2 such an ingenious creation is its ability to link the past and the present. While the 3D platforming, perfect controls, and stellar presentation make the game stand out as a current-gen title, its distinct charm truly gives it a magnificent retro appeal. In other words, though the game is completely modern, it manages to take 25 years of Nintendo platforming, add a little bit of the good, completely disregard the bad, and inject doses upon doses of brand new, unseen gameplay. Best platformer of all time? Quite possibly. 2010 Game of the Year? Definitely!
2010 in Gaming - Looking Back and Looking Ahead
2010 has come and gone, and what a year it was for gaming! Games such as Donkey Kong Country Returns, Halo: Reach, and God of War III proved the value of a sequel. Original IPs such as Bayonetta, and Alan Wake wowed gamers with their thrilling gameplay. Sonic 4 and Sonic Colors brought the iconic blue hedgehog out of a nasty slump. And enough can't be said about Super Mario Galaxy 2 and its enthralling gameplay that managed to provide arguably the greatest platforming experience ever created.
What's in store for 2011? With the imminent releases of Marvel vs. Capcom 3: Fate of Two Worlds, Pokemon Black and White, Okamiden, Darkspore, Valkyria Chronicles III, and so many others, 2011 is already shaping up to be a year worth getting excited over. It's going to be interesting seeing what other games the new year has in store for gamers, and it's going to be a heck of a lot of fun getting to play those games!