The Top 10 Gorgeous Ladies of Gaming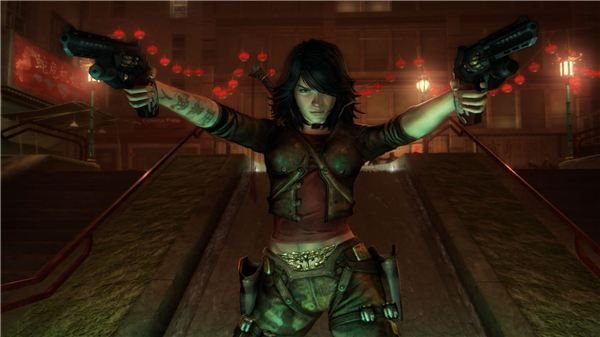 Rubi Malone
She is as unforgiving as "The Bride" and performs insane aerial tricks that could give Lara Croft a run for her money. The sexy Texan's death-defying stunts and the way she gets into a fear-inducing rage slashing down her enemies using her samurai sword makes her more badass than all the leading ladies combined. Her sultry expression and suggestive pose on the box-art shows you don't need to wear revealing clothes to look sexy. Despite her striking good looks, amazing voice (the ever-gorgeous Eliza Dushku provided her voice for Rubi) and the remarkable gun and swordplay technique she displays, Rubi Malone rarely features in top 10 lists and in my opinion she is one of the most underrated female video game protagonists to date.
Aya Brea
This rookie NYPD cop is extremely beautiful, but don't let her fragile appearance fool you. Her Parasite Energy powers allow her to defeat some of the most gruesome monsters (neo-mitochondrions) you've ever seen. She can wield some of the most advanced weapons in Parasite Eve and has the ability to deal with many gruesome monsters singlehandedly. Aya Brea's striking Asian features and her slender appearance charms gamers. She doesn't rely much on her team members and prefers to fight alone. Her unconquerable spirit and abilities clearly overshadow her frail appearance.
Lara Croft
The pin-up girl of gaming, Lara Croft is strong, witty and drop-dead gorgeous. Her trademark outfit has made her a sex symbol. But it's her strength and intelligence that defines her sexiness. She was one of the first female video game protagonists and since the very first video game release her influence on gamers and non-gamers has been tremendous. Girl gamers see her as a role model, fashionistas go ga ga over her style of dress and men love to see her dive and pull off those daring acrobatic moves. She is arguably one of the toughest divas of video games.
Alyx Vance
Alyx Vance is one of the very few female video game characters who bring realism to a game. She is practical, well-mannered, cheerful and sensitive. Her intelligence and amazing presence of mind have helped Gordon Freeman tackle some of the most difficult situations, including the scene where she singlehandedly deals with a bunch of Metrocops to help Freeman escape from City 17. In Episode One, Alyx shoots down zombies with her shotgun.
Alyx's non-glamorized look probably makes her more "real" than other female video game characters. Her dress style is simple, neat and practical. She doesn't create a nuisance and is neither hoity-toity about her appearance or the way she fights. She is one down-to-earth no-nonsense girl I'd love to date.
Tifa Lockhart
I find a remarkable similarity, both in character and appearance, between Tifa Lockheart and Aya Brea. Both appear to be fragile and sensitive, but are strong mentally and physically. Tifa identifies and responds to the feeling of her colleagues but finds it difficult to share her feelings and sorrows with them. She possesses great strength and will never give up in times of despair. Like Aya Brea, Tifa's appearance is that of a coy, delicate girl, but as they say, appearances can be deceiving. The Feint Brawler packs a punch and some of her signature moves can easily bring down the fiercest of enemies. With features so gorgeous that even the hottest top models pale by comparison, Tifa Lockhart is one of the most gorgeous ladies of gaming.
Kitana
Armed with two razor-sharp folding fans, the princess of Edenia knows all the right moves and loves to show them off. Kitana's well-sculpted chest and haunting brown eyes are some of her most seductive traits. Her signature moves are as intoxicating as her features. The way she floors her opponents with her pretty kicks and fan throws is a treat to watch. The veiled warrior's kiss of death is the deadliest, but we are sure she has a spare non-lethal kiss for the one she loves the most (Liu Kang?).
Zoe Castillo
There's something very endearing about Zoe. She's cute and has a very casual approach to life. She loves to watch her favorite television soaps and talks to her pet monkey doll. She is much more down-to-earth than April Ryan (The Longest Journey). April was a bit arrogant at first, until the events in Longest Journey helped her understand life better. Zoe, on the other hand, isn't big-headed at all and has shown a sense of maturity in most situations in Dreamfall. A strong-willed woman, Zoe embraces the new journey and shows a very positive attitude in dealing with the events in Dreamfall. She is mentally tough, assertive, and super gorgeous and someone you'd definitely want to meet.
Bayonetta
The sexy female equivalent of Dante, Bayonetta is known for her notorious Torture Attacks and her voluptuous body. The gorgeous witch possesses plenty of angelic weapons and amazing combos to vanquish her enemies. She is one of the most powerful divas of gaming and famous for her playful attitude. This bespectacled temptress may well have been qualified for the role of naughty dominatrix had she been brought to life by science. But we want her to rule the world of video games, and would love to see her in action (and more costumes) in the latest sequel.
Jill Valentine
Jill Valentine's girl-next-door looks and assertiveness make gamers go weak at the knees. She oozes confidence and charm, and her never-say-die attitude helps her survive dicey situations. Jill can take down some of the deadliest Resident Evil monsters and is known to posses various skills, including lock-picking, a special skill taught by her father Dick Valentine. Her trademark tube top outfit is one of her most popular costumes to date. Jill is strong, independent and looks smokin' hot in her sleek Battle Suit.
Rayne
Rayne isn't your typical blood-sucking beast, but a stunning, scantily-clad female warrior ready to take over her foes with some of her deadliest superhuman powers. She can create a vortex of blood, freeze time and detect infected prey with her Aura Vision. But it's her revealing outfit that attracts most attention. I am sure that some of her ridiculously revealing costumes in Bloodrayne 2 are designed to show her weapons of mass distraction (no, I am not talking about her two large saber claws).
References
All images courtesy of the respective game developers.