Cheating in the Smackdown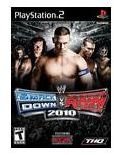 The WWE Smackdown series has been one of the most popular franchises on the Playstation 2, mainly because of the popularity of the the television program and the synthesis between fighting and sports gaming genres. One of the most recent incarnations is WWE Smackdown vs. Raw 2010. Just like many similar games WWE Smackdown vs. Raw 2010 utilizes cheat codes and secrets to add depth and replayability to the gameplay. Here are some of the best WWE Smackdown vs. Raw 2010 cheat codes.
Entering Cheat Codes
WWE Smackdown vs. Raw 2010 Playstation 2 makes entering cheat codes easier than most by creating a cheat code specific entering menu. When you are in Smackdown vs. Raw 2010 go to Options. From here select Cheat Codes, where you can then enter the given cheat codes for the cheat you want.
Key Cheat Codes
If you want to unlock the classic wrestler The Rock just enter the code The Great One. If you want to open up Randy's Orton's other "ring gear" you can just enter the cheat code ViperRKO. If you want to get the HLR Costume for John Cena just type in the cheat code CENATION. If you want to unlock the DX gear for Triple H enter the appropriate cheat code Suck IT! For Santino Marella's alternative costume option enter in Milan Miracle. If you are trying to get into Shawn Michael's DX things that you will enter in the cheat code Bow Down. You can get The Dirty Seet and Mr. McMahon's Office as open areas with the same WWE Smackdown vs. Raw 2010 cheat code. Just enter in the cheat code BonusBrawl to get these extra features.
Other Unlockables
The rest of the main unlockables in WWE Smackdown vs. Raw 2010 are gained through playing and do not come from cheat codes. These unlockables can be achieved much easier by checking the specifics of each unlockable while you are playing. There are a number of other WWE Smackdown games so make sure that you do not try and use previous cheat codes on this version, or use these cheat codes on a previous title as they will not work. Make sure that you enter in the cheat codes exactly as they are case sensitive and that can cause some problems.
Still playing WWE Smackdown Vs Raw 2009? We've got you covered too:
WWE Smackdown Vs Raw 2009 Review for PS2
WWE Smackdown Vs Raw 2009: Guide to Secrets, Characters, Cheats and More
WWE Smackdown Vs Raw 2009 – Why You Need These Super PS2 Cheats