World of Warcraft Festival of Winter Veil -- A few Christmas-like Gifts for Good Boys and Girls of the Alliance and the Horde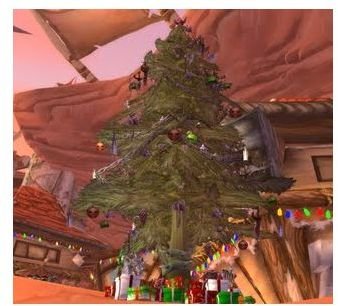 Ho Ho Ho! Merry Warcraft
Blizzard runs many seasonal events throughout the year. The biggest seasonal celebration is for All Hallow's Eve. (Many other fantasy games also have large celebrations for this holiday. Christmas seems to be less well celebrated in MMORPGs, but that does not mean that the Blizzard staff has ignored the holiday completely.
Midsummer gets celebrated in June and July, and the Christmas season sees the Feast of Winter Veil. (There is a Pilgrim's Pride day in World of Warcraft that takes place in late November.) The events give players a chance to earn achievements that are only available while the seasonal event is taking place.
Achievements have few in-game effects, although a series of achievements earned may result in a person earning a title. The events for the Winter Veil are not complicated to complete, but there are quite a few of them.
List of WoW Winter Veil Events
Greatfather Winter and his gnomes are ready to bring presents to all the good adventurers of Azeroth. The revelers who participate in the spirit of the Jolly Old Gnome will give participants minor gifts if an adventurer blows the reveler a kiss. This may either be a sprig of holly or some mistletoe. These items can be used to turn your mount into a reindeer for 30 minutes. There are a number of achievement you can gain as part of this festival.
You can also get snowballs from certain zones throughout Azeroth. These snowballs have few in-game effects, although they do make the target a little colder.
List ofWoW Winter Veil Quests, Drops and Acheivements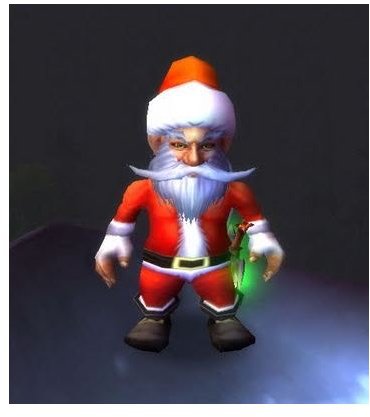 Horde and Alliance players have different versions of the same quests for Winter Veil. Usually the only difference between the factions is the starting location. Sometimes the ending location is different as well, especially for delivery quests. The one quest that is the same for both factions is "Save Metzen".
A Smokywood Pastures Thank You
Smokywood Pastures offers their tasty treats to members of the Alliance and the Horde. After all, the neutral goblins seem to be able to spend the gold coins of each faction. If you recover the stolen Winter Veil treats mentioned below, go to Ironforge and speak to Great Father Winter. He will give you a special gift.
Stolen Winter Veil Treats
The goblins from Smokywood Pastures have a problem. Someone has stolen their merchandise.
They need you to get it back for them. Locate Wulmort Jinglesprocket if you belong to the alliance and seek out the strange snowman. Horde players must locate Kaymard Copperpinch.
You're a Mean One
The Smokywood Pastures treats have been stolen by a creature known as the Abominable Greench. You must track him down in the Alterac Mountains and get the treats. Return them to the appropriate NPC
A Few Festival of Winter Veil Items
There are a few items that can be bought from the Smokywood Pastures vendors in Winter Veil. Perhaps the most fun of these belongs to the engineering trade skill. (Well, what do you expect from a skill that produces items like the Gnomish Harm Prevention Belt and the Hand-Mounted Pyro Rocket?) Engineers can make an item that produces one snow ball a day.
Other trade skills have not been left out. Cooks can learn the recipe for egg nog and gingerbread. Alliance tailors can learn the pattern for Red Winter Veil Clothes, while Horde vendors can make Green Winter Veil clothes.
More WoW Winterveil Quests and Drops Continued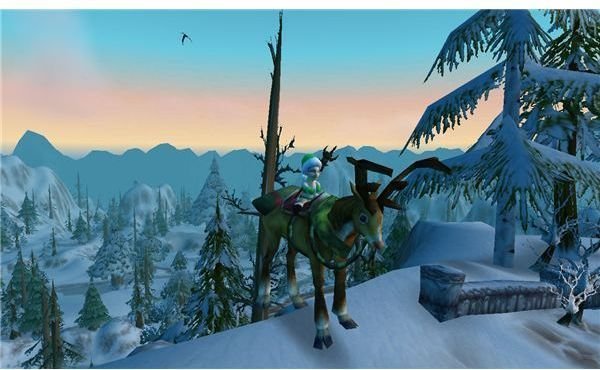 Greatfather Winter is Here
Speak with Greatfather Winter in Ironforge or Ogrimmar. He will give you a brief description of the season and treat that will help you celebrate it properly. Be sure to give treats to those who deserve it.
The Meaning of Great Winter
This quest involves talking to an NPC to find out how the holiday has become commercialized. Historian Kranik in Ironforge has this information. Ogrimmar's Sargorne Crestrider starts this quest for Horde players.
The Feast of Winter Veil
Alliance players complete this quest by getting a book from Historian Kranik and giving it to King Magni Bronzebeard. The quest starts in Ogrimmar for Horde players and ends at Cairne Bloodhoof in Thunderbluff.
Treats for Greatfather Winter
Bring 5 glasses of ice cold milk and 5 gingerbread cookies to Greatfather Winter. Note: Each capital city has a Greatfather Winter.
Save Metzen
This quest starts and end at the same NPC that starts the Smokywood Pastures chain. A reindeer has been captured and you must follow the clues provided to go rescue him.
A Few More Festival of Winter Veil Tidbits
A few items can be found throughout Azeroth or from the Wintervolt vending machines. This includes sprigs of holly and mistletoe which come from kissing vendors. You can also get a little helper from Wintervolt machines.