Return To Castle Wolfenstein - The Father or WW2 First Person Shooters - Review of the WWII FPS Return To Castle Wolfenstein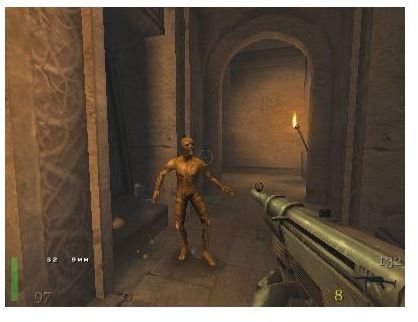 Overview
Dropping the player into a World War II stalag in the depths of Nazi Germany, Return To Castle Wolfenstein presents both combat and tactical elements to the player in their objective of preventing the fearsome German legend Heinrich I being reborn and unleashed upon Allied forces.
A mix of Dennis Wheatley style occultism and Nazi machinations, the plot of the single player game takes the player across 7 missions (in the form of heroic U.S. Army Ranger William "B.J." Blazkowic) in and out of the eponymous Castle Wolfenstein in order to complete objectives that include stealing various files and historical artefacts, prototype rocket planes and more from under the very noses of the Nazis.
Player vs Beasts from Hell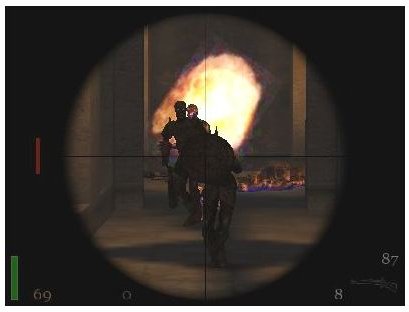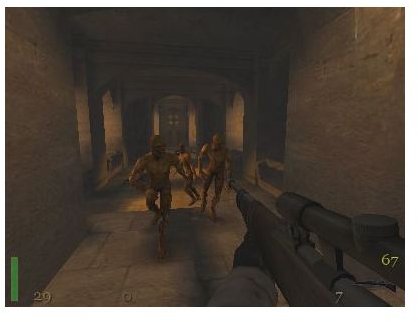 Escape from the Dungeon
Return To Castle Wolfenstein is both a sequel and a revision to Id Software's previous Wolfenstein 3D, released in 1992. This version was itself inspired by Muse Software's Castle Wolfenstein and Beyond Castle Wolfenstein which were available on the popular 8 bit platforms of the early 1980s.
So popular was Wolfenstein 3D that it refused to go away, appearing as a secret level in Id Software's Doom II: Hell on Earth in 1994.
The game begins with the player guiding William "B.J." Blazkowic out of the interrogation dungeon of Castle Wolfenstein, dispatching several guards on the way and meeting up with a local resistance operative. The following levels – each prologued by some well-written dialogue between the burly head of the OSA (Office of Secret Actions) and his chief of staff in order to outline Blazkowic's mission – pit the player against demons, undead creatures, genetically and chemically enhanced Nazi Supersoldiers, the Waffen SS and other agents and failed creations of the SS Paranormal Division, a fictional Nazi operation under the stewardship of a real-life Nazi, Heinrich Himmler (who also makes an appearance in the game).
Player vs Nazi Urban Warfare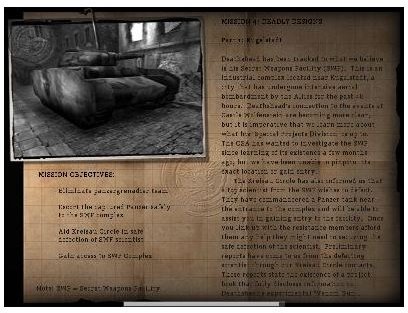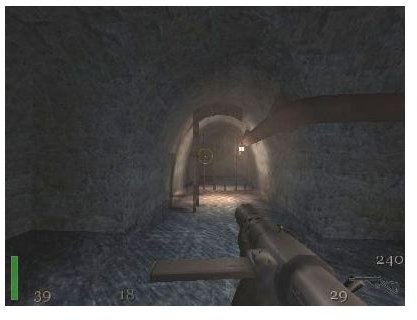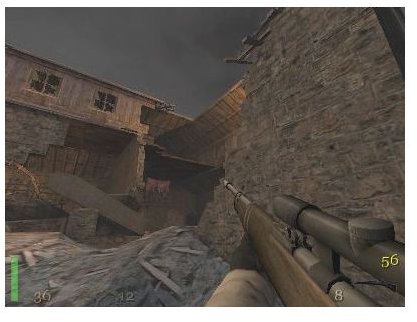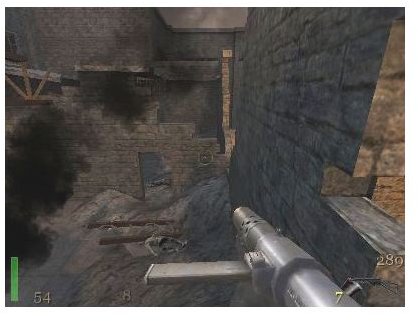 16 Weapons
Utilising typical keyboard and mouse control, Return To Castle Wolfenstein offers the player a range of 16 excellent weapons such as a flame thrower and the two super-weapons that occur later in the game, the Venom Minigun and the Tesla cannon. The Tesla cannon in particular is potent in its dispatch of enemy operatives and demonic soldiers.
Mouse and keyboard control is fully configurable if you prefer a different arrangement to the standard ASWD + mouse mapping, and as is common in FPS games the graphics and sound are scalable depending on your PC hardware setup.
Return To Castle Wolfenstein treads a fine line between all out action and all out horror. The gaming environment itself is well realised, with character and scenery graphics that still standout today as effective. The game runs on a modified version of the Quake III: Team Arena engine which incidentally was later used for another World War II game, Call of Duty.
Nazi Occultism
Still available for purchase, Return To Castle Wolfenstein also features a multiplayer mode. This allows designation of four classes — lieutenant, medic, engineer, and soldier – who as a team can battle as Allied or Axis forces in a variety of timed- and objective-based scenarios. "Wolf" is still played regularly in some corners of the internet, and with a further sequel currently in development looks set to reclaim a lot of online players desperate for it unique mix of Nazi Occultism.
Wolfenstein 2009
Curiously, Return To Castle Wolfenstein was cited in a report to the US Congress in March 2008 (Contemporary Global Anti-Semitism) as an example of an anti-Semitic videogame; however no explanation or reasoning for the games erroneous inclusion was ever given.
A movie version of Return To Castle Wolfenstein has been stuck in Hollywood development hell since 2002, while an updated version of the game simply entitled Wolfenstein has been in development with a likely release in 2009.
In the meantime Return To Castle Wolfenstein has been available in budget ranges since 2004, and is a fast-paced, frenetic shooter that no FPS fan should miss.
Return To Castle Wolfenstein on the Web
Planet Wolfenstein Online Community